PHOTO ESSAY:  Oconee Bells 2017
Wildflowers
Upstate South Carolina
Appalachian Mountains
I lived in the Upstate of South Carolina for nearly ten years while I pursued various degrees at Clemson University. Neighboring Oconee County was where I went to find my "away."  I've always loved books and learning.  To this day, when an Amazon delivery arrives on the doorstep I'm filled with excitement!  There was always an aspect to academia, however, that I found entirely lacking:  physical activity.  The balance to the mind games for me was (and remains) getting mindless—on a trial, on a bike, in the gym, whatever.  As long as I could get moving and get past the thoughts.  Clear my head.  Over time, more often than not, my "away" became exploring the Southern Appalachian Mountains.  It wasn't about getting world class photographs or wowing online communities.  It was simply a way for me to find balance with other passions.  The search for new destinations became quite addictive.  These were the seeds that likely brought me to where I am today as a full-time photographer.
One attraction I always regretted not seeing was the annual Oconee Bell wildflower bloom. While I was involved with the University, the bloom always fell at a tough time during the academic calendar.  Later, I was too busy chasing the grand scenics that I thought would allow me to survive financially behind the lens.  This year, after seeing Facebook posts by Rich Stevenson regarding the early Oconee Bell bloom, I just couldn't help myself.  I packed up the car and pointed south along Interstate 81.  Never would I have thought that I'd be camping at Devil's Fork State Park in late February photographing wildflowers!
The Oconee Bell is a spring wildflower with a very colorful story. Originally discovered by Andre Michaux in 1788, the specimen he collected was described as being found somewhere in the high mountains of the Carolinas.  American botanist Asa Gray, upon finding the specimen of the Oconee Bell in Michaux's collection in 1839—nearly fifty years after initial discovery–vowed to find the bells in the wild.  Asa Gray and others combed the high peaks of North Carolina (above 5k) in search of the Oconee Bell but to no avail.  It wasn't until 1877 that a seventeen year old, George Hyams, found the Oconee Bell along the Catawba River near Marion, North Carolina.  Armed with new knowledge about the correct altitude and habitat, Charles Sargent, an American Botanist, found the Oconee Bell in Upstate South Carolina near the site of Michaux's original discovery, an area along the banks of the Keowee River.  In 1973, Duke Power Company flooded the Keowee valley and drowned numerous wild rivers underneath what is now the clear waters of Lake Jocassee.  A fragment of habitat still exists for the Oconee Bell.  Devil's Fork State Park, along the shores of Lake Jocassee, features a one-mile loop trail named for the Oconee Bell where visitors can easily find the plant during it's annual bloom.
""The keenest-eyed plant hunters looked for it in vain year after year in all the region in which Michaux was supposed to have traveled."
Charles Sprague Sargent, American Botanist
Endangered in Georgia and North Carolina, and a federal species of concern, the Oconee Bell is a small, white wildflower that grows in areas of high annual precipitation at about a thousand feet in elevation. The wildflowers grow in heavy shade along streambanks, with shallow runners forming dense ground cover.  Each white to rosy pink bloom features five petals with toothed or fringed tips.  Most of the Oconee Bells I witnessed were nodding towards the ground.  The leaves of Oconee Bells are sharply serrated, waxy and often tinged with some red coloring.
Photographing the Oconee Bell was not my finest hour. In fact, I got my ass handed to me by these little guys if I'm being quite honest!  I contemplated not even sharing this post because I was so thoroughly disappointed in my own efforts.  However, I truly believe that photography is not about the photograph.  Focusing on only the frame is a sure recipe to losing the spirit of adventure that is critical to making meaningful and impactful images (in my opinion).  In the spirit of honoring those beliefs, below are a few of the takes that I managed.  I shot a total of 218 frames over the course of several days.  It was a real pleasure to witness the Oconee Bells and to spend some time getting to know them.  Big thanks, again, to Rich Stevenson for sharing the information necessary to make the trip–your knowledge of the area is admirable!  I'll certainly be back again!
"Perhaps the most interesting plant in North America."
Asa Gray, American Botanist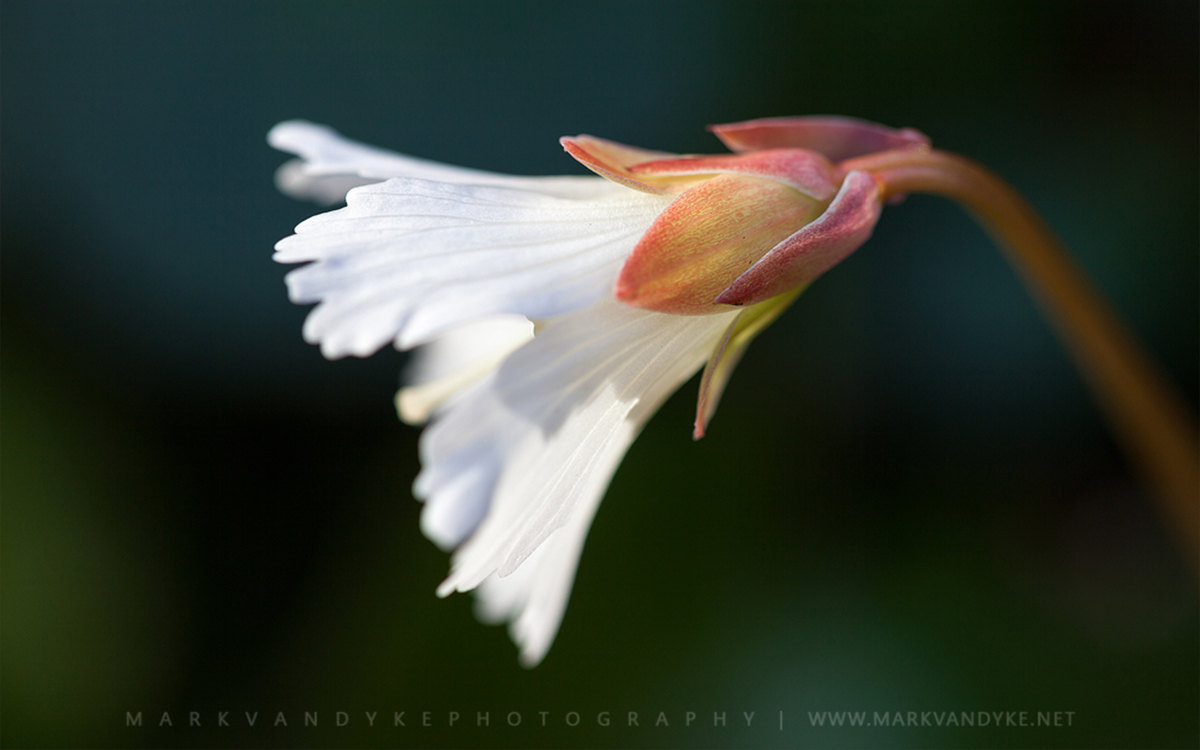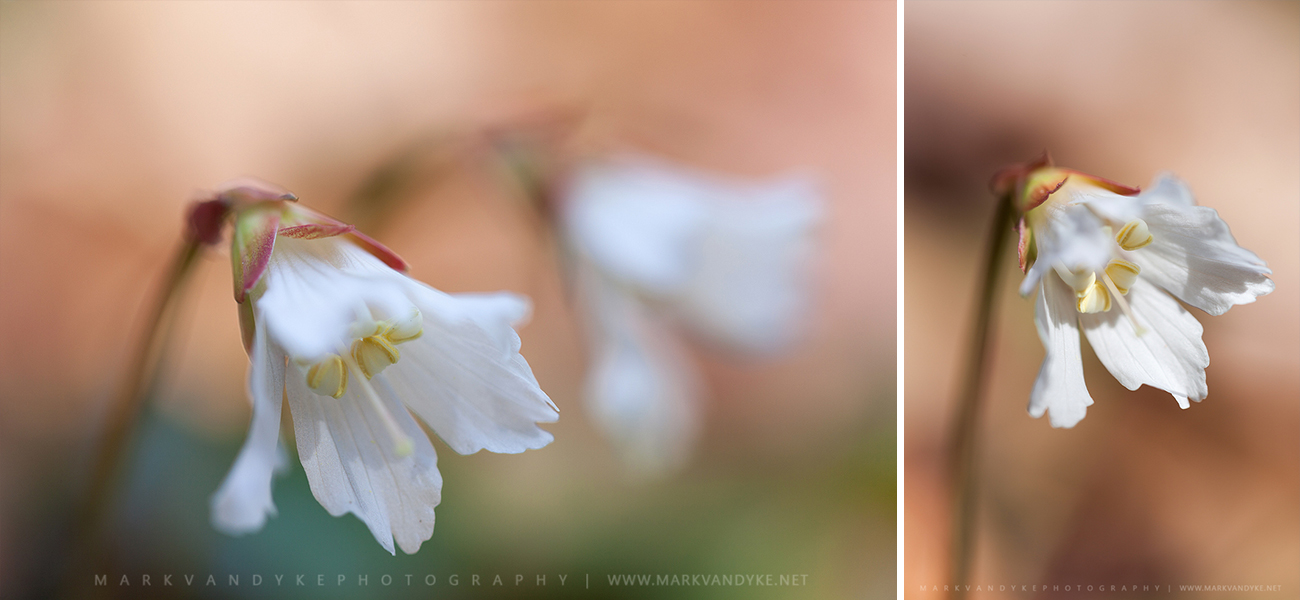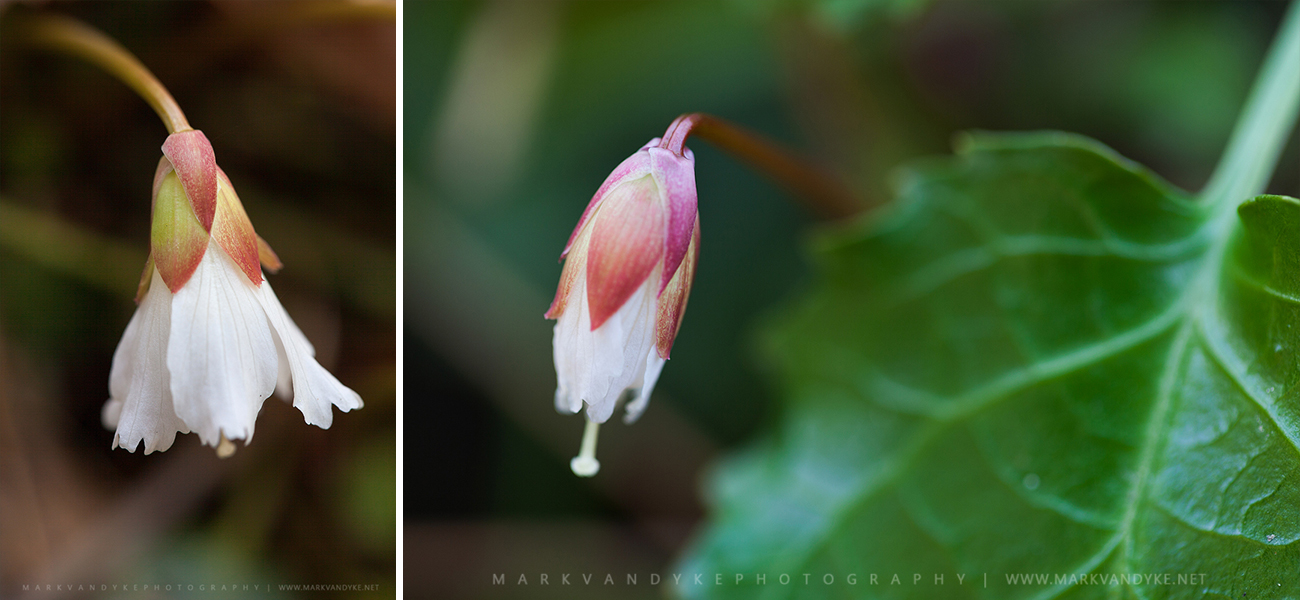 Devil's Fork State Park, SC