October in Western North Carolina 2016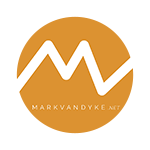 Mark VanDyke, Photographer
It's always difficult to sum up an entire season in one post, especially when time has passed (is it really December?).  That is, however, what I'm going to attempt here, and without the aid of copious numbers of images (UPDATED 9/2017:  Full gallery included at the close of this post!).  So, if you're not a fan of words, now would be an opportune moment to divert your attention elsewhere.
Why no abundance of shared images?  I took an assignment with Our State Magazine that covered October.
It was unplanned for but much appreciated work.  I consider it an honor to have an organization desire the use of my abilities behind the lens and I appreciate an organization who maintains a thriving forum for the display of finished work.  Fulfillment of the assignment was important to me; I wanted to deliver on my word.  Or more accurately, what I really wanted was to over deliver.  While there was no exclusivity attached to the captured images I produced for Our State this October, as a condition of being commissioned, I feel at the least obliged to proffer first-use exclusivity to the images which are eventually chosen (if any) by the editorial staff.  Thus, the lion share of my energies and opportunities this past autumn will remain largely hidden until the release of the 2017 October issue of Our State Magazine (UPDATED 9/2017:  A full gallery is now at the close of this post!).
This is a post about my October adventures.  You won't find any numbered lists or tips and tricks or advice on how to better process your photographs.  What you will find is a condensed recap of my time spent in Western North Carolina:  some of the more exciting moments and some of the challenges.  I share this for those who are interested in what it is like for me to be a full-time working artist trying to figure out what I want out of this gig and how I should align myself to achieve my own goals, as well as those who are interested in Western North Carolina in general.
Each season is marked by unique and unforeseen challenges.  Autumn 2016 was no different.  On October 2, I drove from Washington D.C. to Western North Carolina full of hope and expectations and need.  Typically I shoot for myself, freelance.  The need is thus, my own:  the need to see and experience exciting places to keep my business relevant–to keep me relevant as a photographer and as an artist working the Southern Appalachians.  This time, though, the need was focused and definite and it originated outside of myself.  The need also felt more tangible, made so through the exchange of funds.  I was to capture a set number of images from a defined grouping of locations come whatever may.
The drive into the Carolinas was familiar–a stretch of asphalt I've covered more times than I care to even remember.  The highways first–Interstate 66 to Interstate 81 to Interstate 77–each a blur of darkness and taillights (I prefer to drive during the night).  The final stretch of Interstate 77–always one of my least favorite stretches–a special fish bowl of Virginia State Troopers playing cat and mouse with traffic before it descends the mountain and crosses the state line.  On this trip, however, I chose to hook the Blue Ridge Parkway at Fancy Gap.  I wanted to use the rhythmic curving of the scenic byway to place myself into the right headspace before reaching my destination, Julian Price Memorial Park, roughly one-hundred miles south.
The early October landscape passed through my windows without much of a hint to the seasonal transition.  A few early turning Dogwoods showed deep rust and auburn coloration against an otherwise green canopy.  In her book, Mountain Nature, author Jennifer Frick-Rupport described this early season coloration as a foliar fruit flag–the intentional use of early and bright foliage to provide indication to migrating birds of the presence of high-fat fruits on the tree.  I thought when I saw these flags that it was a good sign:  I was on the leading edge of the autumn season.  I fought the urge to pull off the Parkway and make a few images of the Dogwoods, instead motoring on, saving my energies for images made within the state of North Carolina (and hence, images I could submit for assignment), as well as for the habitual desire to complete the a-to-b nature of traveling.
My home base for most of the next couple of weeks was the campground at Julian Price Lake.  I organized the assignment locations based upon elevation, figuring the color would start high and work down in neat succession.  I scouted each location, researching things such as light, points of interest, composition, color progression etc.  It was unglamorous work with little reward, but necessary, I thought, if I expected to execute a large quantity of shots in what I could only anticipate would be a very short window of time (peak color).  When I wasn't scouting locations, I staying put at the campsite.  One of the unanticipated challenges of autumn 2016 was the shortage, and consequentially higher pricing, of fuel due to an oil pipeline failure in Alabama.  The less I traveled the more whole I remained financially.
Nearly a week passed with little progression on the color front.  I hiked and I scouted and I read.  I waited and I waited some more.  In my mind, I knew that the pressure and need was building.  I needed to check locations off my list.  While I had planned to spread the capture of images over the course of the month, hoping the color would make a uniform descent from elevation, it appeared as if the color season was going to appear, if at all, with all the exuberance of a grand fireworks finale–here for a couple good seconds and gone the next.  I felt considerably anxious knowing that I would be chasing my tail and unsure as to my own ability to fulfill the assignment needs.
One of the unforeseen consequences of late color and warm temperatures, however, was the opportunity to observe the annual Monarch butterfly migration through the Blue Ridge Mountains on their way to southern overwintering sites.  Multiple evenings I took leisurely strolls along the carriage roads at Moses Cone Memorial Park off the Blue Ridge Parkway near the town of Blowing Rock, through forests and fields at nearly 4k elevation.  The first flit of orange on yellow Goldenrod caught me a bit by surprise.  Paying greater attention, I noticed a fairly steady stream of Monarchs cruising through the area, stopping to fuel up and then heading on their way.  Never more than three or four butterflies in my direct area at once, the migrating Monarchs provided great distraction for me and my camera as I waited for the larger color and seasonal change to come to Western North Carolina proper.
Migrating Monarch Butterfly
Migrating Monarch Butterfly
Another bit of seasonal drama was carrying out back at my campsite:  Oaks were dropping acorns.  The bang of acorn against the metal and glass of my parked car was loud.  I noticed after several evenings that the seemingly harmless acorns were actually falling from such a height as to leave indentations in the bodywork of the car!  I became cautiously curious as to how the wonder-fabric of my tent had the integrity to deflect these hostiles without taking damage.  The truly interesting thing, however, was that despite my best efforts one afternoon to find a single acorn along the ground of the campsite, I couldn't find not a single one.  Not one.  Chipmunks.  Industrious, cute little guys were sweeping the ground continuously, gathering the mast and hoarding it back into their underground safes.  I must have observed at least nine different chipmunks one afternoon, chasing each other about in circles, a chorus of chirping and quick movements.  Falling acorns and chirping chipmunks became the chorus of my afternoons at the campsite.
The steady pattern of warm, dry days broke towards the end of my first week in Western North Carolina.  Hurricane Matthew was advancing a front and things were about to get saturated.  A steady rain fell the entire day of 7 October, with even heavier rain moving through the evening hours.  The tent held strong but I had a serious case of tent fever by the time the weather passed.  In Matthew's wake were brisk temperatures and stiff winds–I remember waking early in the dark hours of morning, tired of spending time on my back in a six foot nylon cell, opening the door to swaying trees and twinkling stars in a very clear sky above.  The wind would move through the campsite in waves, similar in many ways to the sound of water along the shore at the coast, the audible push of wind would steadily increase, drawing nearer, nearer, and then passing into the distance only to be repeated again and again, over and over.
Post-Matthew the weather again resumed a rather uninspiring pattern.  Despite Matthew's considerable rainfall, the drought-stricken mountains soaked it up without so much as a change in the headwater streams and waterfalls.  Green remained the predominant color in the canopy–probably lucky as such because the wind from Matthew would've prematurely ended the season before it really got started.  I was beginning to worry, however, that autumn might not grace the high country in any substantial way this year.  The best thing I managed to put myself on to this point in the trip was a hoar frost at Graveyard Fields, a location that was decidedly less vibrant this year than those of past.  Arriving in the dark hours one early morning, I took off down the stairs and trails into the mile-high valley of Graveyard Fields only to stop in my tracks when I realized how uncomfortably cold I was.  A quick activation of my headlamp revealed a heavy frost all about the trails.  I retreated to the vehicle, layered up, and preceded back down the valley to chase the intersection of bright sun and ice crystals.  It was not the epic color I had come for, but it was a gift of interesting conditions that I was quick to seize advantage of.
It was Monday,  17 October before I saw my first dose of considerable autumn color, over two weeks since I arrived in Western North Carolina.  Monday was a good day, the best I'd had up to that point.  I shot all day from before sunrise to after sunset.  The special nature of a relatively calm autumn day with decent color not escaping me.  Thursday, 20 October brought a real curveball:  record-breaking high temperatures throughout the area.  I chose to hike up and through the Roan Highlands for sunrise.  I remember doing so in a t-shirt, sweating profusely, warmer than my trips up the mountain in June for the annual Catawba Rhododendron bloom.  I should've been shivering.  Instead, I was wiping sweat from my forehead.  Large clouds built as the morning progressed, making crowded skies over what I would come to believe was the peak color day for the Boone/Blowing Rock/Linville areas.  In hindsight, this was the day in which my assignment work started in earnest.  Nearly three weeks after arriving in Western North Carolina I was finally beginning to check off locations from my list.
Like each autumn before this one, a great wind swept the area and ended the season proper.  Friday afternoon, 21 October the winds began to kick and by the end of the weekend the better part of the higher elevations were whisked away, sent flying off trees and into very dry stream beds and crowded forest floors.  The higher elevations took on the appearance of winter:  brown, dry, protective.  It was time to move on.  I picked up camp and moved south where I once again began the game of hurry up and wait.  Green foliage at lower elevations survived the winds but needed a solid week or more to color up.  At this point, I was up against the clock.  My schedule would not allow me to stay into the month of November.  I still had a few locations to fulfill and I was once again waiting and watching as stubborn slowly developing autumn color progressed down the great blue curtain towards the piedmont of South Carolina.  I was camped in the Cullasaja River Gorge, near Whiteside Mountain and the headwaters of the Wild & Scenic Chattooga River.
This was perhaps the hardest portion of my October adventures.  I was worn down from three weeks of continuous go; mentally worn down from trying to reconcile what I managed to capture with what I was hoping to see.  The mornings were cold, very cold.  I continued the routine, faithfully, getting up, hiking the trails, witnessing the sun's ascent and descent each day, finishing up with things the best I could.  Finally, I made the call, took a trip to the local library where I conducted business when necessary, backed up all my files onto duplicate drives and hit the highway once again, this time headed for the other extreme of North Carolina, Cape Hatteras National Seashore.
By the time I left the mountains the landscape had changed considerably.  The forest floor had disappeared, eight inches deep in fallen leaves.  Acorns were largely scavenged and activity levels along the forest floor seemingly waned.  Where shade from full canopies existed weeks before, full sunlight was once again striking the ground, the same light that will eventually feed the spring ephemeral flowers in a number of months.  The vibrant and rich coloring of late summer and peak autumn was now the dull brown and bronze of winter, unassuming and protective.  The long grasses and bright Goldenrod flowers at Moses Cone Memorial Park were mown and baled for the winter.  The Monarchs, as well as other migrating birds, long since passed through the Blue Ridge in route to warmer climes.  The last purple Gentians trailside were showing signs of wear and fading.  Tourists, too, no longer feverishly flocked to hiking hotspots along the Blue Ridge Parkway.  In the North Carolina high country, the seasons had shifted.  Autumn had gracefully given way.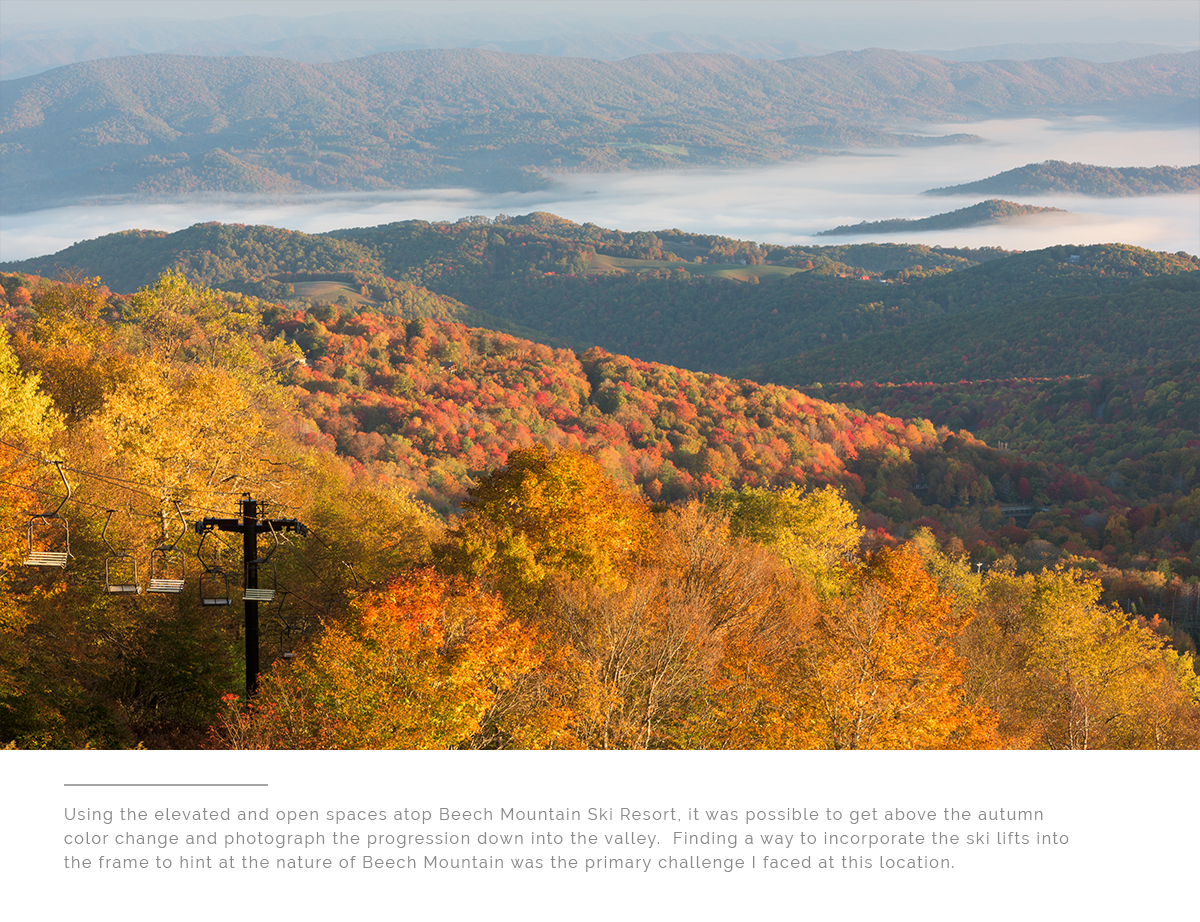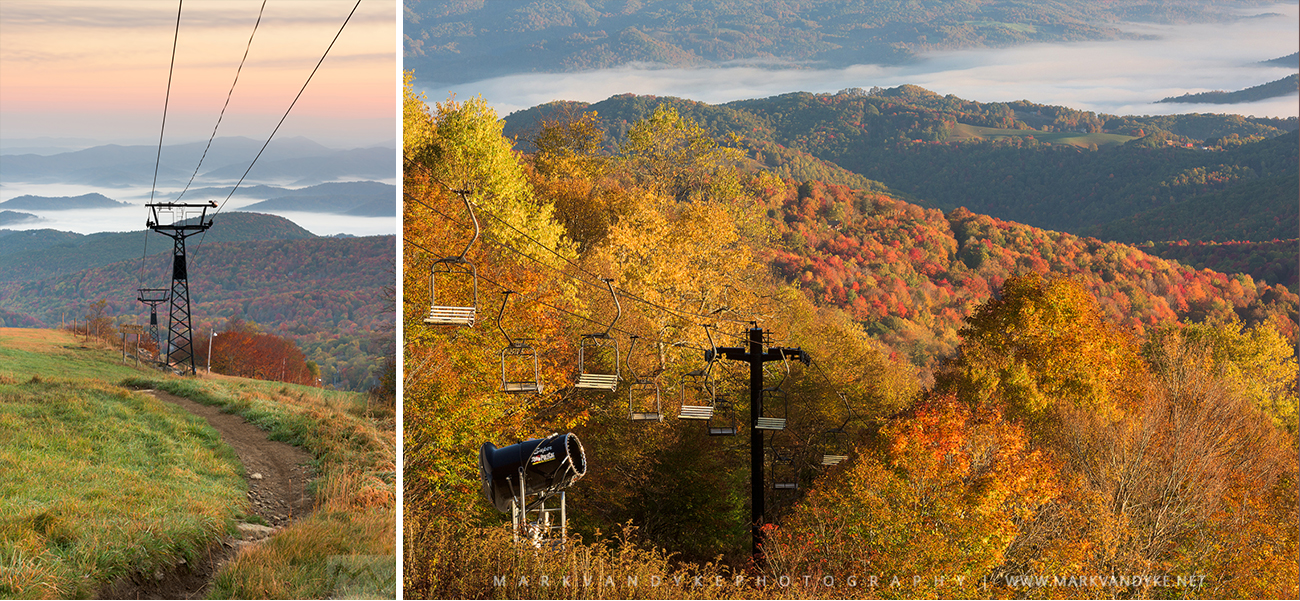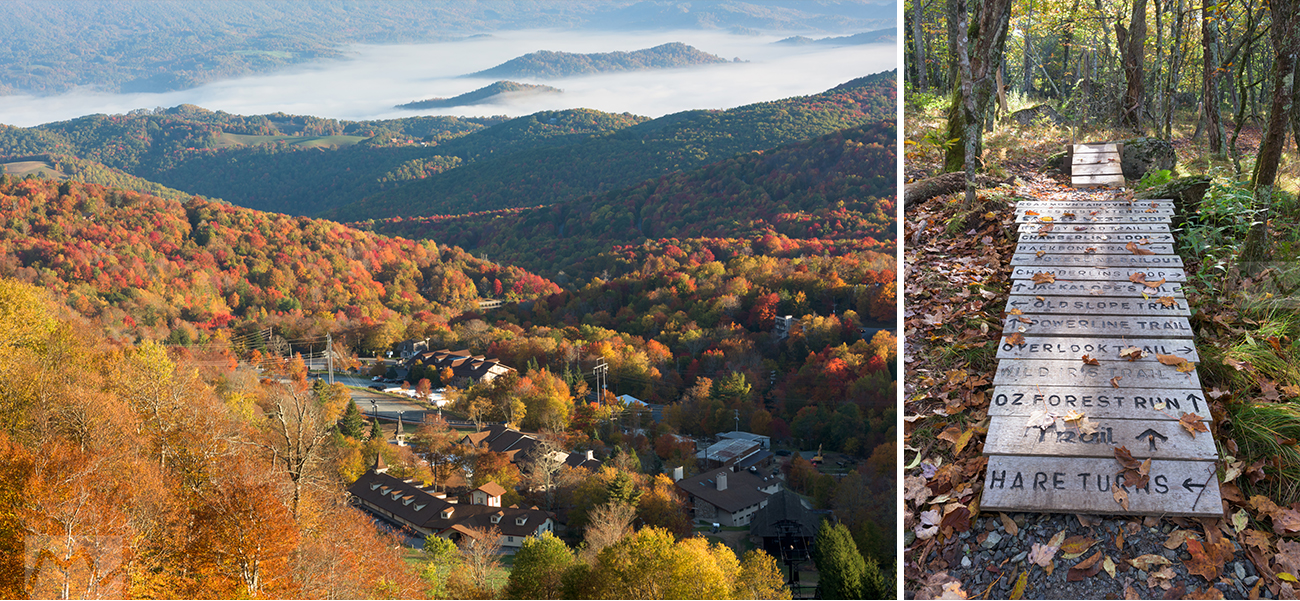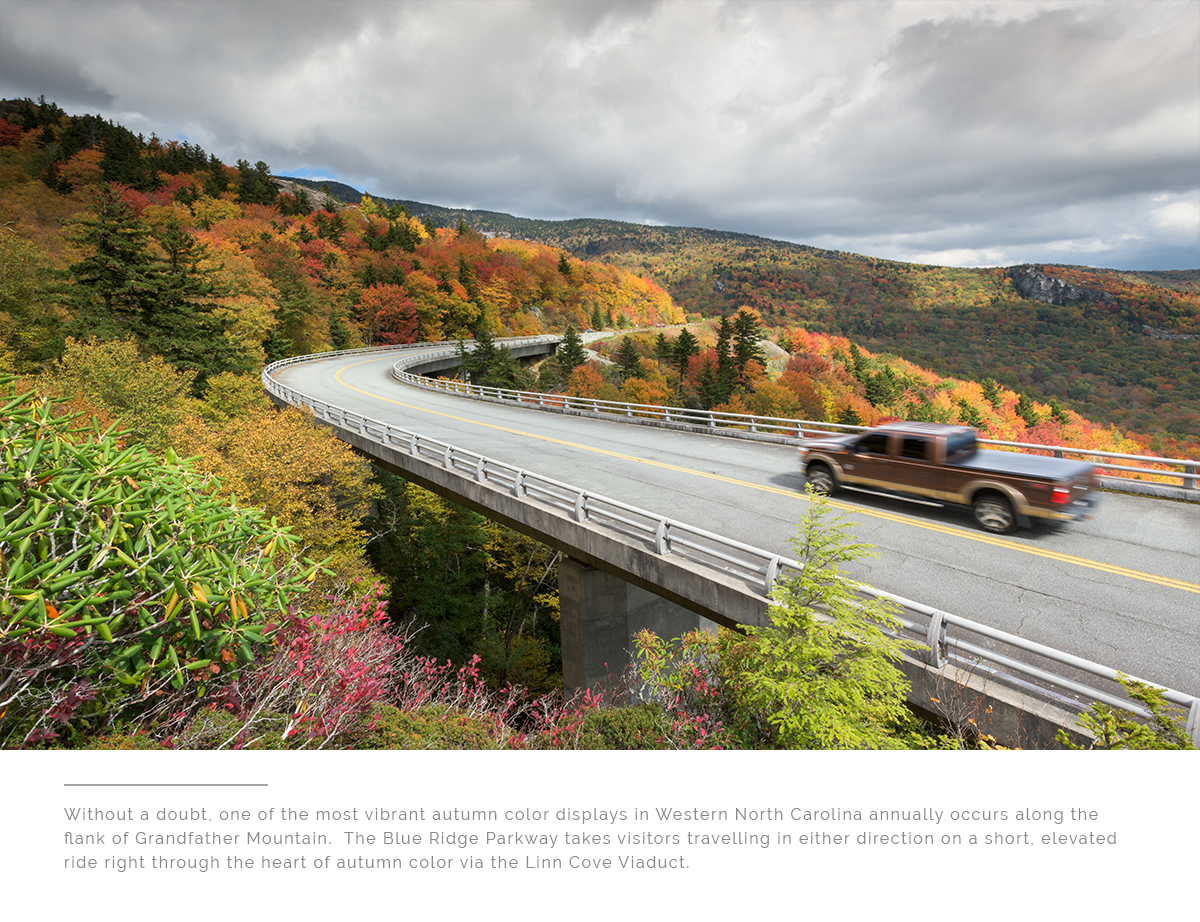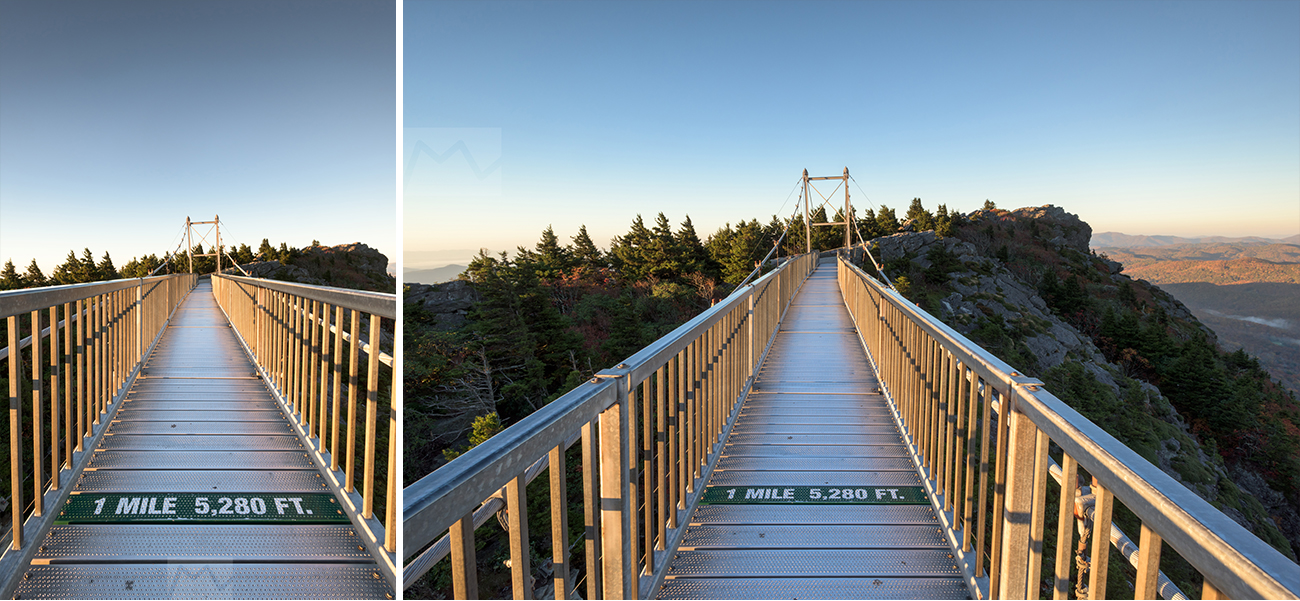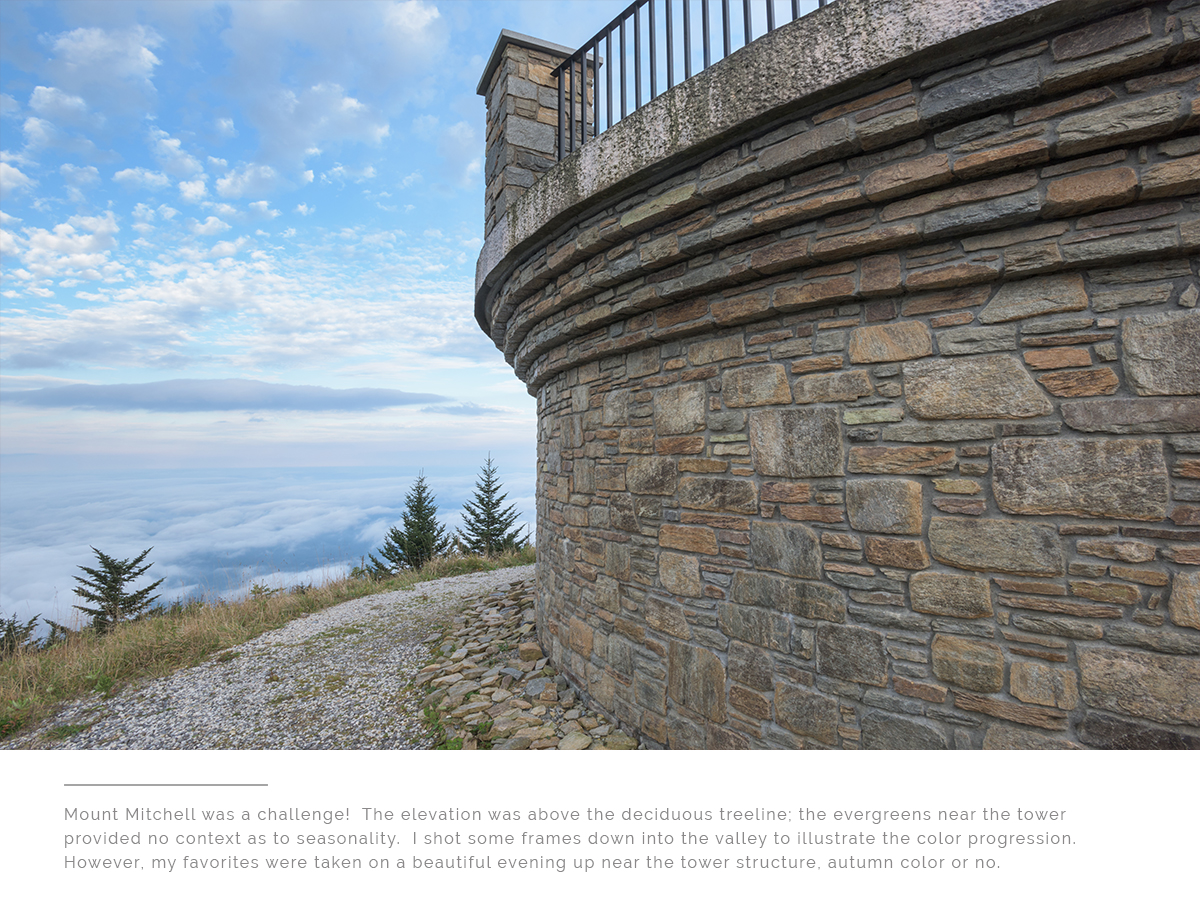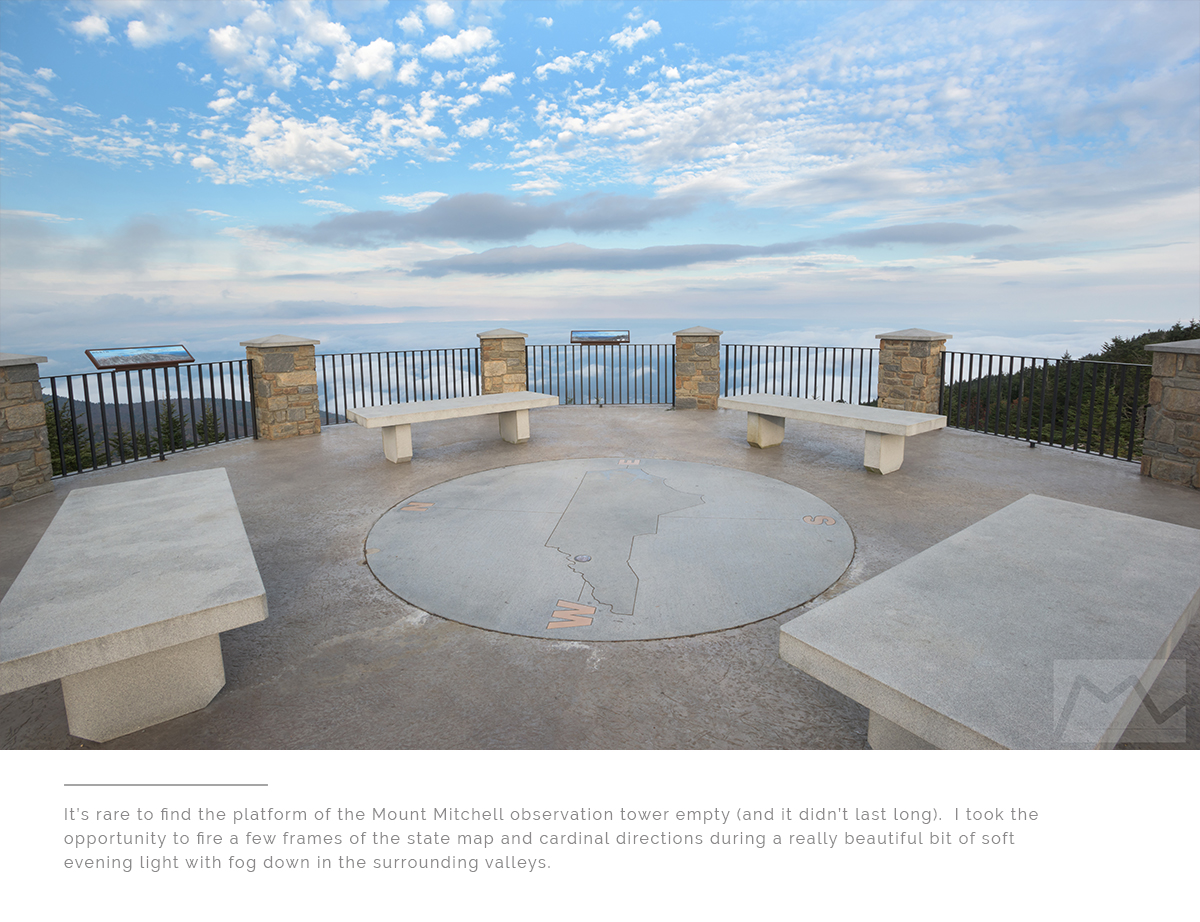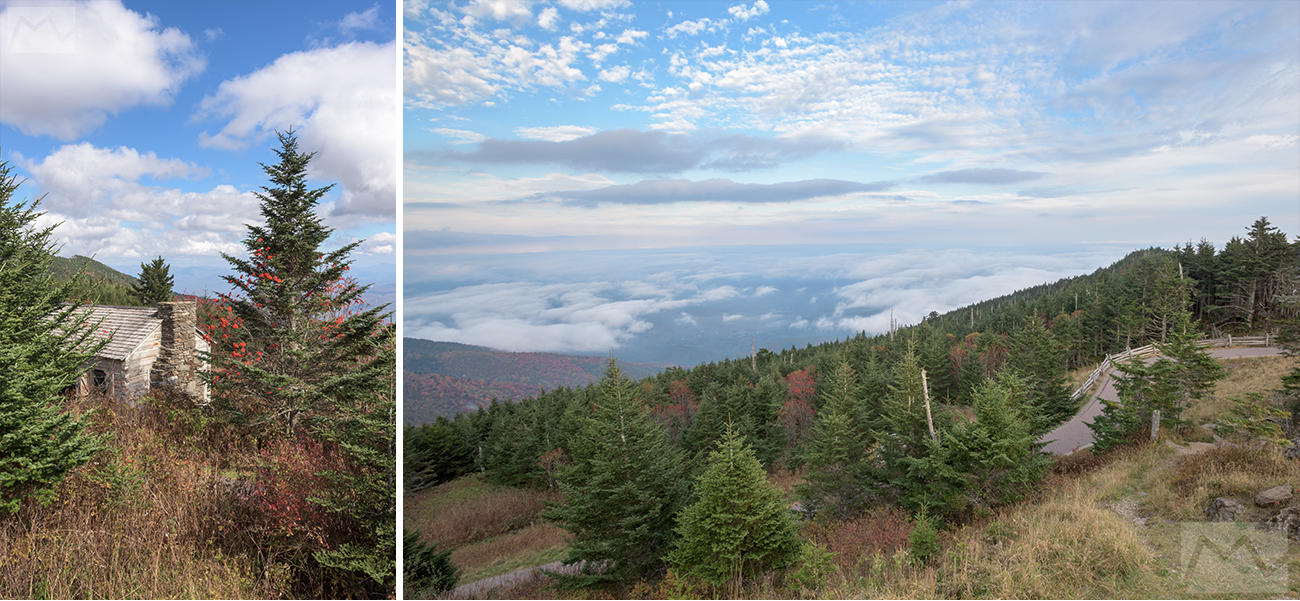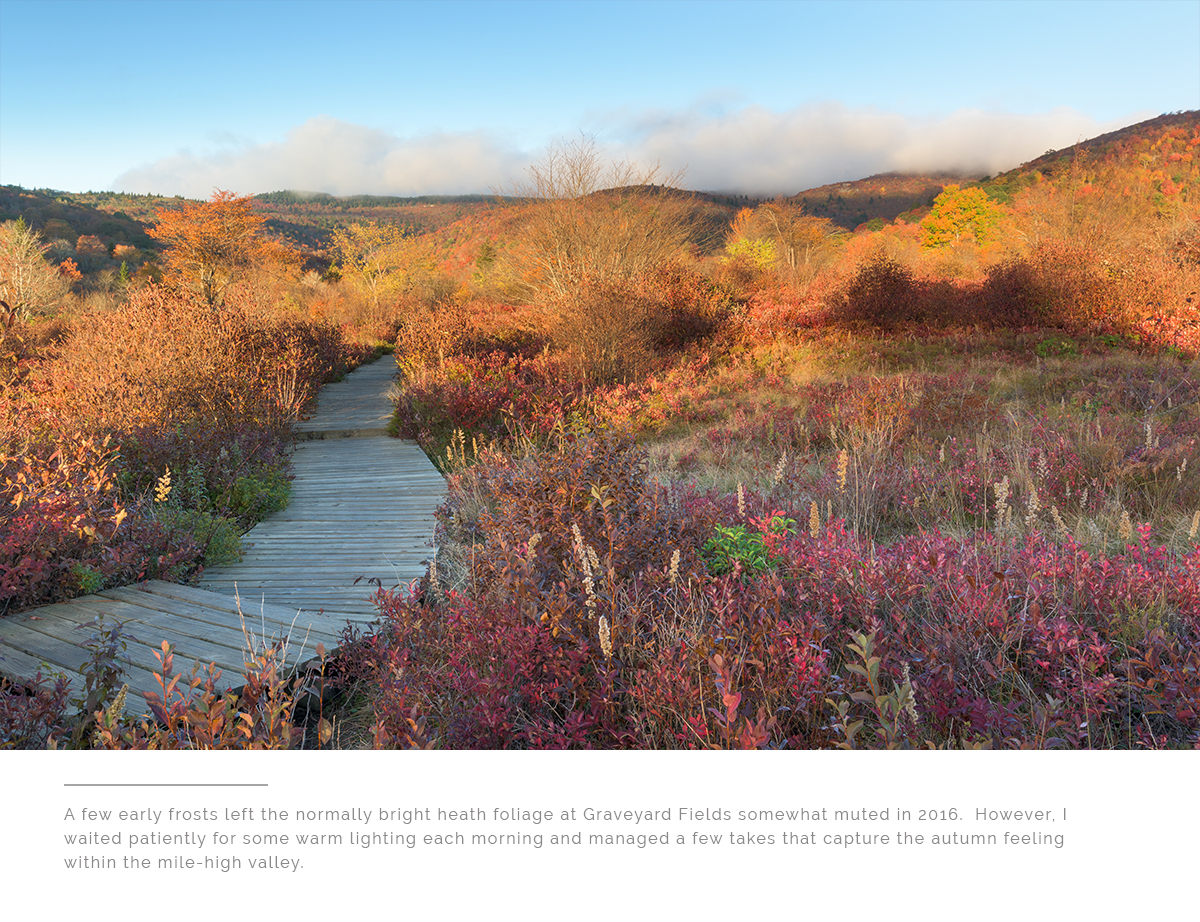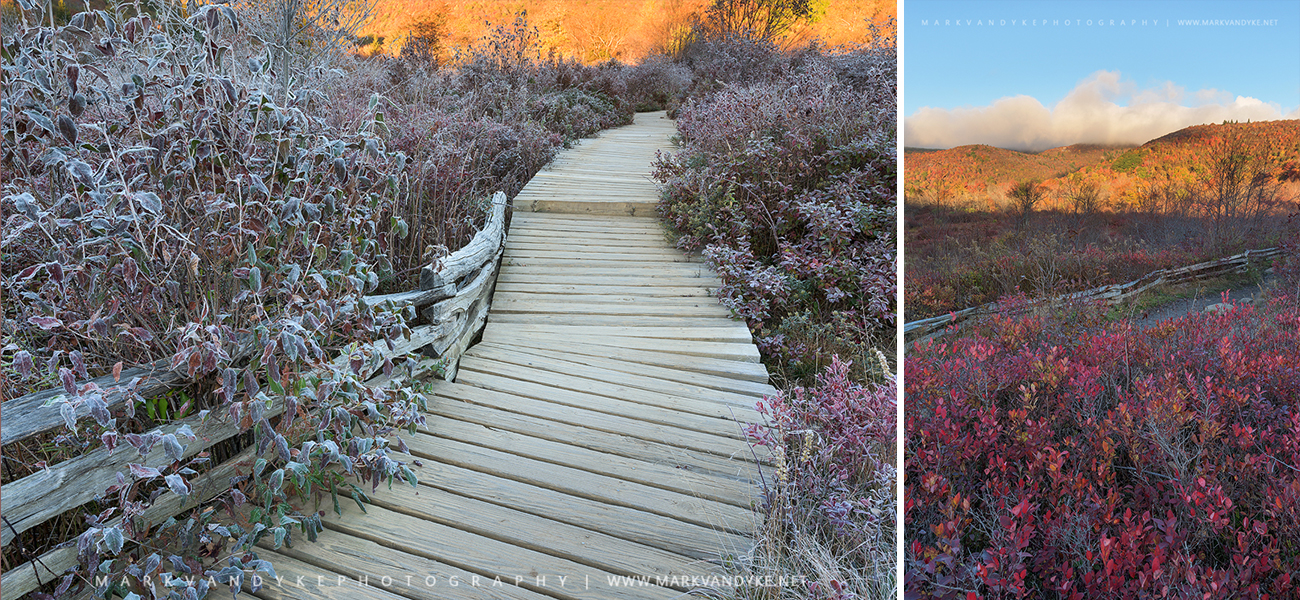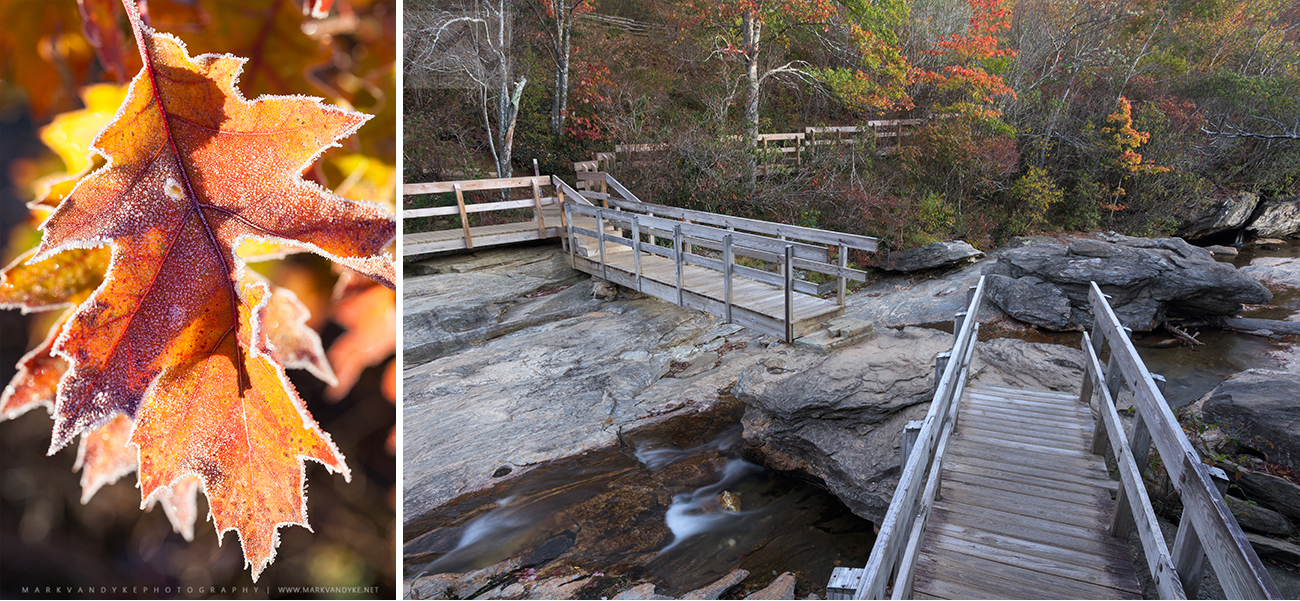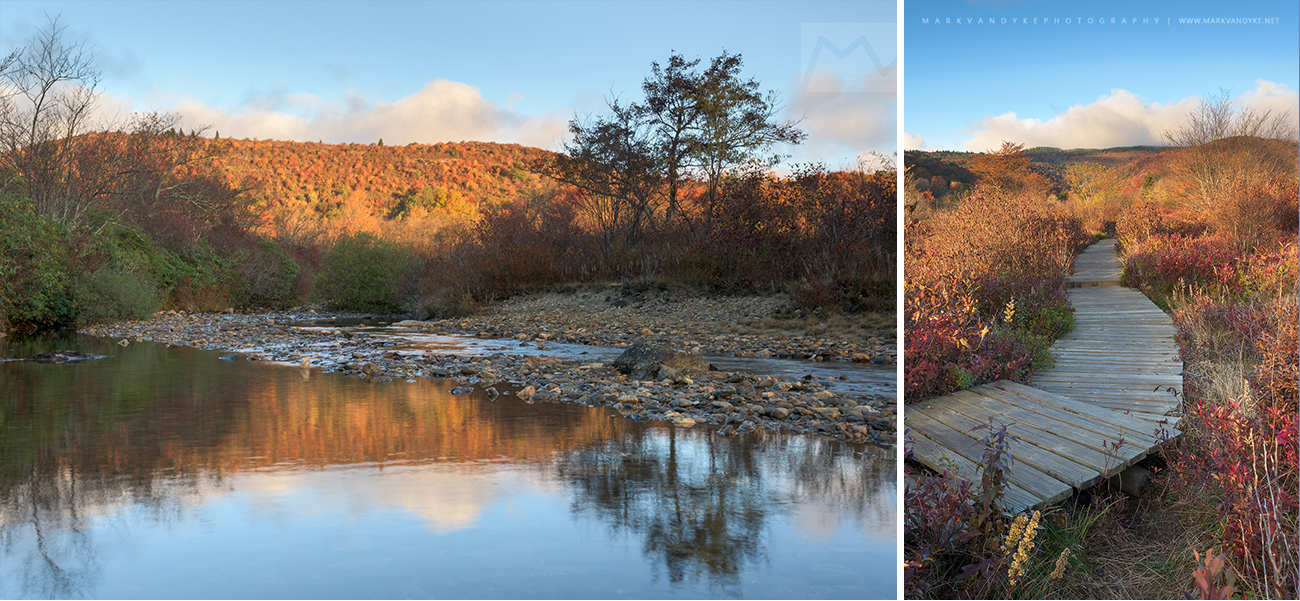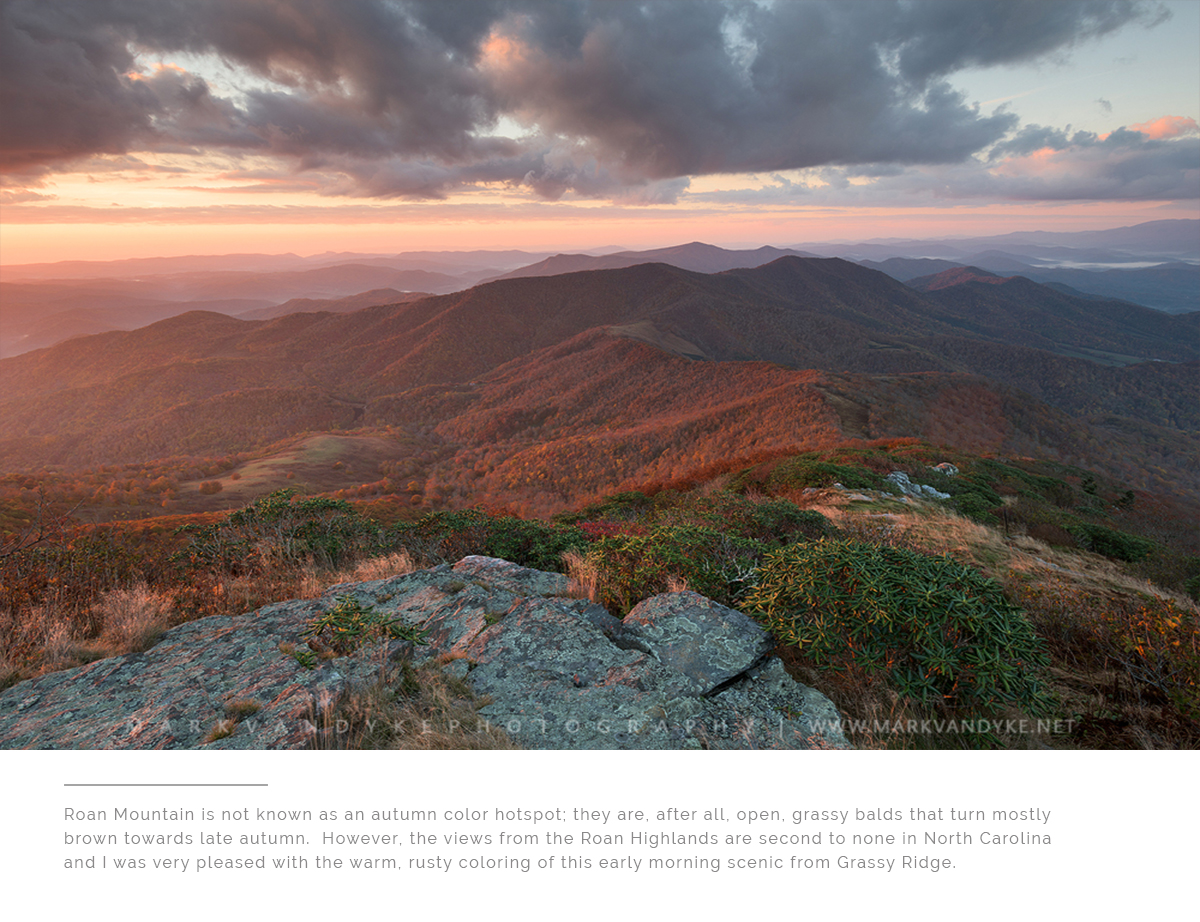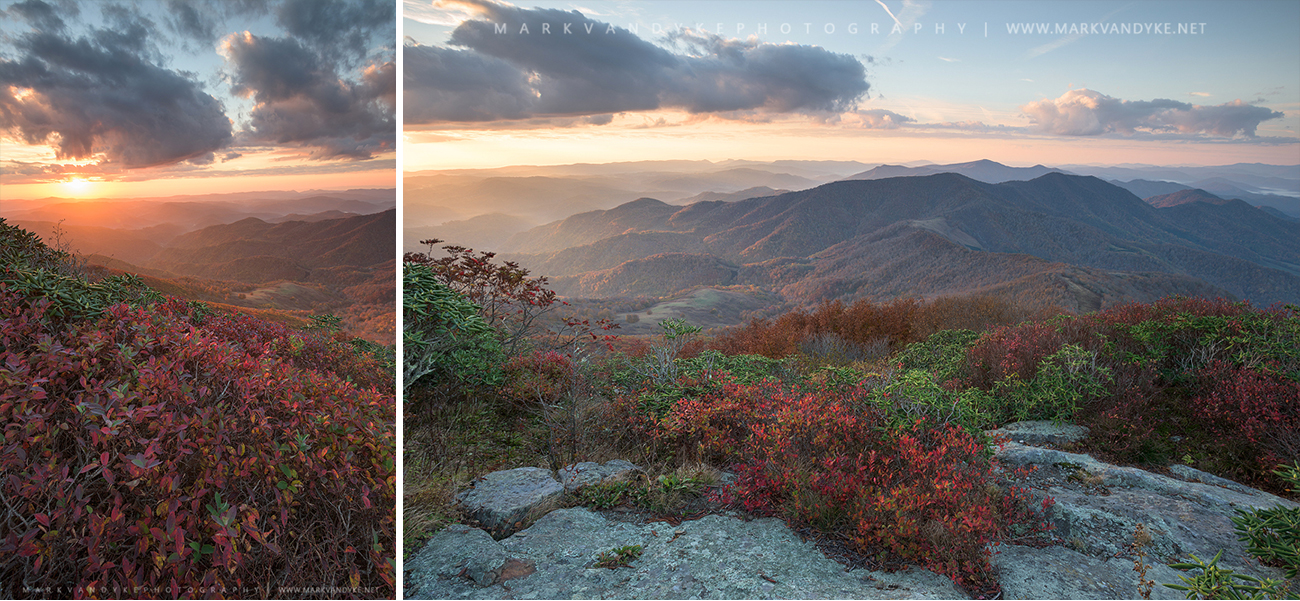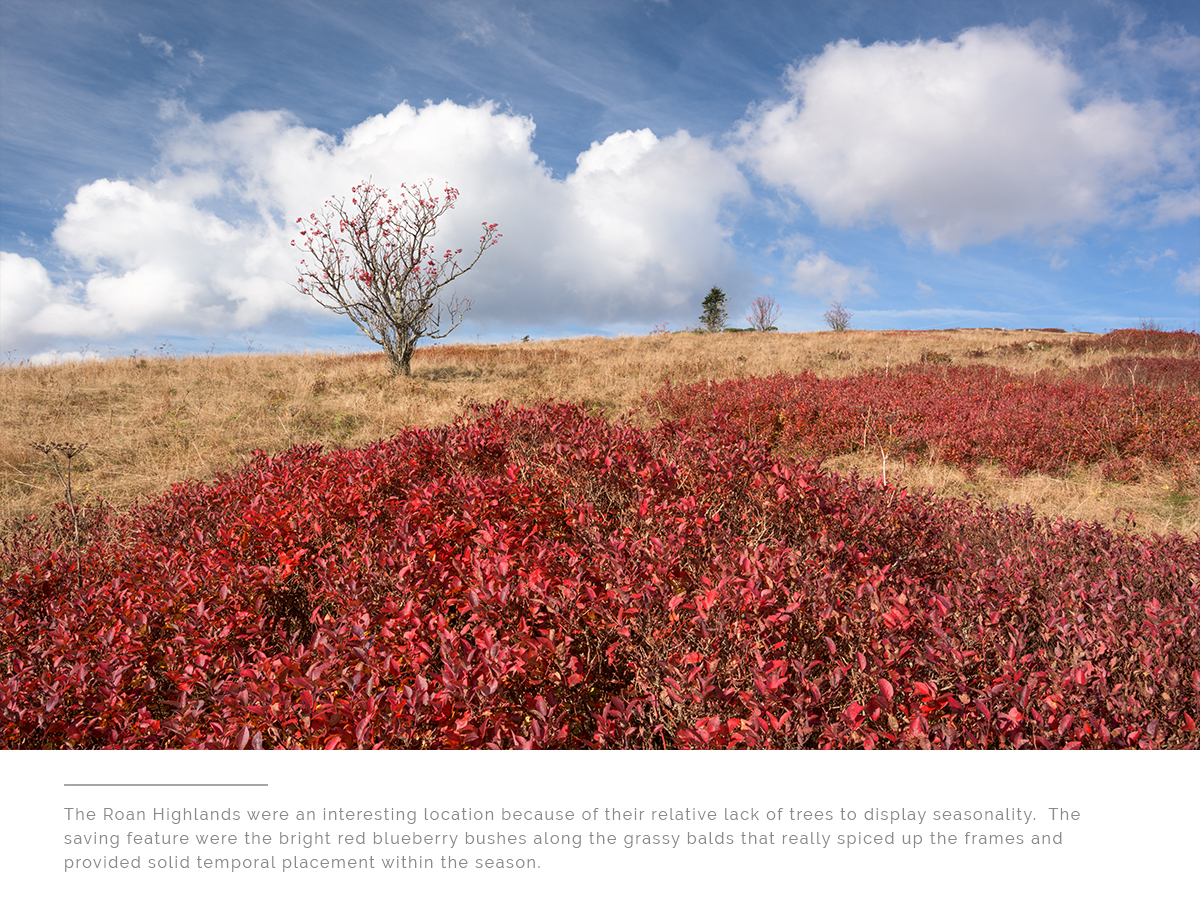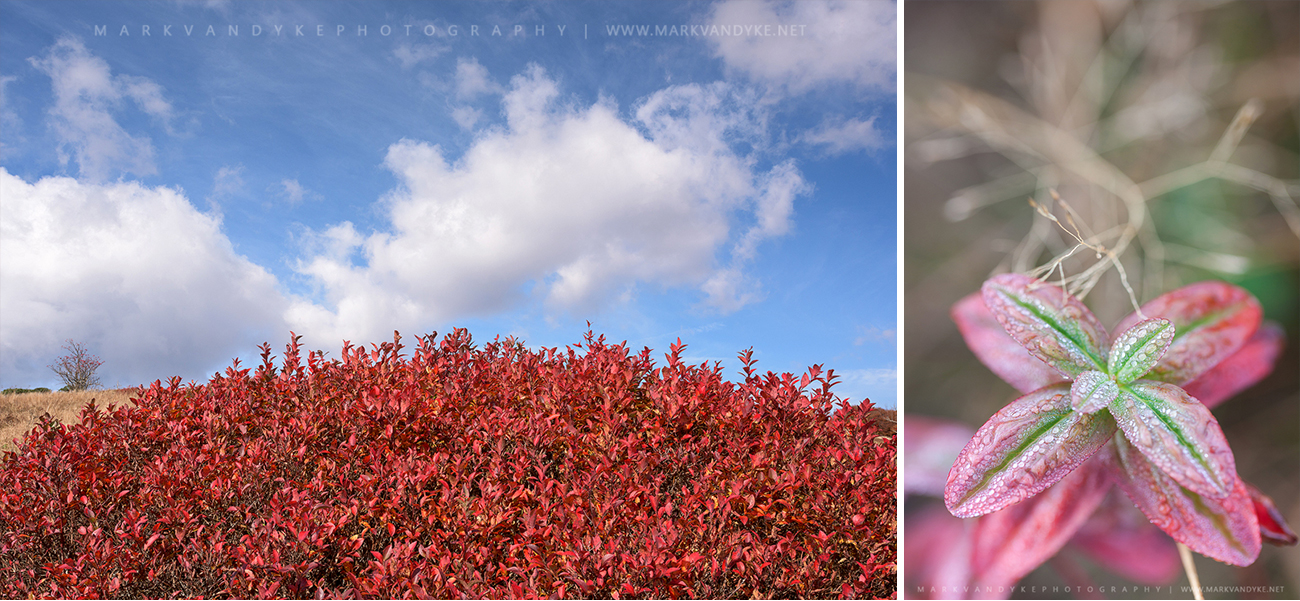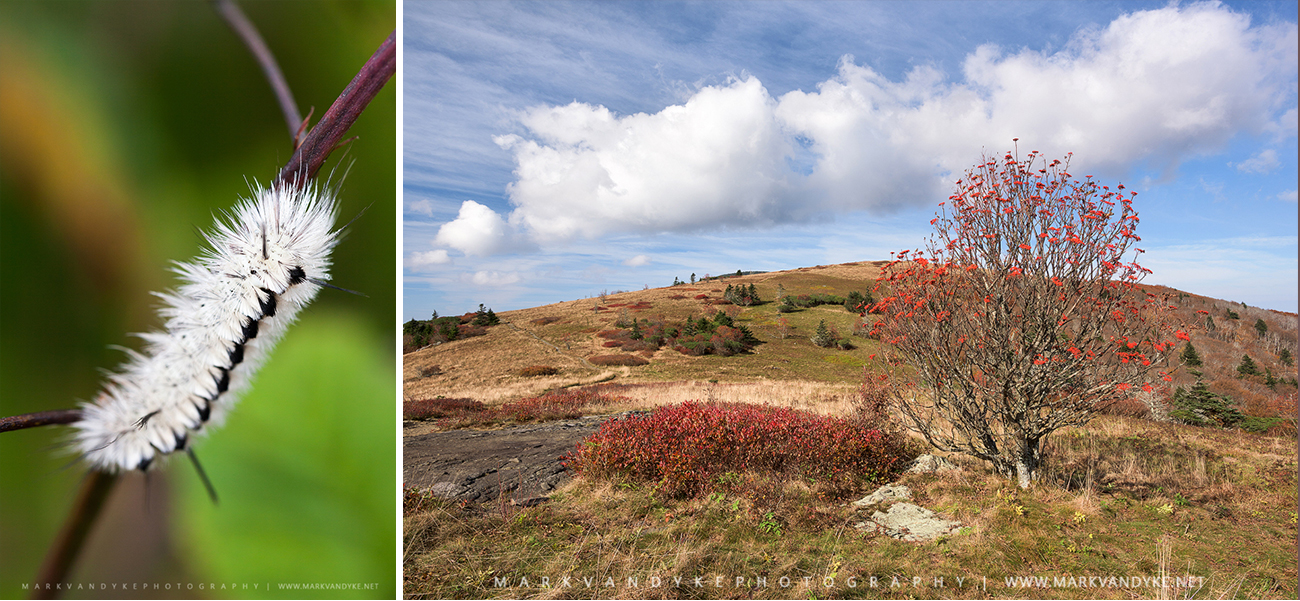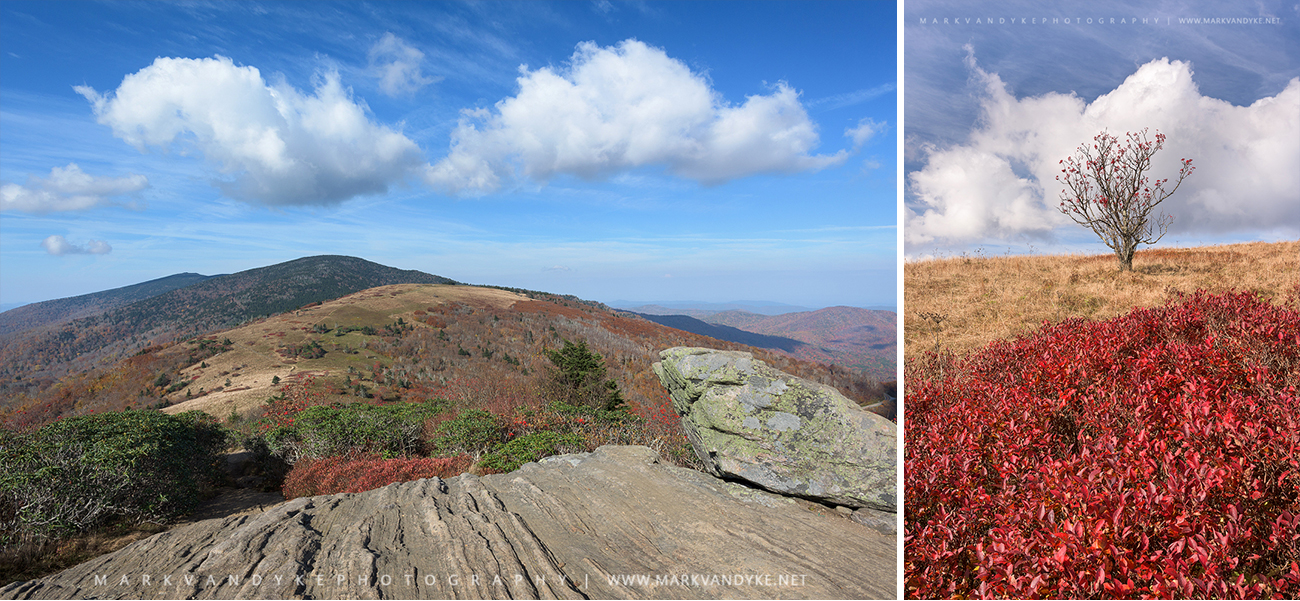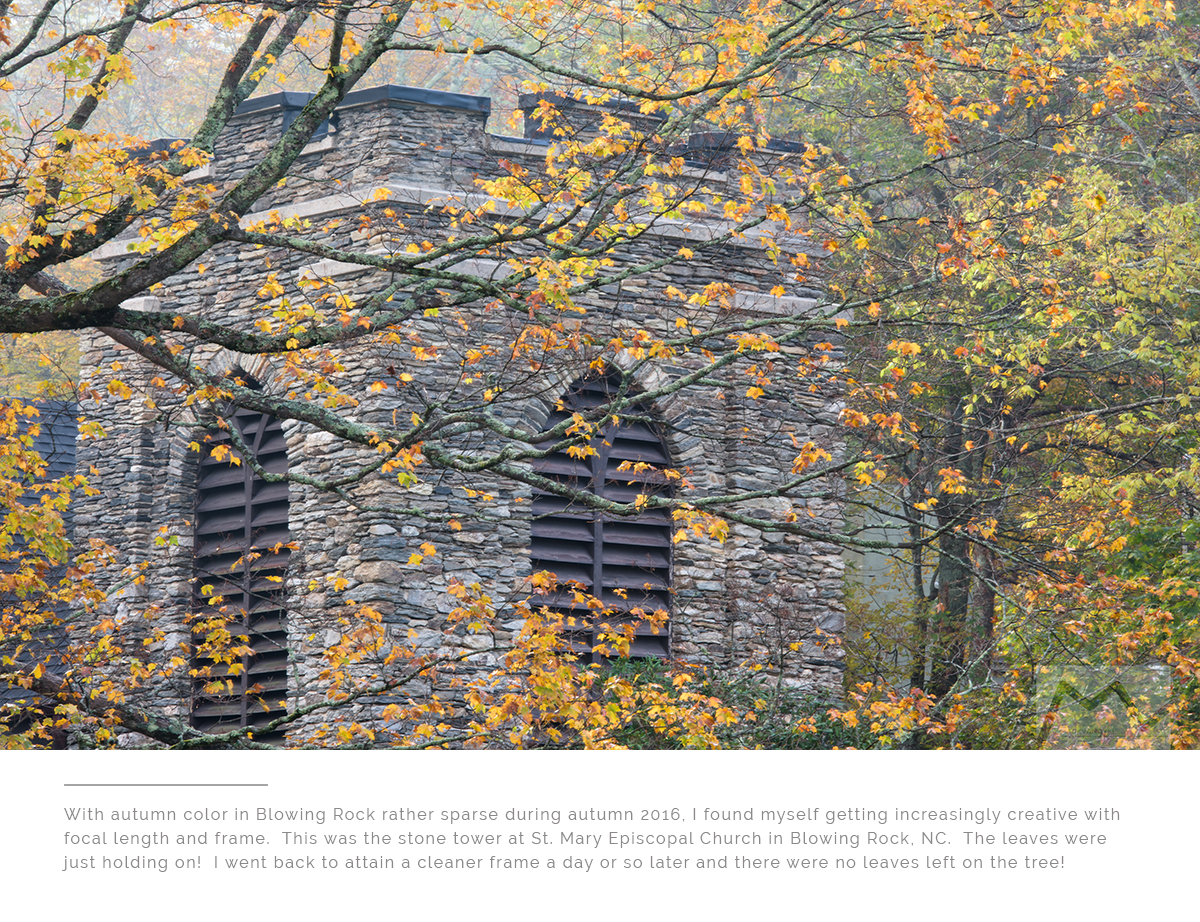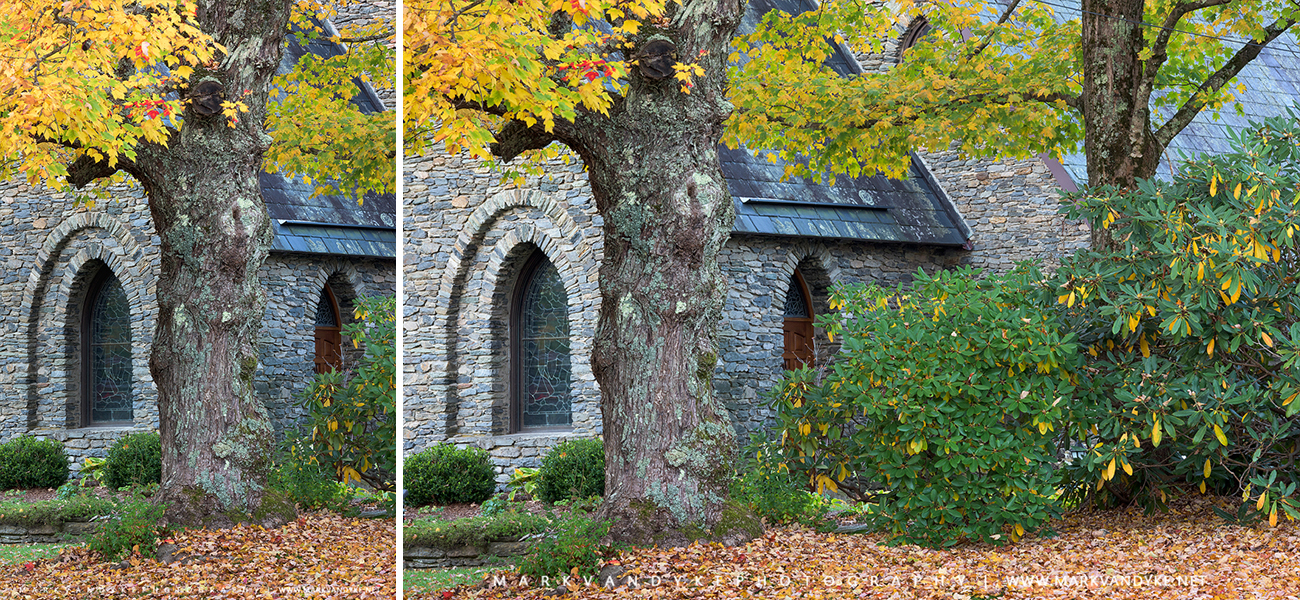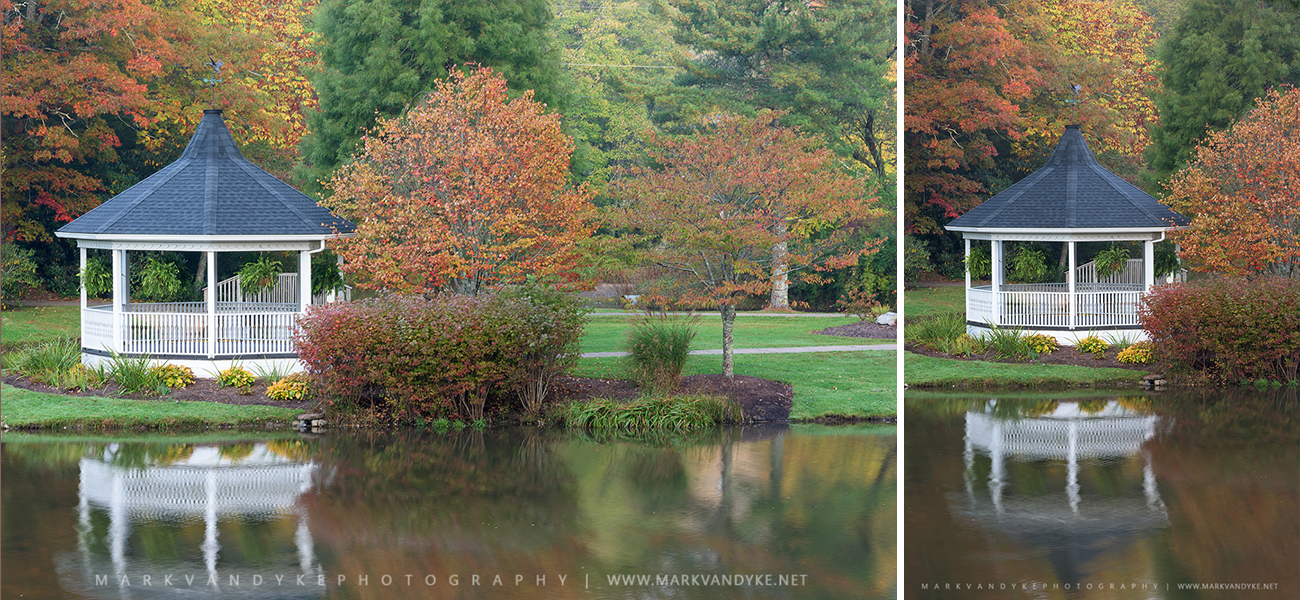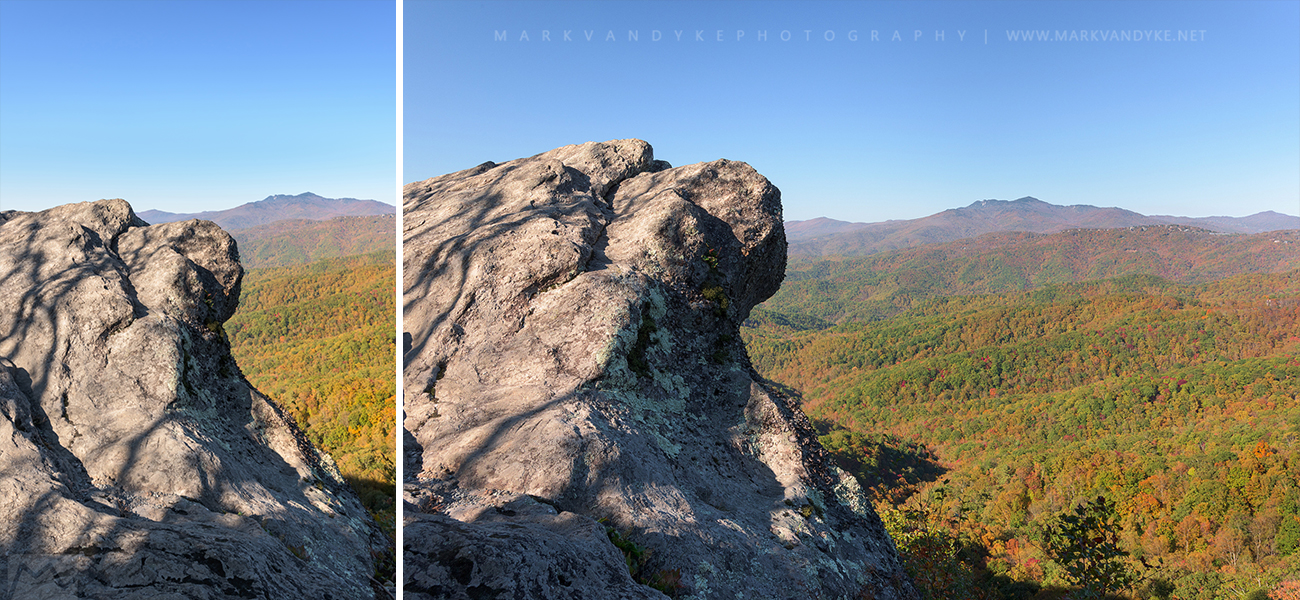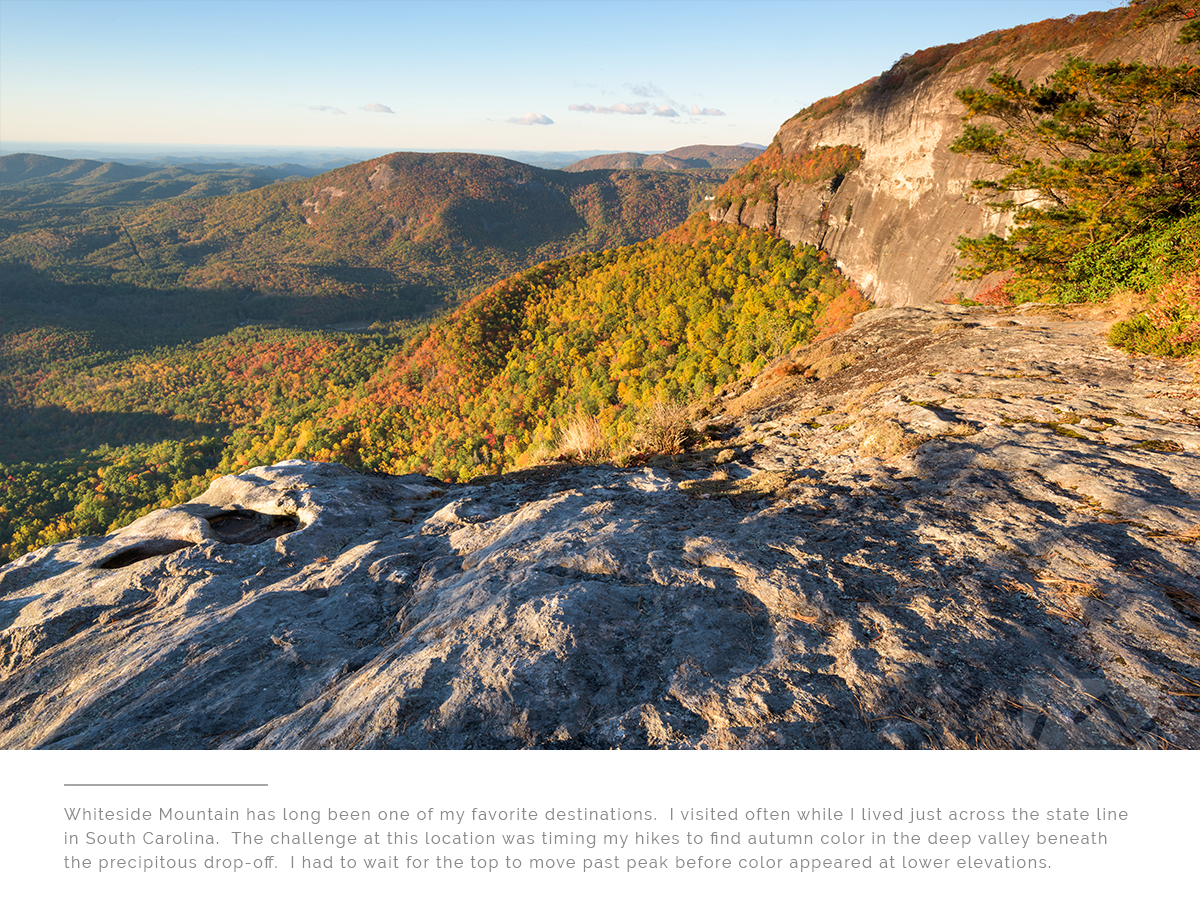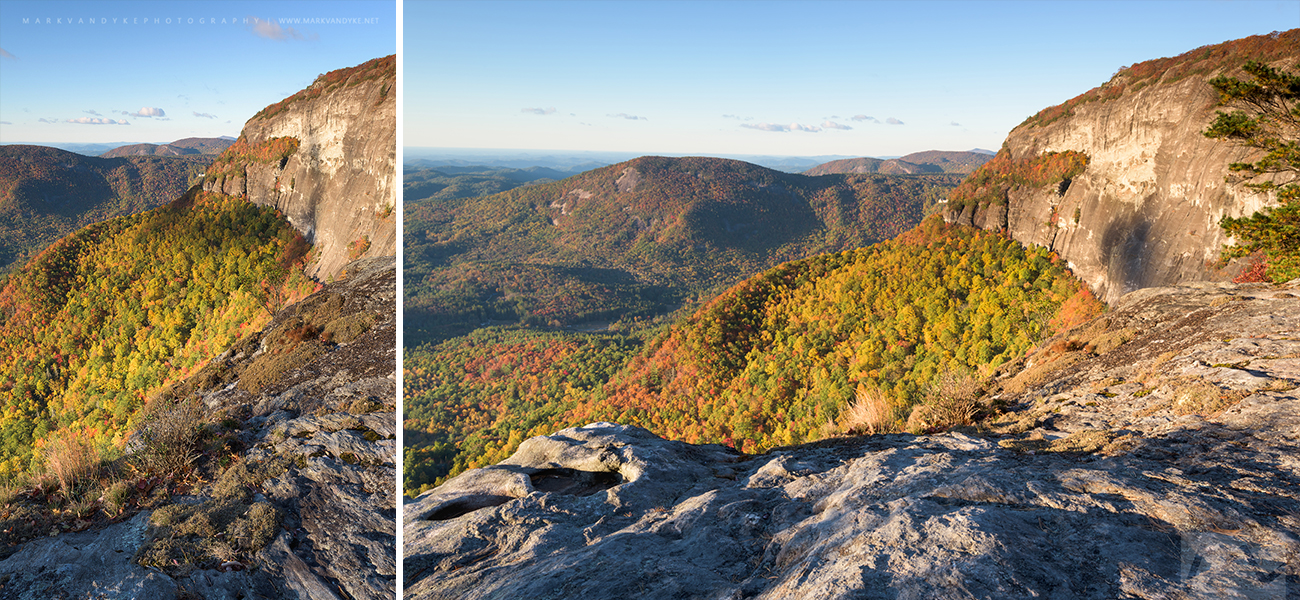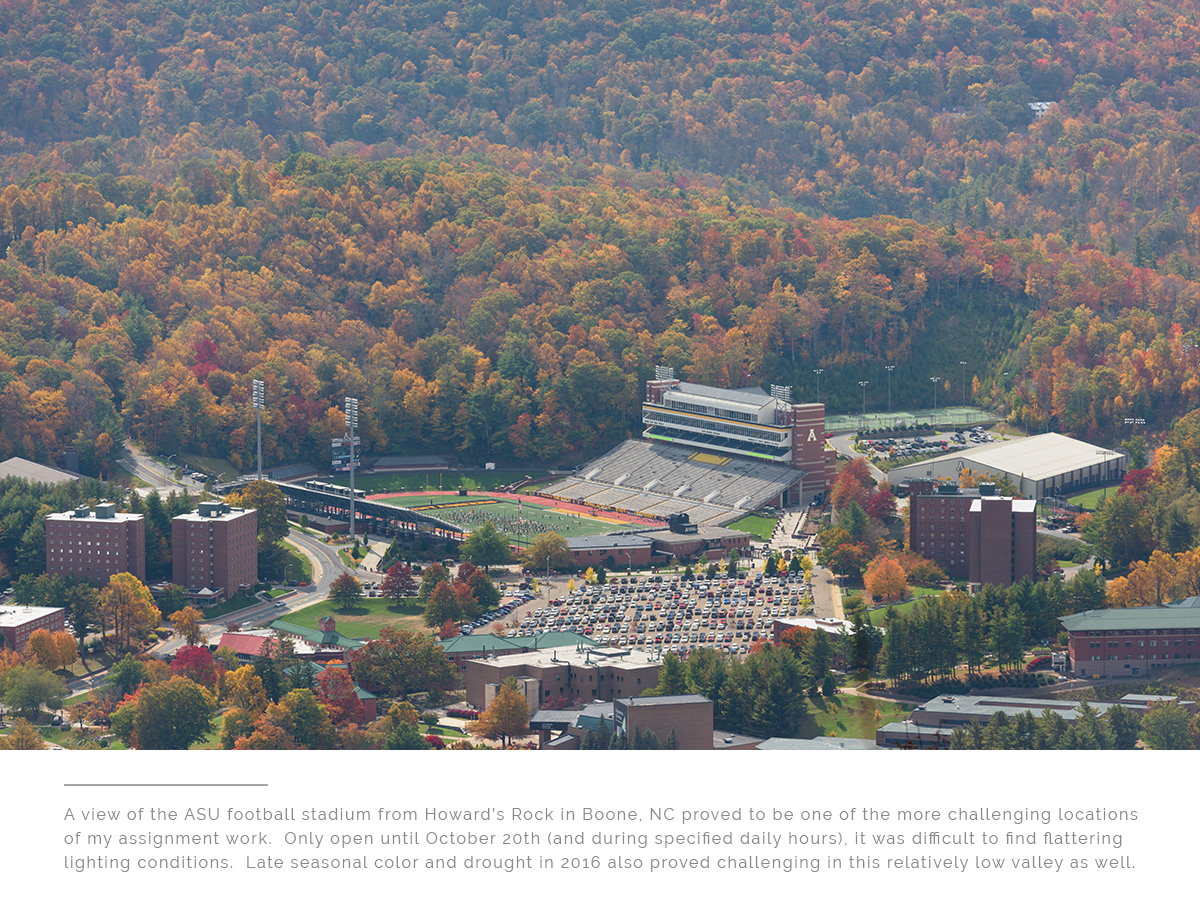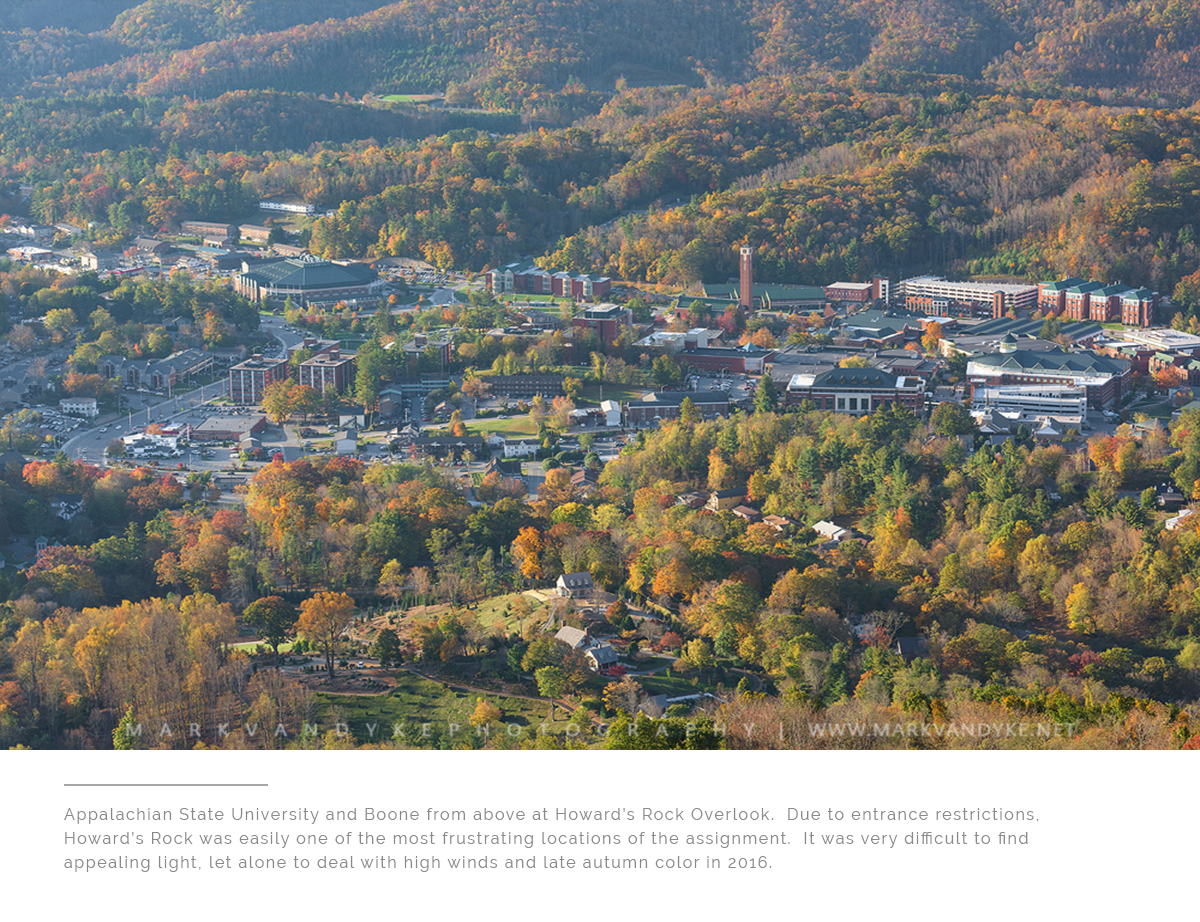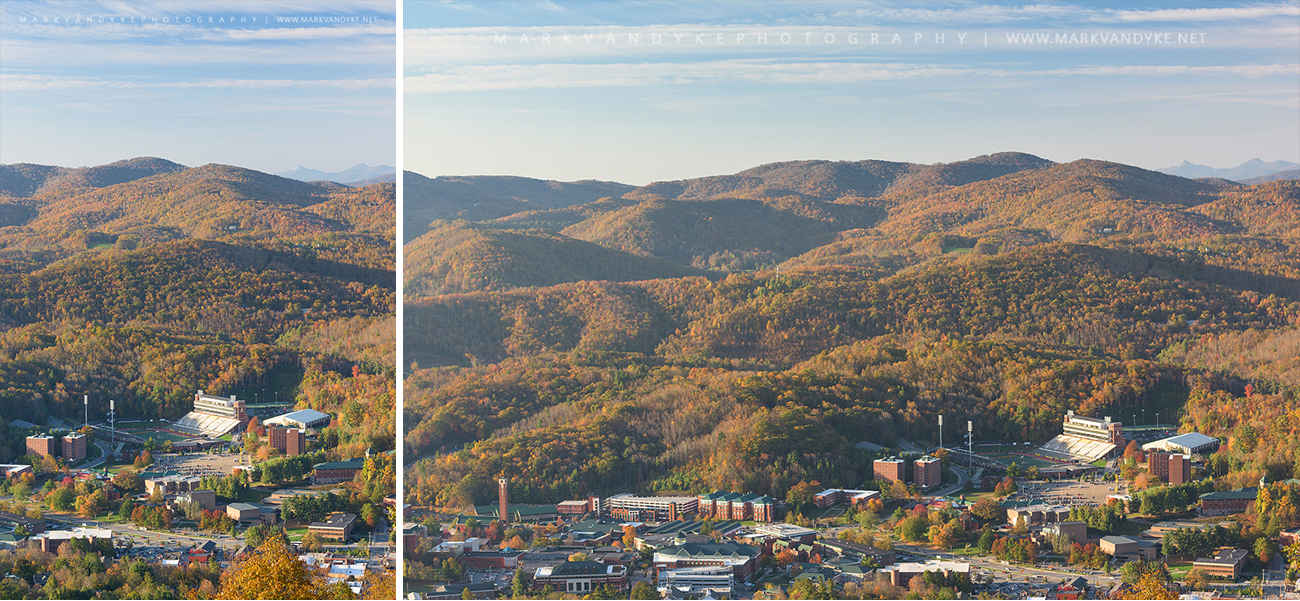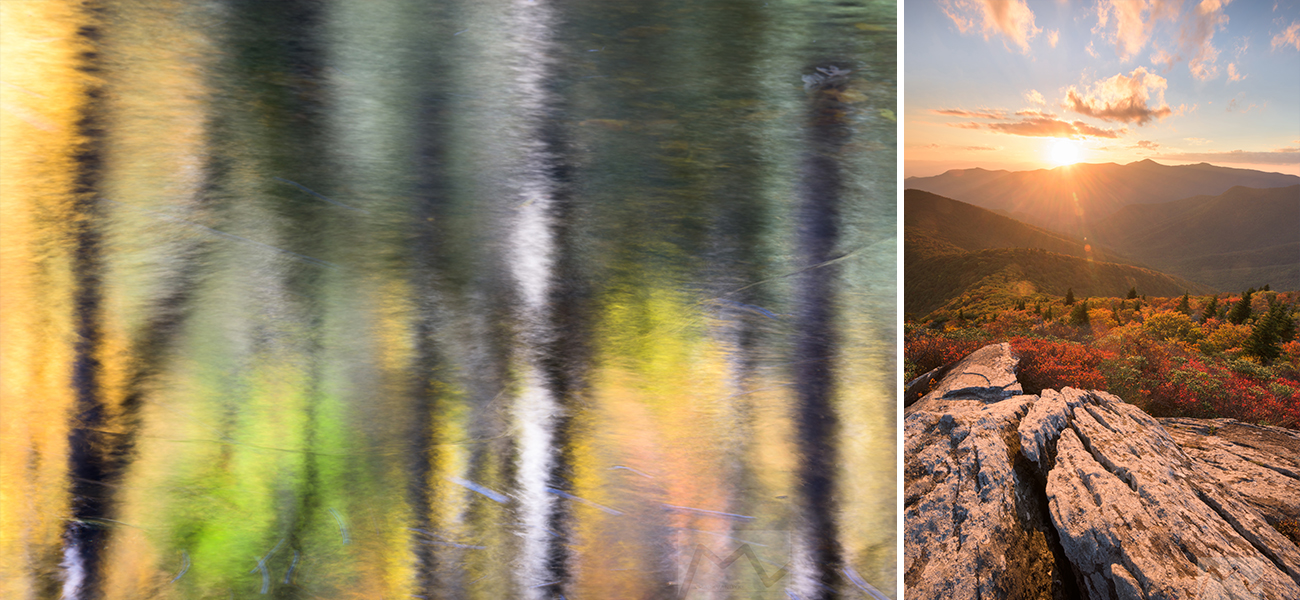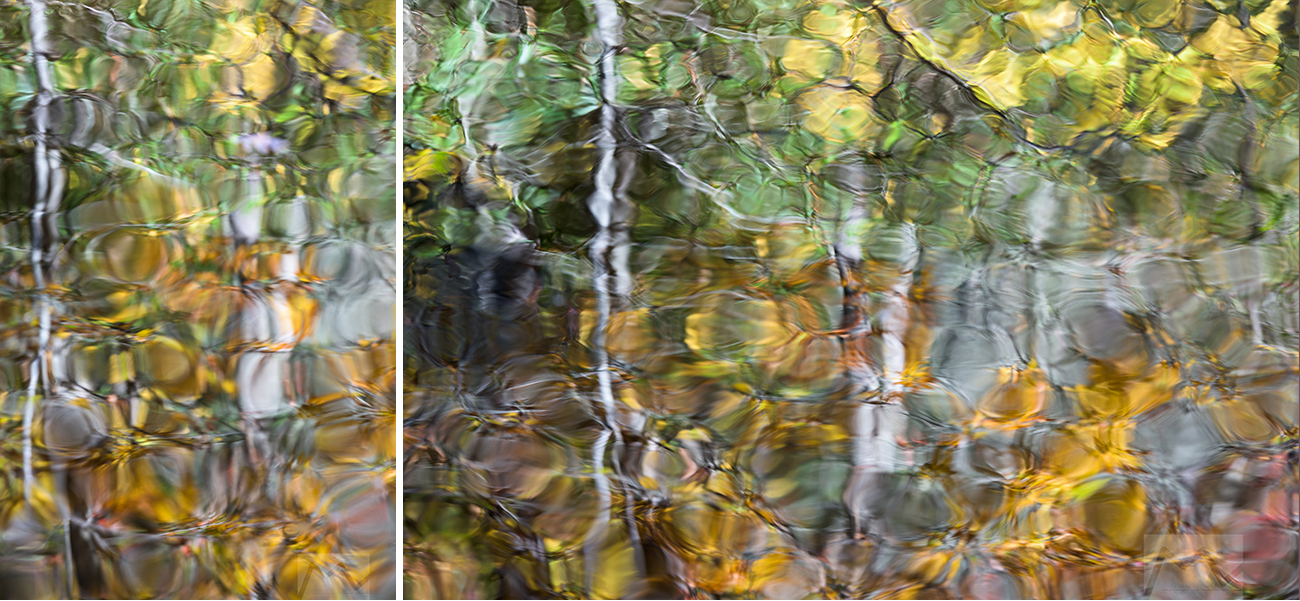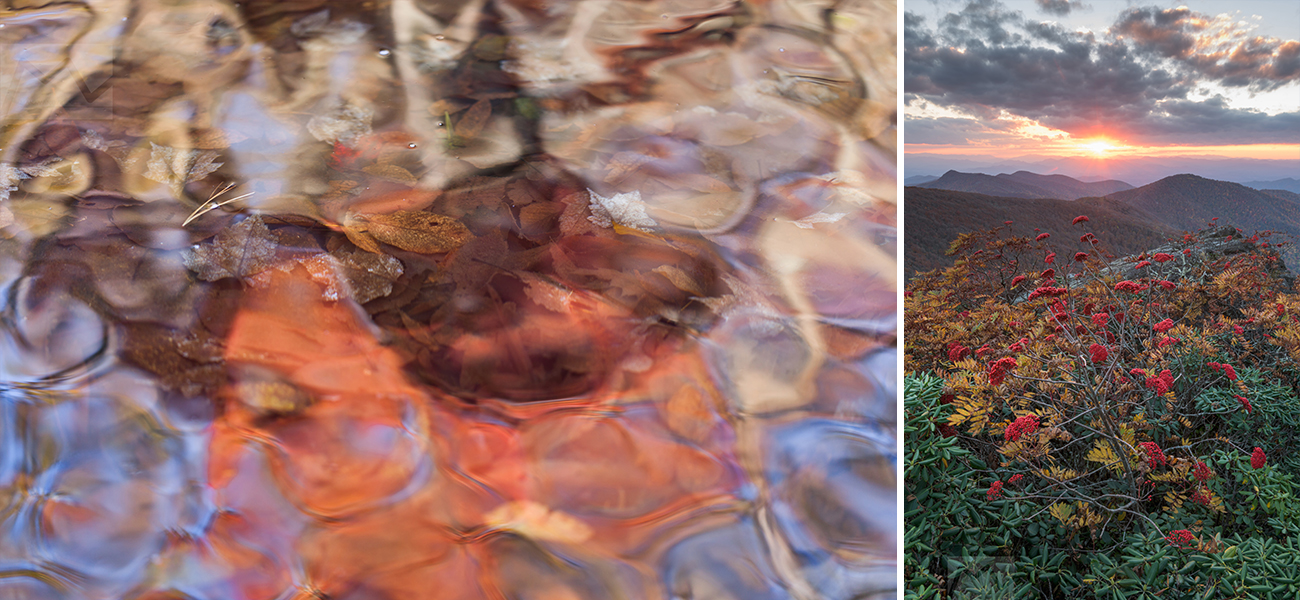 Being active physically outside has always made me feel the most alive, like I'm not wasting some natural inheritance.  Doing so in the Appalachians has given me great fulfillment.  These ancient mountains are a great source of inspiration and comfort to me.  Thus, work of this nature–assignment work in a place I love–is rather meaningful to me.  See, I don't really care about amassing money if it means spending my time sitting indoors or cultivating some variety of virtual doppelganger behind a keyboard.  Work that allows me to be outside, wondering amongst the places that make me feel most alive, experiencing things with all of my senses, that is work which means a great deal to me.  I hope that the images I produced this autumn , despite whatever obstacles may have presented, meet and exceed the desires of those who commissioned my services.  I owe a great debt of gratitude to Our State Magazine for allowing me the opportunity to do what I love in a place I love, and to do it in a manner that allows me to simultaneously fulfill the financial obligations of living.  Know that I appreciate the opportunity.
Thank you.