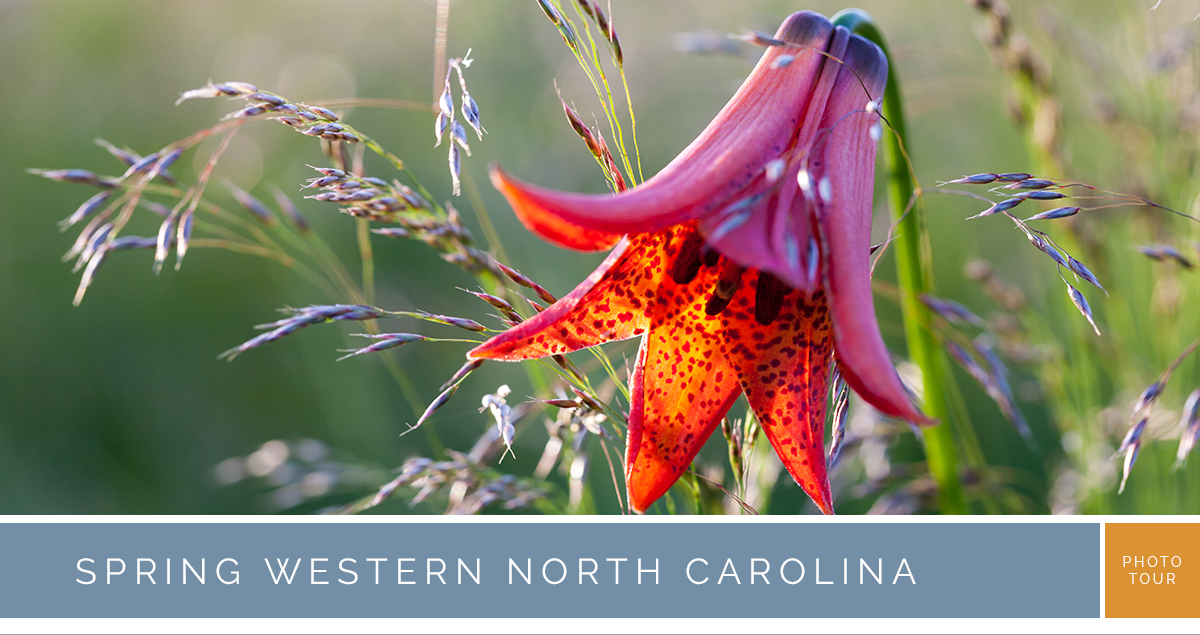 Spring in the North Carolina High Country is what pulled me into photography full-time!  The varied beauty is just spectacular.  From long-range views of layered mountains, to lush waterfalls, to mystical spruce-fir forest, to grassy balds above 6k elevation.  Western North Carolina is simply above most other locations I've experienced.  And the spring season takes everything to another level.  Mountain Laurel and Catawba Rhododendron will be the primary attention grabbers, abundant white and magenta clusters flavoring the rich green canopy above.  In some locations, the Catawba Rhododendron bloom in such quantities that the mountainside appears to turn pink.  Be forewarned, however, that like most bloom phenomena, catching peak for any given location is a futile and often frustrating exercise with each year bringing slightly different times, weather and qualities of bloom!  Not to fret, however, because waiting in the wings for the adventurous photographer are a number of headwater streams, cascades and waterfalls lush with seasonal rain and new green growth.  Combine overnight rains with the right conditions and mornings in the mountains can be downright magical with rays of sunlight punching through dense fog.  Pinnacle trails lead to rocky outcroppings with expansive views of the Southern Appalachian Mountains, and for those with a discerning eye, brightly colored wildflowers sweeten the landscape.

Spring in Western North Carolina will be a mix of dynamic weather and showy blooms, Mountain Laurel and Catawba Rhododendron being the largest flowering shrubs.  Other potential subjects include waterfalls, streams, long-range views, gorges, and trails.  The average temperatures in Western North Carolina in May and June are around 75 degrees during the day.  However, because of the large variation in elevation from the highest peaks to the lowest elevation streams, come prepared for the possibility of near freezing temperatures up high in the mornings.  It's best to dress in layers, starting warm and removing as necessary throughout the day.  Rain gear is a must.  Sturdy, waterproof boots are recommended because of the rocky and often wet terrain.  There are plenty of attractions within short distance of various parking and access points for those interested; however, hiking can gain better perspective and opportunity.  The terrain is moderate to difficult at many locations, with considerable elevation gain or loss to reach rocky outcroppings and/or waterfalls etc.
Photo tours recommended for:
Those seeking an individualized and fully customizable experience
Those already competent with the basic functionality of their camera(s) and associated gear
Those seeking location-guidance services to become better acquainted with an area
Those seeking adventure and outdoor experience beyond what is possible in more traditional large group workshop settings
Photo tours not recommended for:
Those who are seeking formal classroom instruction and structured experiences
Those who are not familiar with the basic functionality of their camera(s) and gear
Those who are not physically able to travel by foot over varied uneven terrain with gear
Those under the age of 18
Individual
private photo tour
full-day photo tour

price covers 1 shooting attendee

sunrise to sunset shooting

location guiding + field instruction

1 non-shooting partner / spouse / friend welcome
2-3 Attendees*
small group tour
full-day photo tour

price covers up to 3 shooting attendees

personalized small group setting

sunrise to sunset shooting

location guiding + field instruction
*The small group should be fully formed at the time of registration.  All e-mail correspondence and invoicing for small group tours will go through one party only–the individual who registered the group for the photo tour.

Request a photo tour date:
Please use the fillable form to request your desired workshop location, dates and format.  I'll respond to the provided e-mail address to verify schedule availability (usually within 24 hours) and provide any additional details regarding the workshop.  Payment will be invoiced through PayPal via the e-mail address provided.  Finally, we'll meet up at a predetermined location and begin a wonderful day or days of field-based adventure behind the lens!
Not seeing the date(s) that you or your small group were hoping for?  My schedule is pretty fluid throughout the year!  Drop me an e-mail with the desired location and dates and any other pertinent details and I'll get back to you regarding availability.
Interactive Map - Western NC