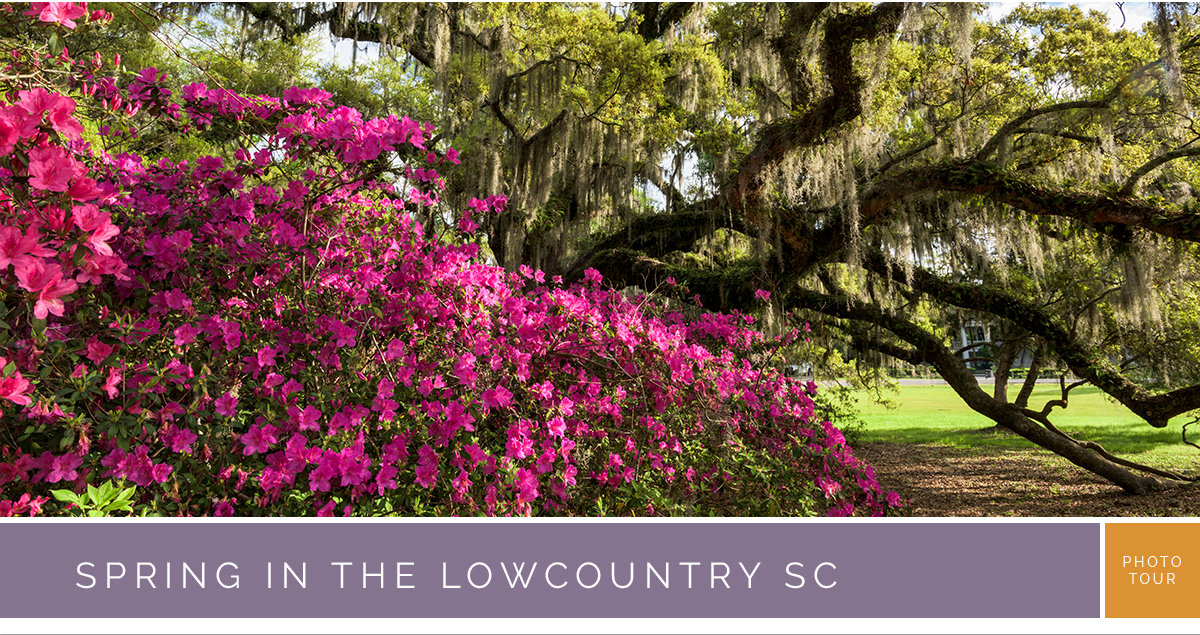 The Lowcountry of South Carolina has character in spades.  Imagine enormous southern Live Oak trees draped in delicate Spanish Moss, flowering azalea shrubs crowded underneath the shaded canopy while somewhere in the distance the fragrant vanilla-like scent of blooming wisteria floats upon the warm, subtropical air.  Yeah, I'm getting a bit carried away, huh?  This is a region strong on natural beauty and when you get enough of that–if it's even possible–head into the historic city of Charleston to photograph landmarks like the Pineapple Fountain and the City Market, or perhaps just stroll the blocks of beautiful homes featuring stately doors, flower boxes, ornate gates, secretive private gardens and tons of charm.  If driving underneath oak-lined drives and walking along cobble-stoned streets finds you needing more open spaces, retreat to the wide-open beaches of Folly for some laid back hospitality.  Lots of public parking allows access up and down the island to many photo-rich zones of beachfront, from an offshore lighthouse, to a tree in the tidal zone, to neat timber piling erosion control devices.  The Lowcountry is an abundant place for the avid outdoor photographer, and during the spring season it's where you'll find me behind the camera!
Two weekends during the spring bloom:
March 25-26, 2017
April 1-2, 2017*
*April 1, 2017 is the annual Cooper River Bridge Run which draws many thousands of folks into the area each year.  Traffic will dictate our tour plans and the Ravenel Bridge will not be available to photograph on this particular day.

The Charleston area has a beautiful mix of garden, beach and architectural scenics.  From historic plantation grounds to ornate architectural details to wild ocean beachfront we'll have plenty of opportunity to mix it up throughout the day(s).  The primary star of the spring season will be the flowering azalea, which will typically seek shade by crowding the base of mature live oaks.  Spanish Moss and Wisteria will also liven the tree canopy as the season progresses.  You can expect the average temperatures during the spring season to be around a comfortable 65-70 degrees Fahrenheit; however, it's wise to prepare for the possible cold front that can bring breezy and chilly conditions, especially along the shorefront in the early mornings.  Physically the Lowcountry is not overly-demanding.  Expect a lot of flat topography.  However, carrying camera equipment on your back and feet all day is physically taxing, and walking in sand doubly-so.
Photo tours recommended for:
Those seeking an individualized and fully customizable experience
Those already competent with the basic functionality of their camera(s) and associated gear
Those seeking location-guidance services to become better acquainted with an area
Those seeking adventure and outdoor experience beyond what is possible in more traditional large group workshop settings
Photo tours not recommended for:
Those who are seeking formal classroom instruction and structured experiences
Those who are not familiar with the basic functionality of their camera(s) and gear
Those who are not physically able to travel by foot over varied uneven terrain with gear
Those under the age of 18
Individual
private photo tour
full-day photo tour

price covers 1 shooting attendee

sunrise to sunset shooting

location guiding + field instruction

1 non-shooting partner / spouse / friend welcome
2-3 Attendees*
small group tour
full-day photo tour

price covers up to 3 shooting attendees

personalized small group setting

sunrise to sunset shooting

location guiding + field instruction
*The small group should be fully formed at the time of registration.  All e-mail correspondence and invoicing for small group tours will go through one party only–the individual who registers the group for the photo tour.

Request a photo tour date:
Please use the fillable form to request your desired workshop location, dates and format.  I'll respond to the provided e-mail address within to verify schedule availability (usually within 24 hours) and provide any additional details regarding the workshop.  Payment will be invoiced through PayPal via the e-mail address provided.  Finally, we'll meet up at a predetermined location and begin a wonderful day or days of field-based adventure behind the lens!
Not seeing the date(s) that you or your small group were hoping for?  My schedule is pretty fluid throughout the year!  Drop me an e-mail with the desired location(s) and dates and any other pertinent details and I'll get back to you regarding availability.
Interactive Map - Lowcountry, SC