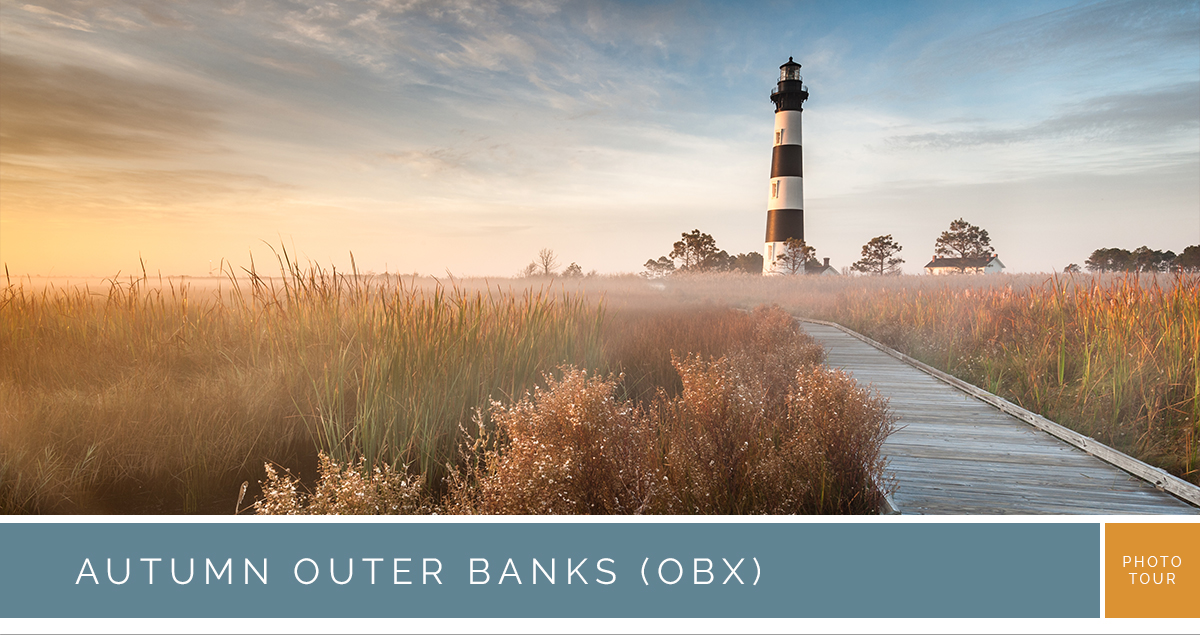 The Outer Banks refers to a narrow strip of barrier islands that jut out and into the Atlantic Ocean off the coast of North Carolina–a geographic formation that authors John Alexander and James Lazell aptly refer to as a "ribbon of sand."  A place dominated by raw elements and natural forces, the Outer Banks are, at their core, untamed.  Water and wind work relentlessly to displace and redistribute sand, sometimes quietly and without fanfare and at other times, violently and in the grips of strong storms.  There is a real feeling of isolation when you crest the top of the Oregon Inlet bridge and take in the vast quantity of water–the Atlantic Ocean to one side and the Pamlico Sound to the other–interrupted only by a thin two-lane highway and a modest line of sand dunes.  Remote is an apt descriptor of the Outer Banks.
Dueling currents ride close to the shelf in the Atlantic–the warm Gulf current and the cold Labrador current–vast underwater rivers that create dangerous shoaling offshore and have led to the infamous moniker:  The Graveyard of the Atlantic.  Up and down the coastline, majestic lighthouses stand tall on the horizon, a reminder of the rich and dangerous maritime history of the area.  Wooden fishing piers march wobbly and beaten legs into the sea, some still functional and others long since abandoned and left to the wrath of nature.  Inlets–passages cut by hurricane and slowly closing on account of shoaling–connect the ocean to the sound, a vast body of water where rivers meet salt and great mixing creates great biodiversity.  In places, the barren landscape gives way to amazing stands of maritime forest where shade and habitat provide opportunity.  Water, sand, wind, sun, tides…the Outer Banks have no shortage of raw material to inspire photographers.  I've been visiting the islands since I was born and continue to count them as my standard for what a beach should look and feel like:  wild, untamed, raw, beautiful.
Late Autumn Dates Oct/Nov:
October 28-31, 2017
November 1-7, 2017 and November 13-19, 2017

Why late autumn?  A beautiful mix of seasonal change and un-crowded destinations.  The long grasses around marshes and sounds turn a beautiful burnished brown–catch these in early light and the color will startle you with its rich beauty.  Colorful wildflowers dot the sandy backsides of the primary dunes.  Stunted oak trees, shaped and pruned by strong winds begin to produce little acorns.  And the skies–on the late edge of the Atlantic hurricane season–can at times produce some of the most stunning sunrise / sets you can imagine.  We'll be photographing iconic lighthouses (Roanoke Marshes, Currituck, Bodie, Hatteras), wooden piers and boardwalks, the highest sand dune on the east coast (Jockey's Ridge), maritime forest, blooming autumn wildflowers, and the ever-changing Atlantic Ocean.  It's best to prepare for two distinct seasons this time of year in the Outer Banks.  One day you might be in shorts, sandals and a t-shirt getting a sun burn; the next you might have a cap over your head and a jacket to ward off the whistling cold winds.  It just depends on the weather front at the time!   Physically, the topography of the Outer Banks is low and flat.  However, the sand is deep and plentiful.  Many find walking in shoes / boots to be preferable to barefoot when going distance with weighted pack, not to mention a buffer between hot and cold sand temperatures.  As with any coastal location, be prepared to deal with mosquitoes and other biting insects should the winds lose their buffering effects–yes, even in November!
Photo tours recommended for:
Those seeking an individualized and fully customizable experience
Those already competent with the basic functionality of their camera(s) and associated gear
Those seeking location-guidance services to become better acquainted with an area
Those seeking adventure and outdoor experience beyond what is possible in more traditional large group workshop settings
Photo tours not recommended for:
Those who are seeking formal classroom instruction and structured experiences
Those who are not familiar with the basic functionality of their camera(s) and gear
Those who are not physically able to travel by foot over varied uneven terrain with gear
Those under the age of 18
Individual
private photo tour
full-day photo tour

price covers 1 shooting attendee

sunrise to sunset shooting

location guiding + field instruction

1 non-shooting partner / spouse / friend welcome
2-3 Attendees*
small group tour
full-day photo tour

price covers up to 3 shooting attendees

personalized small group setting

sunrise to sunset shooting

location guiding + field instruction
*The small group should be fully formed at the time of registration.  All e-mail correspondence and invoicing for small group tours will go through one party only–the individual who registered the group for the photo tour.

Request a photo tour date:
Please use the fillable form to request your desired workshop location, dates and format.  I'll respond to the provided e-mail address to verify schedule availability (usually within 24 hours) and provide any additional details regarding the workshop.  Payment will be invoiced through PayPal via the e-mail address provided.  Finally, we'll meet up at a predetermined location and begin a wonderful day or days of field-based adventure behind the lens!
Not seeing the date(s) that you or your small group were hoping for?  My schedule is pretty fluid throughout the year!  Drop me an e-mail with the desired location and dates and any other pertinent details and I'll get back to you regarding availability.
Interactive Map - Outer Banks, NC