Reflections, like mirrors, are said to display the true self.  In fact, some older cultures have believed that mirrors literally reflect not just an image of oneself, but the very soul.  I wonder now looking back at this photograph if that sentiment would also apply to natural subjects when reflected into still water?  Does a reflection bring a scene down to its essence, to the spirit of place?  I don't usually get too cutesy with my photography, but on this particular morning I found this reflection of a forested hillside of spring azalea to be the single feature captivating my attention.  As nature often has it, the reflection occurred just long enough to catch my interest before the wind and light betrayed the scene and left me sitting on my butt for the better part of an hour or two waiting for the conditions to reappear!  It wouldn't be any fun if it were easy, right?!
When a scene is not there, I'm not usually the one to force something.  However, when you're on the road, visiting an area for a defined period of time and photographing a seasonal phenomena that won't happen again until next year, a wait and return strategy holds little promise for success.  With seasonal changes such as flowering blooms, urgency has to be some part of the equation, especially once peak conditions present themselves.  Having found peak bloom of an entire hillside of bright azalea in the Lowcountry of South Carolina, I set about photographing a wider perspective, including both the actual and the reflected, in a somewhat unexciting 50/50 composition.  Unhappy with the results despite the beauty of the scene, I decided to isolate aspects of the actual scene (upper 50 of the original composition), looking for greater impact and less chaos.  Uncertain that anything I was working up did the trick, I aimed at only the reflected image (lower 50 of the original composition) and pretty quickly I realized that despite the lack of clarity I was measurably more drawn to the colors and organization of the frame.  My mind liked the mystery of not being able to instantly recognize what I was looking at–the mental gymnastics of trying to put together the color and forms into something meaningful.  In many ways, it resembled, to me, an inverted panning image of the landscape, without all the trickery and production required of the technique:  I just sat there, aimed, pointed the camera and clicked when the light and wind cooperated to reveal this imaginative representation of spring seasonal conditions in Charleston, South Carolina.  What do you think?  Is it appealing to you?  Or not so much?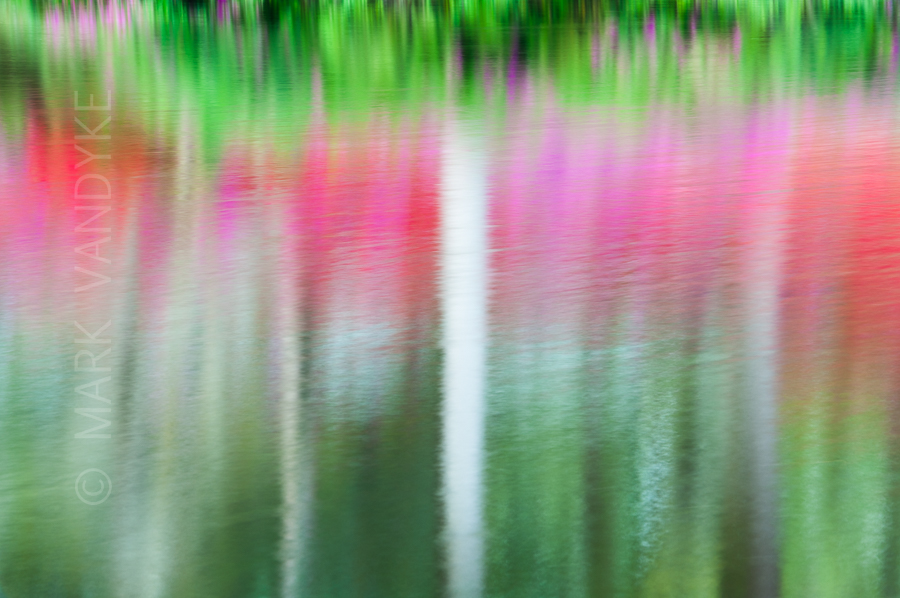 Have a wonderful weekend folks!  As always, you can find an expanded portfolio of South Carolina images in my gallery, including those photos from my recent trip to Charleston, South Carolina.  Also, a variety of print mediums are available for purchase from my gallery at Fine Art America should you be interested.