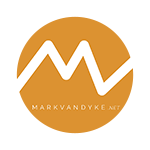 Mark VanDyke, Photographer
When I started monthly reviews late last year I honestly thought I could fit in a post each month without too much pain.  Best laid plans, right?!  Spring has quickly become my busiest season annually.  I typically hit the highway in March and don't stop until late June in an attempt to chase the flowering and emerging spring colors from the coast all the way up to the tips of the highest peaks in the eastern United States.  It's been an ambitious and tremendously taxing effort but the experiences I've had are beyond that which I could have imagined just a short five years ago.
Each of the three months–March, April and May 2017–I spent over 50% of my time on the road or in the field chasing beauty.  Tent life became pretty routine; efficiencies revealed themselves as always and I became even more comfortable with the alternate lifestyle of the road.  In many cases, I learned gear and tricks that made my time out and about more enjoyable.  Behind the camera, I extended my knowledge of key places:  I finally executed a shot at the tidal flats on Folly Beach; I engaged a tide-dependent frame of the Morris Island Lighthouse; new wildflower locations were scouted in the Great Smoky Mountains and I continued to practice single-frame macros; new populations of trout lilies, trilliums and dwarf irises were located in Western North Carolina; and I tracked the creep of spring colors up the mountainside from various vantage points.  It was a tremendous learning experience and I feel each year that I gain tons of real knowledge that I can pass through to clients who engage me for photo tours.
Thank you again to everyone who keeps me doing this thing and to everyone who I meet out and about–you guys and gals inspire me to keep at this little adventure.
I was out in the field for just over 15 days during the month of March, all spent in the state of South Carolina.  After a short visit in February (insanely early to be camping and photographing wildflowers!) at Devil's Fork State Park in Upstate South Carolina, I received word that that azalea came early to the Charleston area.  By March 1st I was setup at a KOA campground in Mount Pleasant, South Carolina enjoying some early season sunshine.  Unfortunately, the azalea bloomed so early this year that the rest of the landscape didn't have time to catch up:  the Spanish moss, Resurrection fern, and grasses were all largely still dormant.  Frames that I created had the punch of color you would expect from fresh azalea blooms, however, they lacked the thick fill that makes spring seasonal images so lush and inviting.  It was effectively a winter brown landscape with a splash of bright color.  It didn't work for me.  I packed up early.
I returned to South Carolina March 21st to try again.  Storm damage from 2016 had most all of the beach destinations near Edisto Island shut down to the public.  The azalea bloom was already largely gone at the various plantation gardens along the Ashley River.  So, I concentrated my efforts on Folly Beach, a place that I've been studying now for nearly five years.  Folly is one of the most rapidly changing islands I'm familiar with.  Each time I visit things are entirely different.  Heavily armored with every type of hard erosion control device you can imagine, Folly constantly loses sand from dredging activities in the nearby Charleston Harbor, dictating constant nourishment projects via mechanically pumping sand from offshore deposits back to the nearshore beaches.  Stretching only five miles in length, I love to walk from one end of Folly to the other, noting interesting tidal pools, interactions, and light patterns.  I feel, after this year, that I have a really solid grasp on how to work Folly behind the lens.
I activated the shutter just under 2500 times during the month of March 2017 which is slightly above my four-year average.  Why the increase?  It was an early spring.  Wildflowers were in full swing by early March, as well as the larger flowering shrubs.  I often find myself racking up greater shutter counts during macro flower season as I try to creatively find the sweet spot where a single-frame, shallow depth of field focusing technique can convey just enough information to the viewer while also leaving much to the imagination.  There are plenty of duds in that process!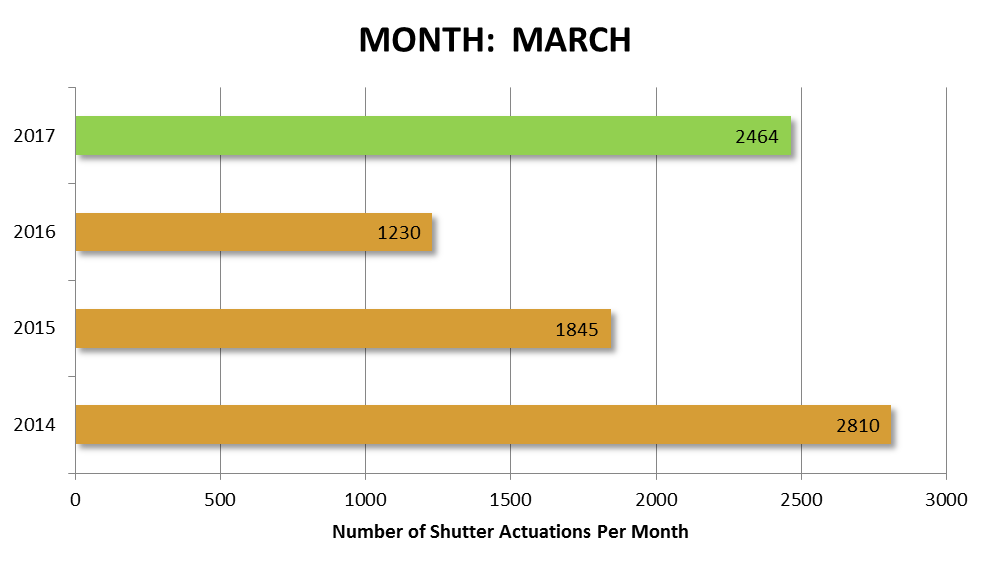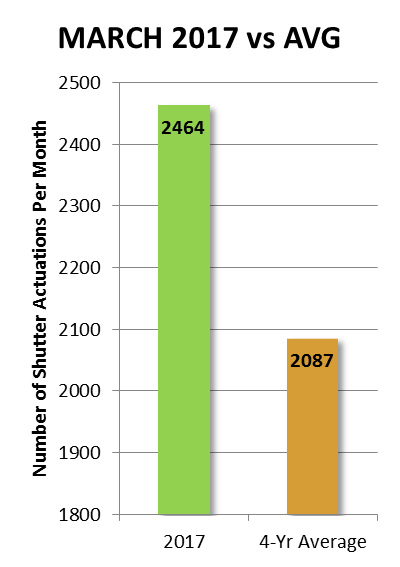 Below are a few of the images I produced during the month of March 2017.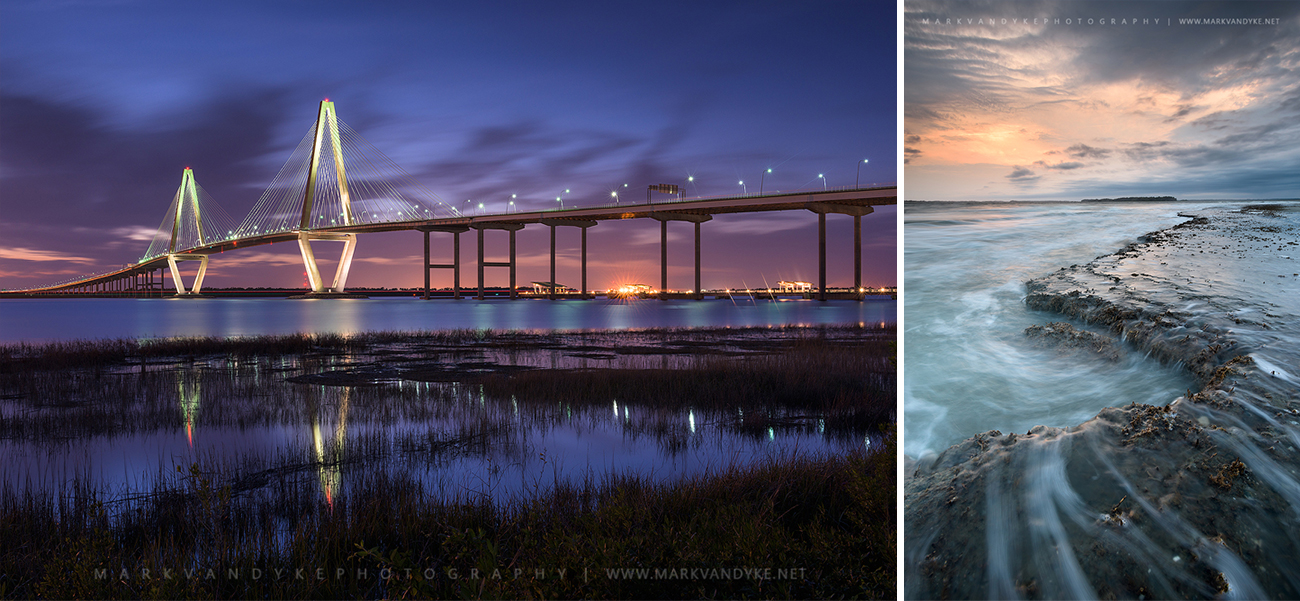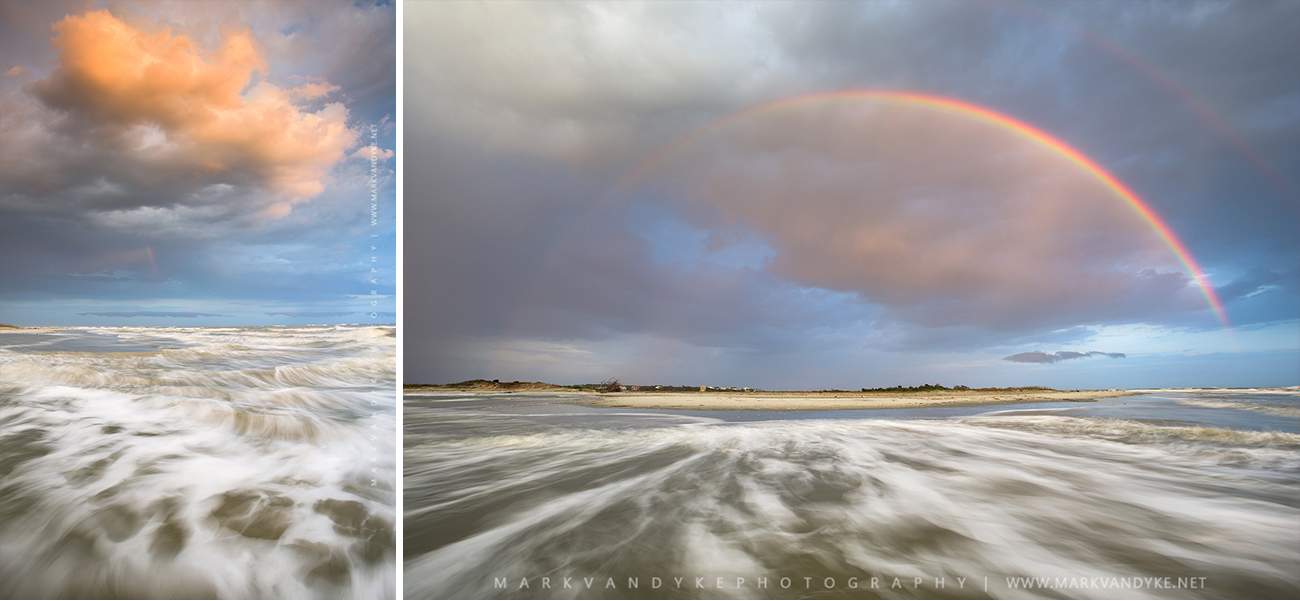 I was out in the field for nearly 20 days during the month of April, scattering my efforts from Northern Virginia to Tennessee, from Upstate South Carolina to Western North Carolina.  Leaving Charleston, South Carolina on April 1st, I returned to Northern Virginia (my hometown) in order to catch the annual ephemeral wildflower bloom:  Virginia Bluebells, Dutchman's Breeches, Trillium, etc.  Not a popular destination for other photographers, Northern Virginia allows me space and solitude to enjoy the wildflowers unlike most others.  The quality of the bloom is surprisingly high for its proximity to urban hustle and bustle.
Mid-April I packed up the car once again and set out for the Great Smoky Mountains with plans for an extended two-week stay.  The first week went well, with typical Southern Appalachian weather:  fog, light drizzle, and calm mornings with lots of streams, dogwoods and ground flowers.  Then, the rain started in earnest.  Several days of pounding rain and intense storms raised the rivers to flood stage.  I was moved off my campsite by the NPS.  I even retreated for a night to Pigeon Forge to dry myself out and get my head back in the game.  After a disappointing day where I found the water courses to be too full (a problem I never considered before), I decided to cut my visit short and head over the mountain to Upstate South Carolina to chase some waterfalls.  Having attended college at Clemson University, I've been itching to return to some of the falls nearby during periods of high water to recapture old memories with new eyes.  I was not disappointed.
In late April as the federal campgrounds opened their gates once again to the public along the Blue Ridge Parkway, I transitioned into the high country of Western North Carolina.  Reduced spring rates and plentiful wildflowers had me off to a good start.
I actuated the shutter 2765 times during the month of April 2017, about half as often as the past two years.  Why the decrease?  An early bloom in March down in Charleston, South Carolina coupled with closed beaches due to storm damage left little to shoot in early April.  Heavy flooding rains shortened my annual stay in the Great Smoky Mountains.  Together, I had more time seeking new and drier locations to shoot!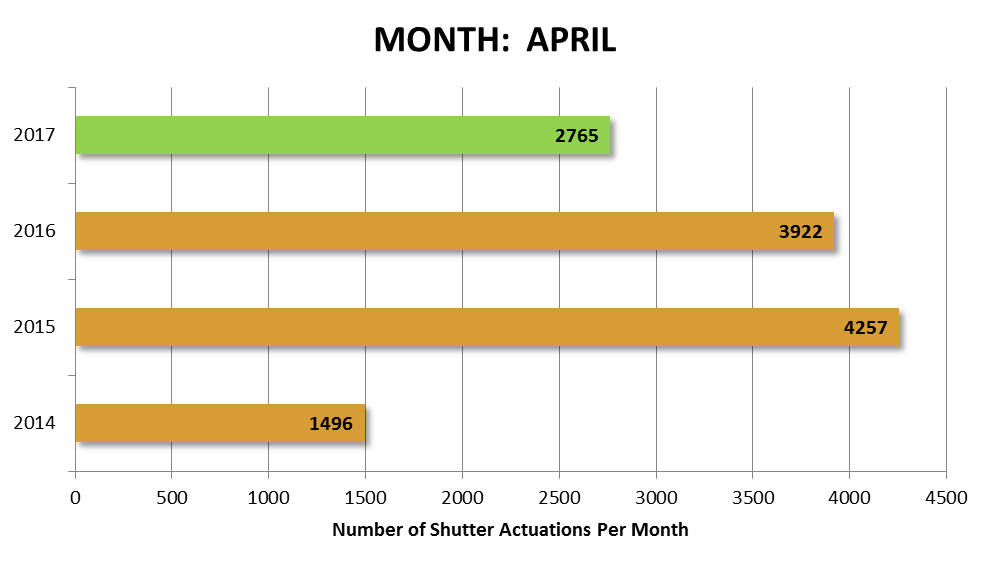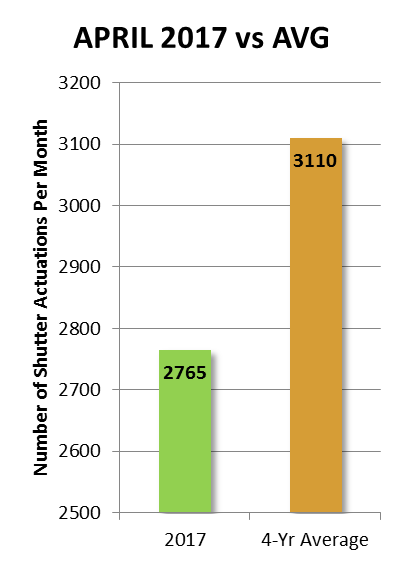 Below are a few of the images I produced during the month of April 2017.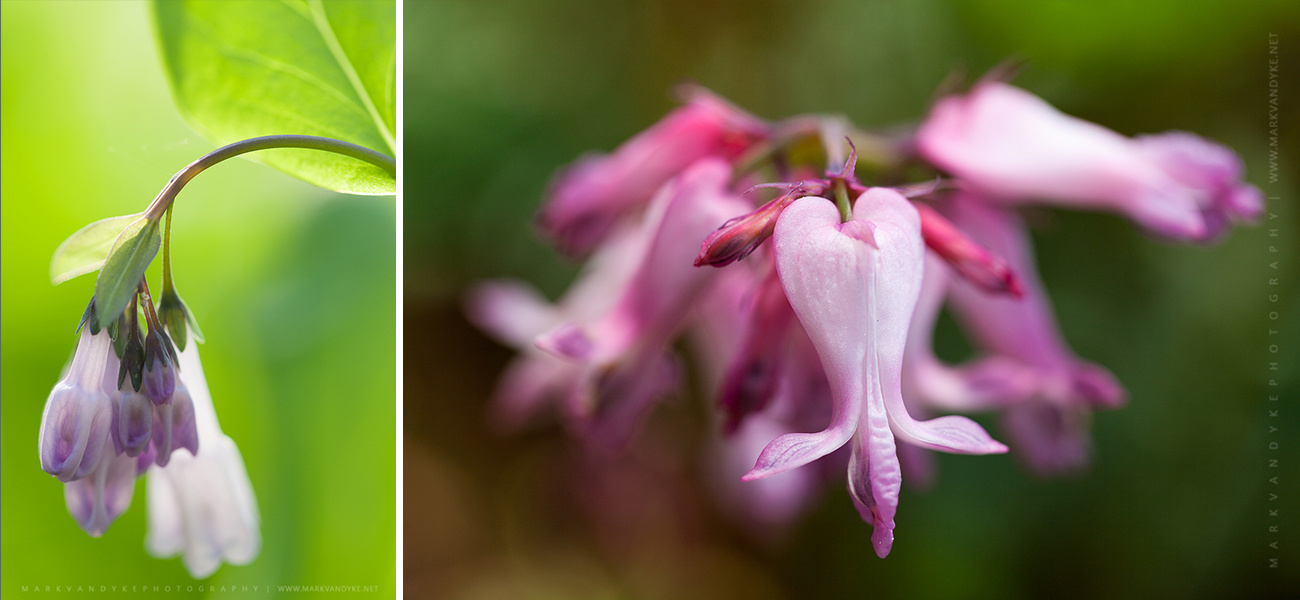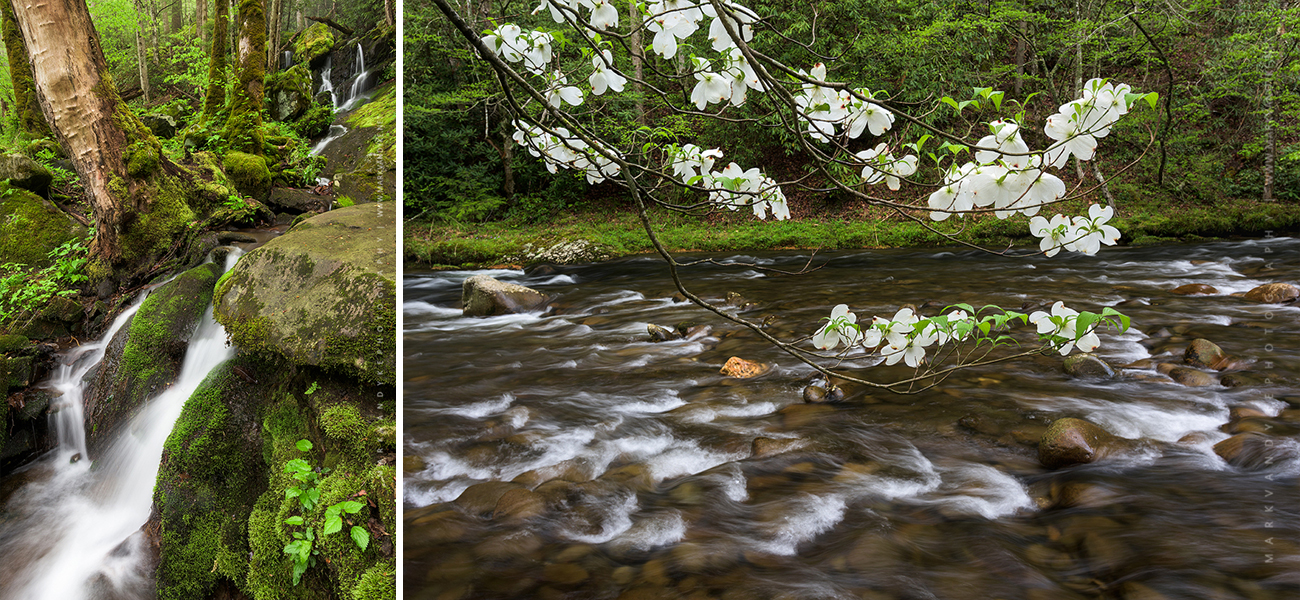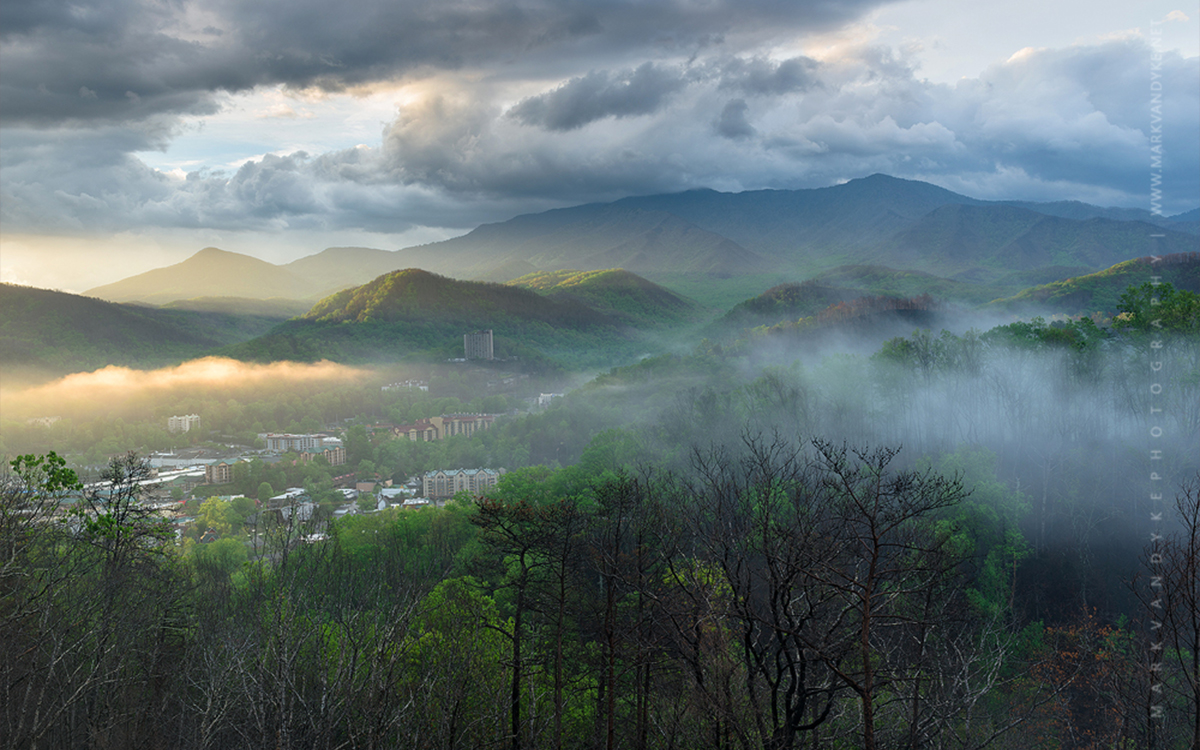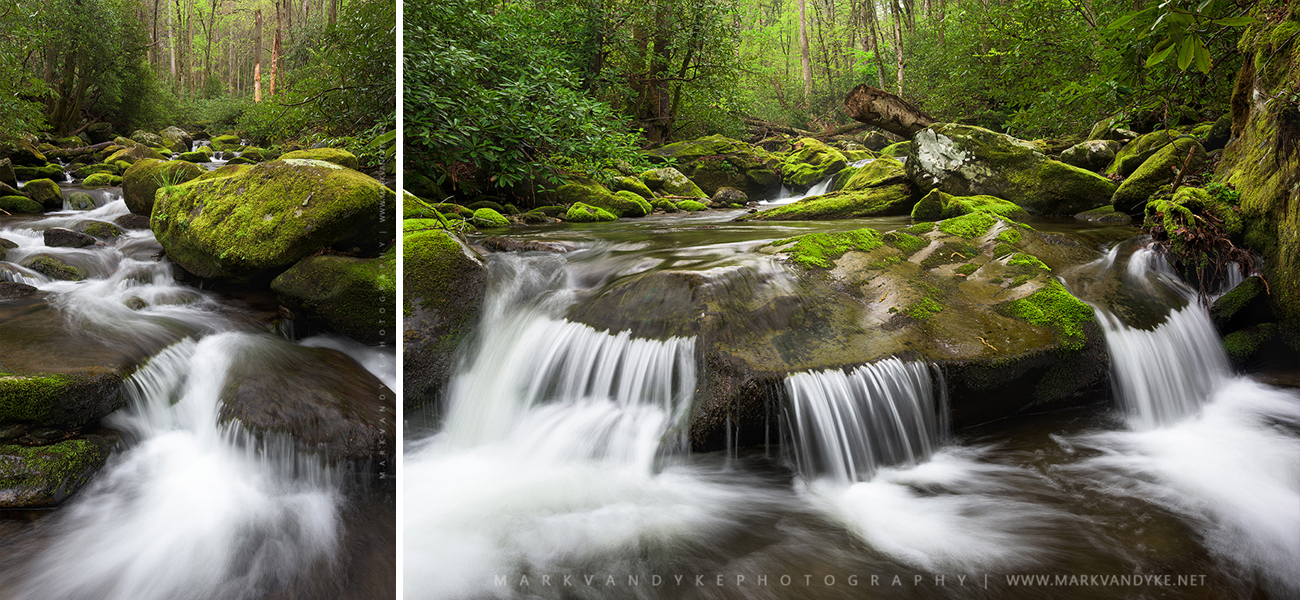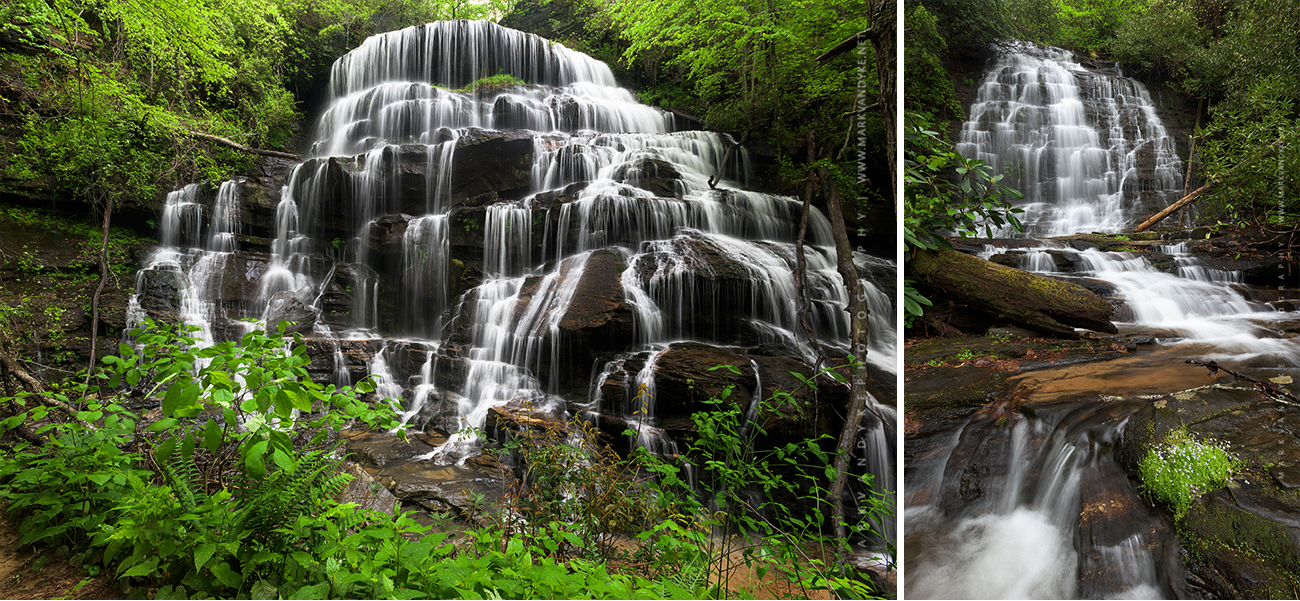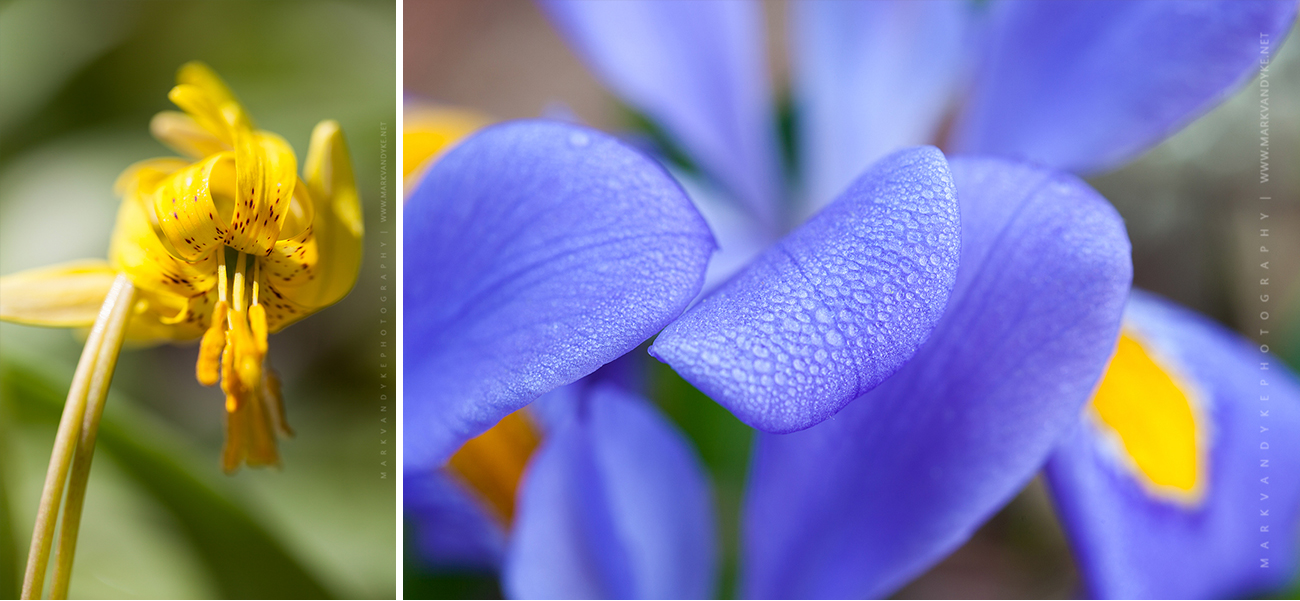 I was out in the field for 18 days during the month of May 2017.  May is one of those curious months for me as a working photographer.  If it were up to me, I wouldn't personally spend much time in the high mountains of North Carolina until late in the month.  However, early May is the most requested calendar date for me regarding individual photo tours.  Several years running I've had entire weeks booked during early May for mountain adventures.  My theory is that folks are pent up from the colder months, start seeing all of the spring images from the Lowcountry, and desperately want to plan some adventures in the mountains before the busy summer months arrive.
One of the upsides of May demand has been the necessity to get to know the mountains during an unfamiliar time.  I've slowly, over the course of several years, learned where populations of wildflowers are found before the canopy fills in:  Pinkshell Azalea, Trout Lilies, large flowering trillium, Mayapples, Solomon's Seal etc.  I've found various vantages from above where the transition from brown to colorful can be observed as spring works its way up the mountain.  And of course, I've scouted the major seasonal blooms, like the Carolina Rhododendron within the Linville Gorge.
The rains that came hard and heavy in April, in large part, gradually stopped in May.  As is typical, however, the winds came sweeping through like a broom on the heels of the clearing.  During a four-day individual photo tour my client and I woke each morning to consistent and unceasing wind!  Nothing drains my spirit more than consistent wind!  So many opportunities are knocked off the table behind the lens.  We did what we could.
After a short break off the road, I continued up to Pennsylvania for my annual lightning round with Ricketts Glen State Park.  Each May I spend one day within the park, often only a couple of hours, enjoying the electric greens of spring.  I returned to Western North Carolina over the holiday weekend at the end of the month to scout for the coming Rhododendron bloom.
I actuated the shutter 1656 times in May, slightly above my averages.  I attribute the higher shutter counts to increasing knowledge of where and how to shoot the early spring conditions in the mountains of Western North Carolina.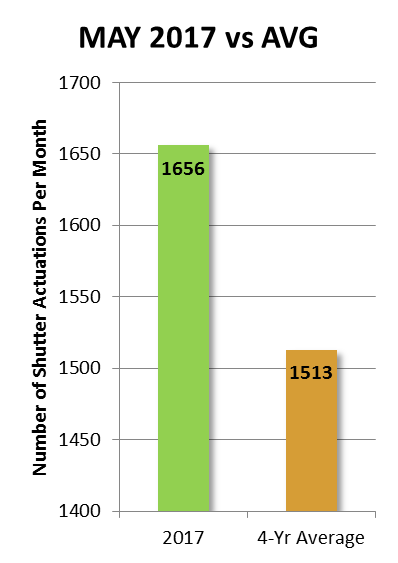 Below are a few of the images I produced during the month of May 2017.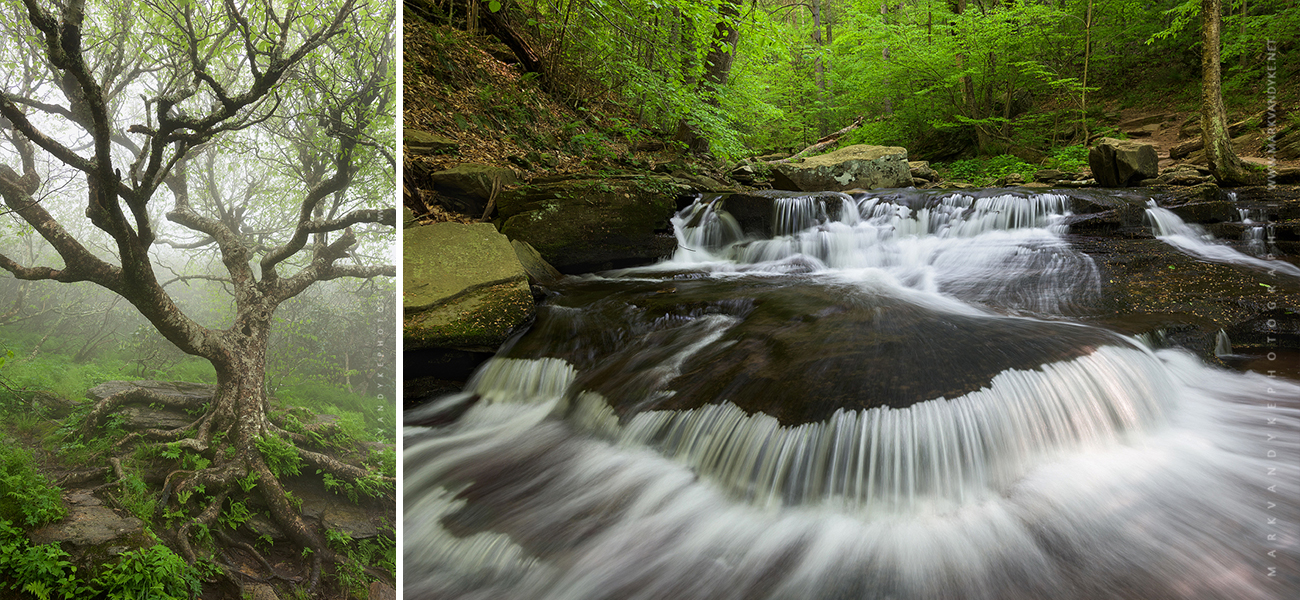 I'm a big fan of books.  One of the beautiful things about being on the road and in the field is that there is ample down time between weather and just plain being tired to read a lot of books.  This spring I finished up a handful of titles:
Image Donation to the National Park Service: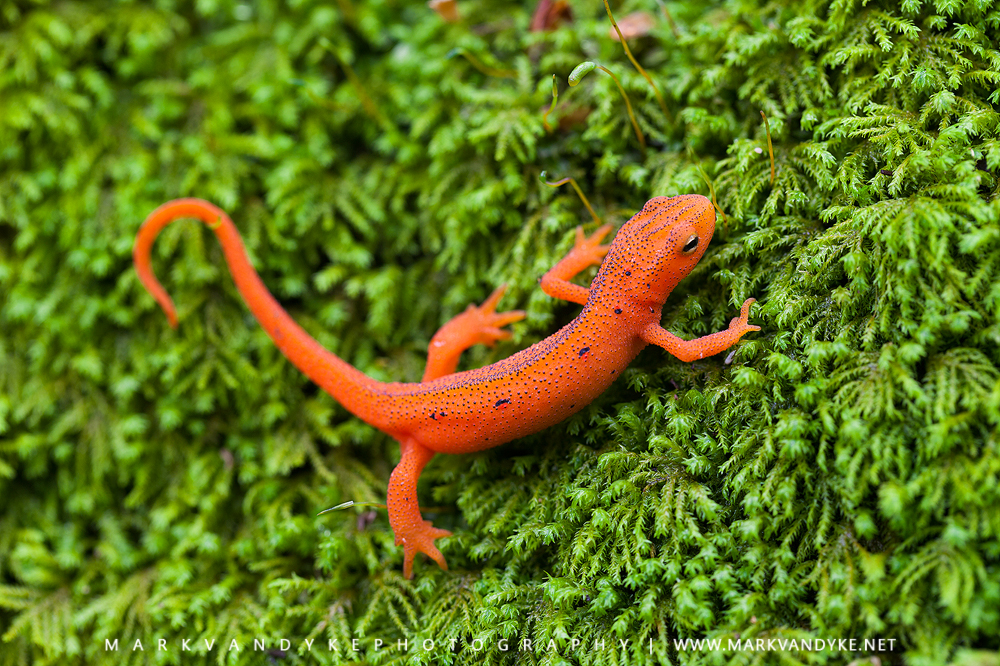 When a representative of the National Park Service contacted me about the use of this image on an informational sign along the Blue Ridge Parkway, as well as various printed materials I was honored for the opportunity.  The Blue Ridge Parkway is free to access and has played a considerable part in my role as a full-time outdoor photographer.  An opportunity to give back such as this one is a no-brainer for me.
Big thanks to Jim Neal for making this image happen!  I would've walked right past this bright little guy if it hadn't been for you man!  During an unseasonably cold May morning, Jim found this guy along the trail up to Flat Rock Overlook in Western North Carolina.  Newts have various stages of life.  Early and late stages are spent almost fully in water; the middle stage, pictured here, is terrestrial.  The Newt changes colors from a dull brown to a bright orange and walks about boldly during the day in search of new territories.
Favorite Place Interview with Landscape Photography Magazine: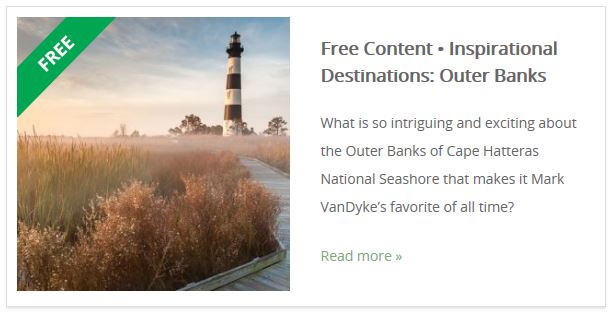 I had a wonderful opportunity to work with Landscape Photography Magazine on a favorite places feature sponsored by Really Right Stuff.  It was a toss up between the Roan Highlands and the Outer Banks of North Carolina.  I chose the Outer Banks because I have a longer and richer history with the area.  Check out the interview and a couple of images over at the free content area of Landscape Photography Magazine.  Big thanks to the folks over at the mag for the opportunity–much appreciated!
Is it really July already?  See everyone soon!
Want to join us for Autumn in the Outer Banks 2017?
I've teamed up with Tommy White of Mountains to Sea Photography Workshops the past couple of years to co-instruct an autumn workshop in the Outer Banks of North Carolina.  We're both full-time local photographers who are passionate about North Carolina and this particular strip of barrier islands.  This workshop will offer participants a mix of field and classroom instruction during a multi-day adventure into the Cape Hatteras National Seashore.  We would love to see you at the beach during the autumn Outer Banks workshop 2017!