Hermine. That was the monster that lingered on the forecast for Labor Day weekend.  Being an outdoor photographer, of course I was heading towards the storm instead of away.  Only this time it wasn't necessarily by plan.  My mother and I booked a weekend of photography in the Outer Banks of North Carolina well in advance of the formation of hurricane/tropical storm Hermine.  The weeks leading up to our departure were showing boring forecasts of mostly sunny days with typical dog-day heat.  Then, Hermine changed everything, and I for one was pretty excited to see what was going to happen!
We left the DC metro area at o'dark thirty on Friday morning and arrived in Kitty Hawk around eight in the morning (come to find out later that the sunrise on this morning was pretty spectacular and we completely missed it while on the highway…ignorance is truly bliss in this case :-)).  A light rain was already falling from dark skies when we arrived.  Our first sign of this being anything but a normal weekend along the barrier islands of North Carolina were multiple traffic boards flashing the mandatory evacuation of Ocracoke Island.  Add the almost comical stream of heavy traffic—laden with bikes, coolers and beach equipment–heading off the island and it was already starting to feel like adventure as we drove towards the coming storm.
A stroke of lucky decision-making on my mother's part had us staying in a rental property in old-town Manteo (we typically always stay in Frisco or Hatteras which would have been disastrous on this trip). Friday was a wash, literally.  The rental home, however, was fantastic.  Imbued with the character that only age can impart, the home occupied a corner lot complete with white picket fence, pruned shrubbery and rose gardens complete with red brick pathways to a semi-circular covered front porch with inviting rockers.  Everything reminded me of my grandmother and the home that she owned in Pennsylvania when I was growing up, right down to the smell of the garden.  The inside was clean, modern and functional with décor that clearly leaned towards grandmotherly.  I couldn't help but imagine what life would be like if I were to own the home myself:  the feel of the breeze through the home when the windows were cracked, swinging on the front porch, spending time grilling freshly caught fish in the beautiful back yard.  If anyone is interested in a rental property that is not on the beach itself, I would highly recommend this property (Magnolia Cottage in Manteo, NC)
Hermine arrived during the late evening hours of Friday night with increasingly heavy rains and strong winds. We made no plans to wake up early Saturday morning as we figured things would be a literal mess from the storm.  The rain fell and the wind howled during the night—the house, which was not on stilts, was surprisingly quiet and sturdy during the whole ordeal.  I woke around six in the morning, descended the stairs and headed out to the covered front porch to assess the conditions.  What I found was a puzzling stillness.  No rain fell and no winds blew.  In hindsight, I should've rushed for the cameras and gotten to work, but I was in a bit of daze.  A hurricane/tropical storm just passed over the area and this was it?  It seemed rather anticlimactic.  My mother and I ended up strolling around downtown Manteo on Saturday morning, over to the replica Roanoke Marshes Lighthouse and around Festival Park.  We were in no hurry.  Then we drove over to the Bodie Island Lighthouse where a large rain puddle was reflecting the historic structure and blue skies were showing early light on the landscape.  It was all rather odd.  Too perfect.  The weather man was talking about winds and apocalypse and here we were in shorts catching some sun and making photographs.  It was only after driving towards Kitty Hawk for breakfast that we fully comprehended our situation:  we had been in the eye of the storm!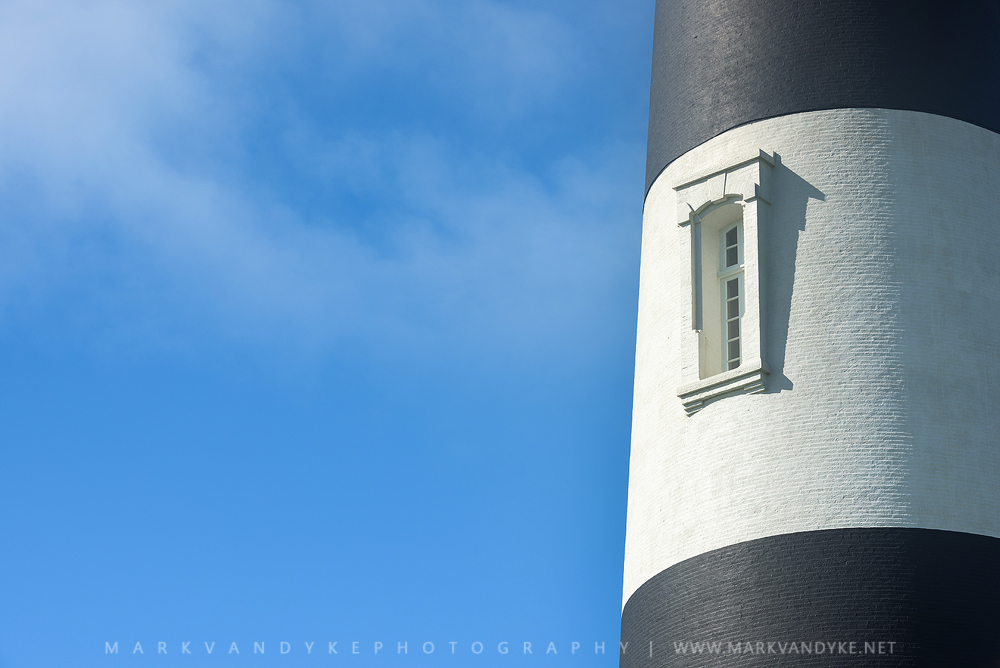 One moment all was well and the next we were being tossed around in heavy winds and blinding rains. The backside of the storm caught us.  The remainder of Saturday was spent in our rental cottage.  The winds got pretty nuts, combining with high tide to wreak havoc on the barrier island towns by blowing sound waters out onto the roads and properties.  Frisco and Hatteras were said to experience historic flooding.  Downtown Manteo where we were staying had some minor flooding as well.  Bridges were shut down after gusty winds (reportedly over one-hundred miles per hour) toppled an eighteen-wheeler on Alligator River Bridge.  Trees became dangerous hazards as they snapped and toppled around the historic neighborhood of Manteo.
Sunday morning was the first time I got to really pull out the camera and shoot concertedly. News forecasters warned of extremely high surf as the storm moved offshore and stalled.  I knew that I wanted to get over to the beach first thing to catch whatever light might show.  The logical subject was a fishing pier for sunrise; due to high standing water along NC-12 the easiest and most accessible pier from Manteo was Jennette's in South Nags Head.  The surf was as advertised with about ten foot swells smashing the concrete pier.  I did what I do best:  put my sticks in the ground and went about destroying my gear in sand and salt water.  It always surprises me how satisfying shooting along the coast is for me.  It was great fun!
Hermine delivered strong winds and lots of water. We decided to take an afternoon walk under direct harsh light over at Pea Island to see if the wind had shaped the dunes near the historic lifesaving station.  Mostly we just caught lots of sunshine.  Having photographed the active surf at sunrise and Pea Island during the afternoon hours, I knew that I wanted to get over to the tall sand dunes at Jockey's Ridge State Park in Nags Head to see what kind of shaping had occurred from the strong gusts.  On Sunday evening I joined many folks atop the active sand dune system for a sunset show.
Monday morning—our last sunrise attempt—we decided to make a run for the Cape Hatteras Fishing Pier in Frisco. Damaged and in pieces, the remainder of the historic fishing pier is slated to be removed this summer once and for all.  With high surf still dominating the forecast, it was a no-brainer.  However, as we weaved around standing water on Pea Island along NC-12 at o'dark thirty on Sunday morning in our small passenger car, we eventually encountered deep enough water where the only responsible option was to turn around and develop a new plan.  We didn't make it to Frisco.  Instead we ended up at Coquina Beach on Bodie Island where we took in a pretty nice sunrise along the Cape Hatteras National Seashore.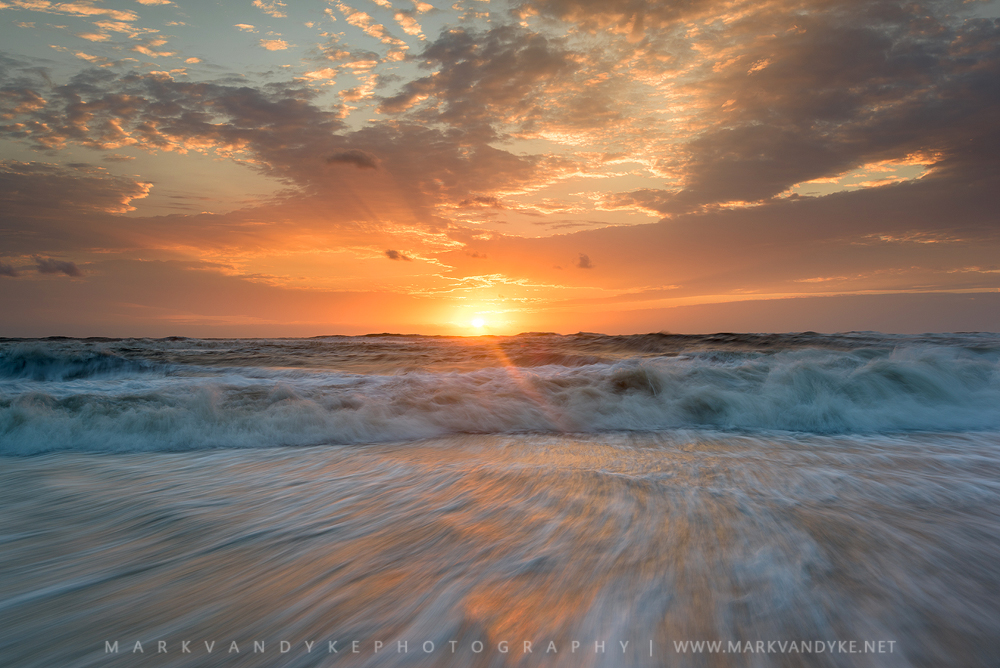 It was a weekend of plan b's. The weather was dynamic and the situation changing frequently.  Getting around the island was challenging and even impossible at times with our transportation.  However, it was a fantastic series of days.  If photography is truly about experiences behind the lens and being totally in the moment while capturing them, then we succeeded.  We got ourselves into the ocean and high atop the dunes, felt the rush of strong surf at our feet and the bite of blowing sand on our faces, drove through falling rains and standing waters, and saw trees bend and some break under the strain of strong winds.  It was Mother Nature doing her thing.  And I was happy to be somewhere where I was close to the action.  It was a great weekend.