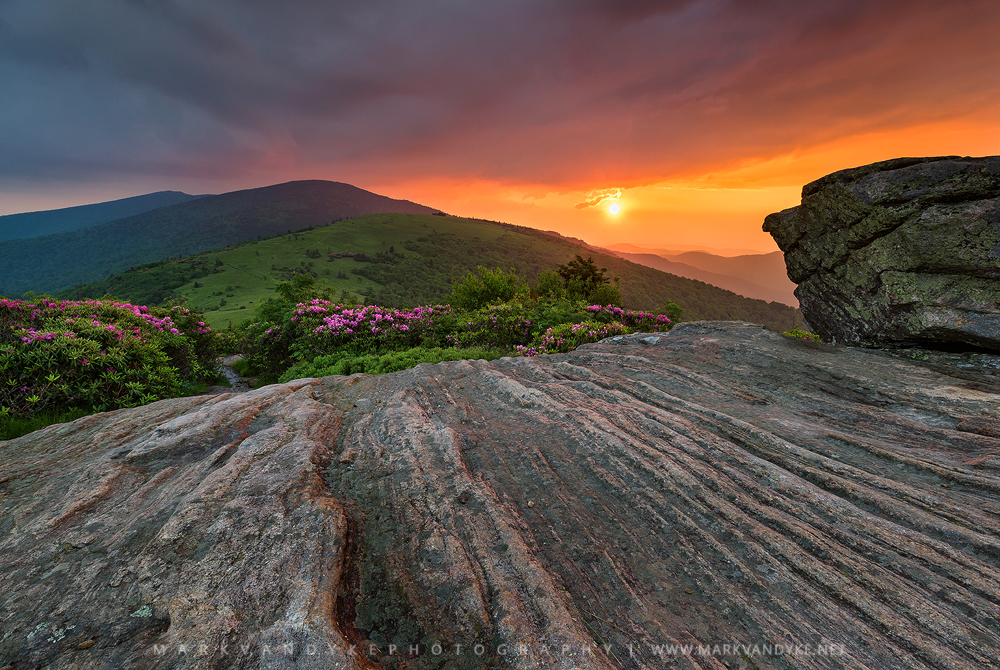 Jane Bald Roan Mountain Highlands Appalachian Trail Sunset
My first career job out of college was with a healthcare general contractor building hospitals around the southeast.  I rotated around a few projects over the course of several weeks during the training period but my first long-term placement was in Spruce Pine, North Carolina on an addition and renovation of the now Blue Ridge Regional Hospital.  I was a field engineer, a rather fancy title that translated into "not quite ready to be productive in either the office or the field at the construction site."  Coming from not far down the road–Clemson, South Carolina–I was really pleased with both the relative proximity and the absolute beauty of the Western North Carolina mountains.  I owe a great debt to the company for that first job placement.  It was while working on that particular project that I became acquainted with the Blue Ridge Parkway and earned enough to purchase my first digital camera.  It was also when I stumbled upon the Roan Highlands and took my first hike up the Appalachian Trail and over the grassy mountain balds (2006).
As the job pulled me away from the area to new states and responsibilities, I made it a point to return to the Roan Highlands as frequently as I could, at least once a year.  Then, as I transitioned into a new role in academia I had the freedom to begin an annual tradition of hiking during the Catawba Rhododendron bloom in June.  Now, as a full-time freelance outdoor photographer, the tradition is strong and the opportunities even greater.  And nowhere in my entire travel schedule do I find as much enjoyment and contentment as camping atop the temperate balds of the Southern Appalachian Roan Highlands.
On this particular trip (2015) I completed a morning hike up to Grassy Ridge to get a feel for the timing of the bloom.  Expecting to be too early in the calendar, I was rather surprised with the timeliness of the overall bloom.  Near-peak bloom conditions were already appearing around Carver's Gap and Jane Bald, with Grassy Ridge only a few days behind.  The sunrise that morning was a bust; however, I quickly made my way back down the mountain and over to my campsite at Julian Price Memorial Park near Boone, NC.  I wanted to quickly break down the tent and transition my office (yes, I did just say "office"!) up onto the temperate mountain balds of Grassy Ridge where I could spend twenty-four hours a day (for what would turn into about a week) chasing color and conditions in one of the most beautiful places on this earth!
Knowing that my ability to pack food and water up to the Roan Highlands was limited, I pulled into Boone, NC and loaded up with a gigantic meal from Five Guys–the future would see a steady diet of Cliff Bars and Tuna Packets over the coming week!  Then, I was back off to complete my second hike that day up and over the Roan Mountain Balds via the Appalachian Trail, this time with full pack weight of camera, overnight supplies, and food and water rations (I don't like to come back off the balds once I get up there unless emergency).  I don't typically hike in the middle of the day either–especially over treeless balds.  The going was slow with the extra weight.  I arrived around late afternoon, set up camp in one of my favorite spots, and retreated out of the sun and into my tent where I took a bit of an afternoon catnap.  Early evening brought storms.  Heavy rains fell, accompanied by thunder and lightning.  At this point I didn't have a clue what the weather was supposed to be, not that it really mattered as life on a sixer in the Southern Appalachians is a bubble of microclimates that act in any way they feel at any given moment in the day without regard to the forecasts in the towns below.  I lay contentedly in my tent courtesy of the Big Agnes Double Z pad underneath me (love that thing!) and the F-Stop Loka camera bag I used to prop up my head as the rains fell above.
As luck would have it, the deluge stopped just before sunset.  Originally I had no plans of photographing Jane Bald; it's just too crowded and popular this time of year for me to find any enjoyment.  I'm always in the way, I feel, when I try to photograph sunset at this popular destination during peak bloom times.  But, with the heavy rains and rather violent storms, I made the decision to drop back down and have a look.  The trail from Grassy Ridge had become, essentially, a mountain stream.  Rainwaters ran easily several inches deep down the path of least resistance in their journey off the mountain.  My boots quickly became soaked, despite their Gore-Tex layer:  the trail is tight and the foliage was wet, my clothes and legs picked up moisture quickly as I descended Grassy Ridge.  Arriving at Jane Bald I was excited to see that it was deserted; everyone must've cleared out for the storm.  I watched and photographed as the sun reappeared and danced with the evening clouds.  Eventually, I saw a pair of folks make their way over Round Bald and Engine Gap.  These two very nice individuals from J&W Photography would accompany me for sunset.  While we were chatting and composing some images, I also saw another couple folks with a white dog making their way through Engine Gap:  I knew from a distance that this was probably Halley Burleson and her pup, Sallie Gator!  Halley, if you're unfamiliar with her work (Appalachian Exposures) is a wonderful photographer, but perhaps an even better hiker and general lover of the outdoors.  If I had to bet on anyone "being in the right place at the right time", Halley is where I would place my money, so seeing her heading up onto Jane Bald was a really good sign that I might get to see something good!
The sunset was great.  A thin layer of clouds kept the overall exposure values within single-exposure range, and the dark clouds above created a nice mood.  The Catawba Rhododendron were at their peak and the landscape was freshly washed from hard rains.  The combination of relative solitude on an otherwise rather popular peak and great atmospheric conditions made this one of the best sunsets that I've experienced atop Jane Bald personally.  When the show ended, I said my farewells to everyone.  As they headed back to the parking area, I headed back up to Grassy Ridge and my mobile office for the week.  Tomorrow morning would be an early one and I was excited to see what surprises this day would bring for me and my camera!