Each year my offseason gets shorter and that's a good thing.  There's various reasons:  I'm getting better at spreading my travel expenditures over a wider period of time during the shooting calendar; I'm learning new areas and new opportunities during months that were viewed previously as downtime; and, I'm also learning to be more of a generalist shooter, swapping lenses and subjects more easily as conditions present throughout the seasons (the worst thing for me would be for someone to think I only do one type of shot).  In the past, July and August were my classic months of summer inactivity and rest as I prepared for the autumn rush, which typically begins in some form or fashion around September.  This off-season–if I can still call it that–would've been especially convenient for me as I spent the majority of June in the Mountains of Western North Carolina.  It's July now as I write this and I'm pretty wiped out, ready to dial my activity levels back a bit.  However, this year and years past I've found putting down my camera harder and harder as I extend my productive periods further and further into these so-called down times with new opportunities, and that, in my opinion, is a good trend that I hope will eventually lead to year-round production should I chose to engage.
July is the heart of summer and nothing represents summer better than a common sunflower:  bright, large, optimistic and sun-craving.  And it just so happens that there's a two-thousand acre piece of property just outside of Washington D.C.–McKee Beshers Wildlife Management Area–that features a series of fields with thousands upon thousands of Sunflowers (I know, driving towards the District for landscape photography is odd at best!).  McKee Beshers Wildlife Management Area featured about thirty acres of planted sunflowers this year (2015).  The property lies sandwiched between the banks of the Potomac River and River Road, a winding country highway that feels much further from Washington D.C. than it actually is!  The purpose of the fields are to lure Doves for hunting season later in the fall with the seeds acting as the primary attractants.  In the summer months, however, its photographers not Doves that find themselves flocking in droves to the bright yellow fields.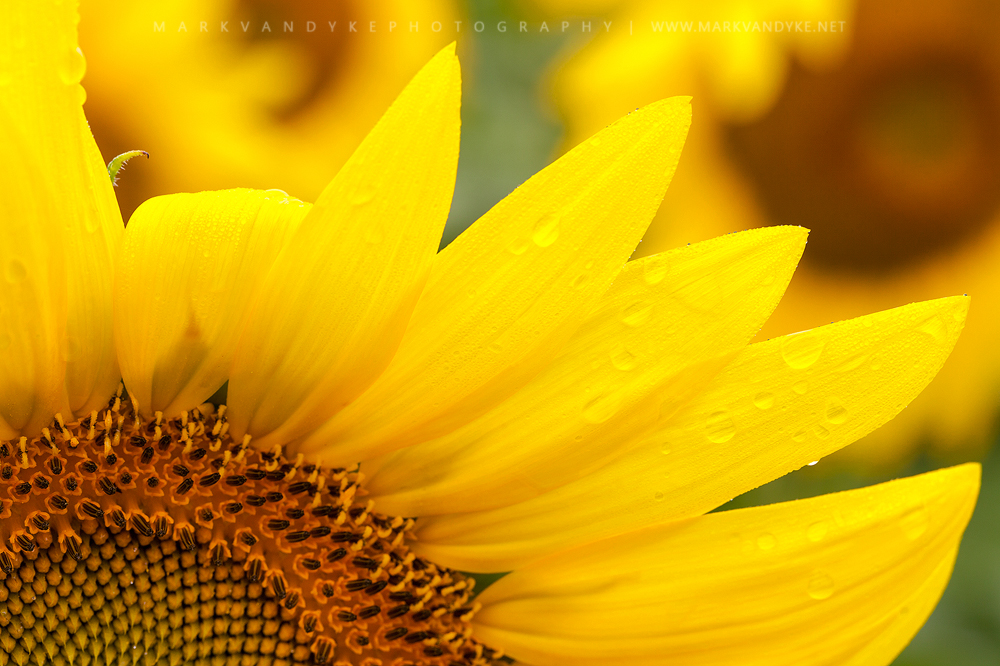 The powers that be at McKee Beshers rotate the cultivated fields of sunflowers annually.  However, the top field right along River Road in Poolesville, MD seems to be consistent on an annual basis.  This is the most crowded of the fields and for good reason:  the size is typically the largest and thus, provides for the most expansive views of the various fields, not to mention it's the field that seems to be the furthest from the water and thus, the least overrun with bugs.  The remaining sunflower fields (field locations rotate annually throughout the property–check the website before heading out) are tucked between stands of forest and swampy wetland, geography resulting in favorable conditions for vicious mosquito breeding grounds and ample quantities of ticks, two foes that should be planned for if you're going to creep around off trail.  I saw folks in shorts and tank-tops seemingly unaware of the hordes of hungry mosquitoes that were buzzing around them–I can only guess that they are of hardier stock than I!
I would recommend wearing long pants and boots, as well as a long-sleeve shirt and wide brimmed hat to keep the sun and bugs off your skin while shooting.  The sunflowers can often grow to over six feet in height, making a step-stool or ladder an opportunistic accessory for those willing to carry the extra weight.  As far as photography goes, of course the golden hours will provide great opportunity for dramatic lighting conditions.  However, perhaps my favorite conditions from the past season was a simple sunny day with blue skies and white, puffy clouds.  Those conditions are most prevalent around two o'clock in the afternoon from my experience, once the sun is overhead and lighting the clouds from above.  Ample lighting at this time of day allows you to detach from the tripod (unless you're doing macro work) and walk around amongst the flowers, trying different perspectives.  I had the most fun personally with a wide-angle lens on an afternoon similar to the conditions above by creeping around on the ground and looking up towards the sky and the big, cheerful flowers!
Other opportunities on the property include a walk or bike ride on the historic Chesapeake & Ohio Canal Towpath, a 184.5 mile National Historical Park through Washington D.C., Maryland and West Virginia, or if relaxing is more your style, toss a line into the Potomac River and pick blackberries from the trailside briars.  If you visit in the spring, keep an eye out for an abundance of Virginia Bluebell wildflowers along the C&O Trail.
For those "serious" photographers that follow my photostream, no, sunflowers are not grand or exotic landscapes, nor do the results behind the lens equate to some complex wet dream of conditions and exotic location.  However, sunflowers are a beautiful and wonderful break from chasing said unicorns, and they allow me to stay fresh behind the lens and with my own creativity.  Next July if you find yourself behind the computer more than the camera, see if you can't find a field near you and tell me what you think about the experience!