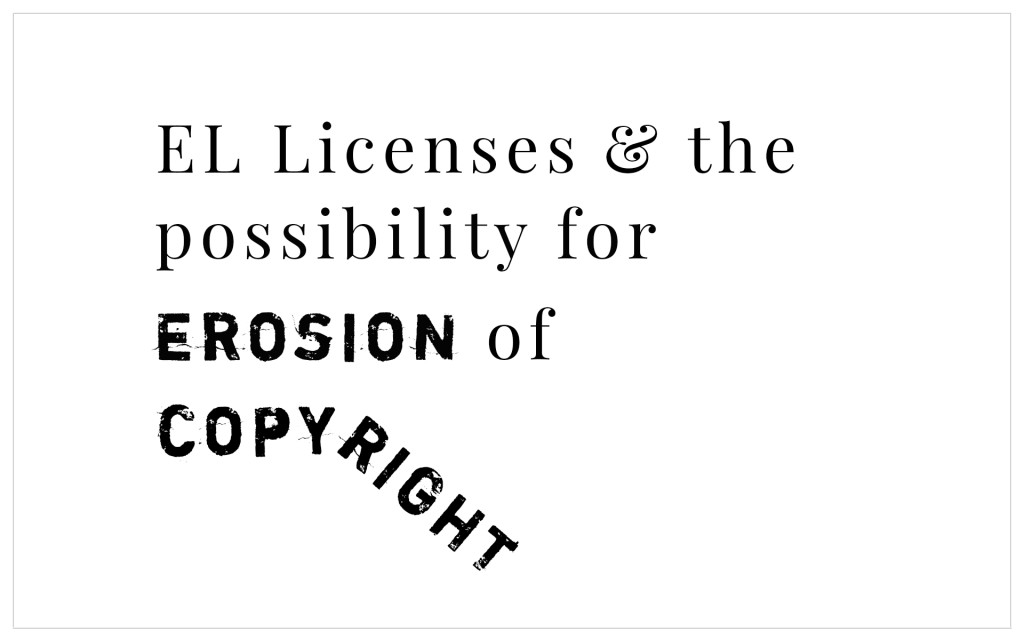 EL Licenses & the Potential For Erosion of Copyright
If you're like me, the concept of earning monthly royalties off of your photography is extremely appealing.  Before I began photography as a full-time career endeavor, I decided to test my images in this very capacity, uploading to a number of microstock agencies.  Microstock is a type of photography that can be defined as low-cost (micro) and ready to use (stock).  Microstock agencies use the internet to source image files from just about anyone, centralize and organize them, and then make them available to the world underneath a series of different license and pricing options.  Common microstock agencies are IStockPhoto, Shutterstock, Dreamstime and Fotolia (Adobe Images).
I spent five years working the microstock markets (2010-2015).  Just as I was beginning to come into royalties that were substantial enough to buy new gear and/or help finance future photography trips etc., I found one of my photographs on a major online print-on-demand service for commercial resale.  After a number of talks with the copyright department, the originating license was tracked back to one of my microstock agencies and thus began my research into the Extended License.  In my opinion, the Extended License (without any additional contributor protections) essentially bundles and sells all of the intents behind copyright protection without actually selling the physical copyright.  I was surprised and rather embarrassed, personally, to know that I was essentially selling the kitchen sink to any willing buyer who was smart enough to look at the terms and play the game.
There is one type of buyer specifically–the print-on-demand buyer–who can really leverage an unprotected Extended License.  What does this use look like?  A print-on-demand buyer can find a microstock agency without any protections on their Extended License, purchase said license, and then proceed to reproduce the image as a fine art print or canvas for resale and commercial profit without restriction (or in some cases, with very little restriction).  If you sell your own prints/canvases (I do), then the Extended License offered through some microstock agencies has the ability to essentially strip you as a photographer of all your copyright protections (by your own choice nonetheless, knowingly or unknowingly), thus placing any photo available for license into competition with your own print offerings–and doing so at an embarrassingly low price to boot!  Joe Blow wants to sell your photo as a canvas on EBay for his profit–yep, that's covered.  Big company wants to sell your fine art photography on their own print materials and distribution network for commercial profits–yep, that's legal.  Now, I'll say this, most print-on-demand companies online are really great at partnering with photographers and artists to provide win-win solutions for both parties.  Examples are Fine Art America, Redbubble, and Imagekind to name a few.  However, this article is about those who do not care to engage in win-win partnerships, and frankly, they're out there.
So, what's the big deal.  Well, let's start at the beginning:  what is copyright and what does it protect?  According to the publication, The Photographers Guide to Copyright, written by the folks over at Photoshelter and the ASMP, copyright grants six rights to its holders (2013:6):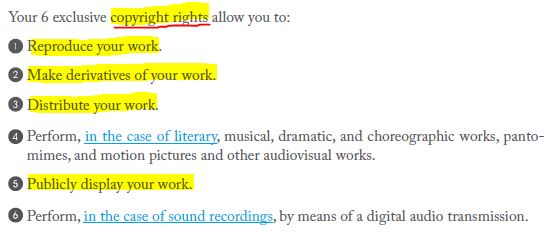 So, the four essential rights that pertain to photographers are the rights to control:  (1) who reproduces your work, (2) who can make derivatives of your work, (3) who can distribute your work, and (4) who can publicly display your work.  These are your rights underneath Copyright Law to your own photographs.
First and foremost, microstock agencies cannot sell your copyright without your permission.  Copyright always remains with the contributor.  However, as I will argue throughout, the Extended License sold to a print-on-demand buyer without any adequate restrictions, sells every meaningful intent included within copyright law, such that being the holder of the copyright is largely worthless.  It is important to remind, however, that as contributors of content to microstock agencies, each contributing photographer willingly agrees to these terms, whether they know or understand the details.  In that way, neither microstock companies nor print-on-demand buyers are legally wrong in taking advantage of the situation:  after all, they quite literally have the photographers' permission!
Let's take a look at some various microstock agencies and their Extended License contracts to see what kind of rights are bundled within each.  First up, let's look at IStockPhoto's Extended License below: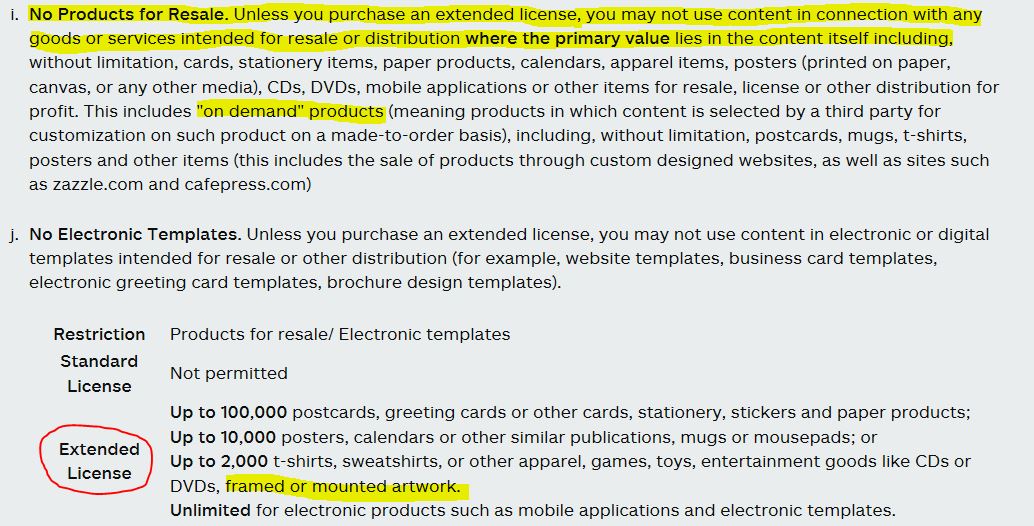 An extended license purchased through IStockPhoto removes the protections of the standard license and grants up to 2,000 reproductions of the licensed image as framed or mounted artwork for commercial profit.  So, while the license does limit the total number of reproductions allowed (without buying an additional license), it does grant the purchaser the rights to both reproduce and distribute your work, as well as removes any control you might have over who displays your work.  So, in my opinion, the Extended License just bundled and sold your copyright protections as a photographer, and worst still, you as a photographer gave them permission to do it.
Let's look at Fotolia's Extended License terms below: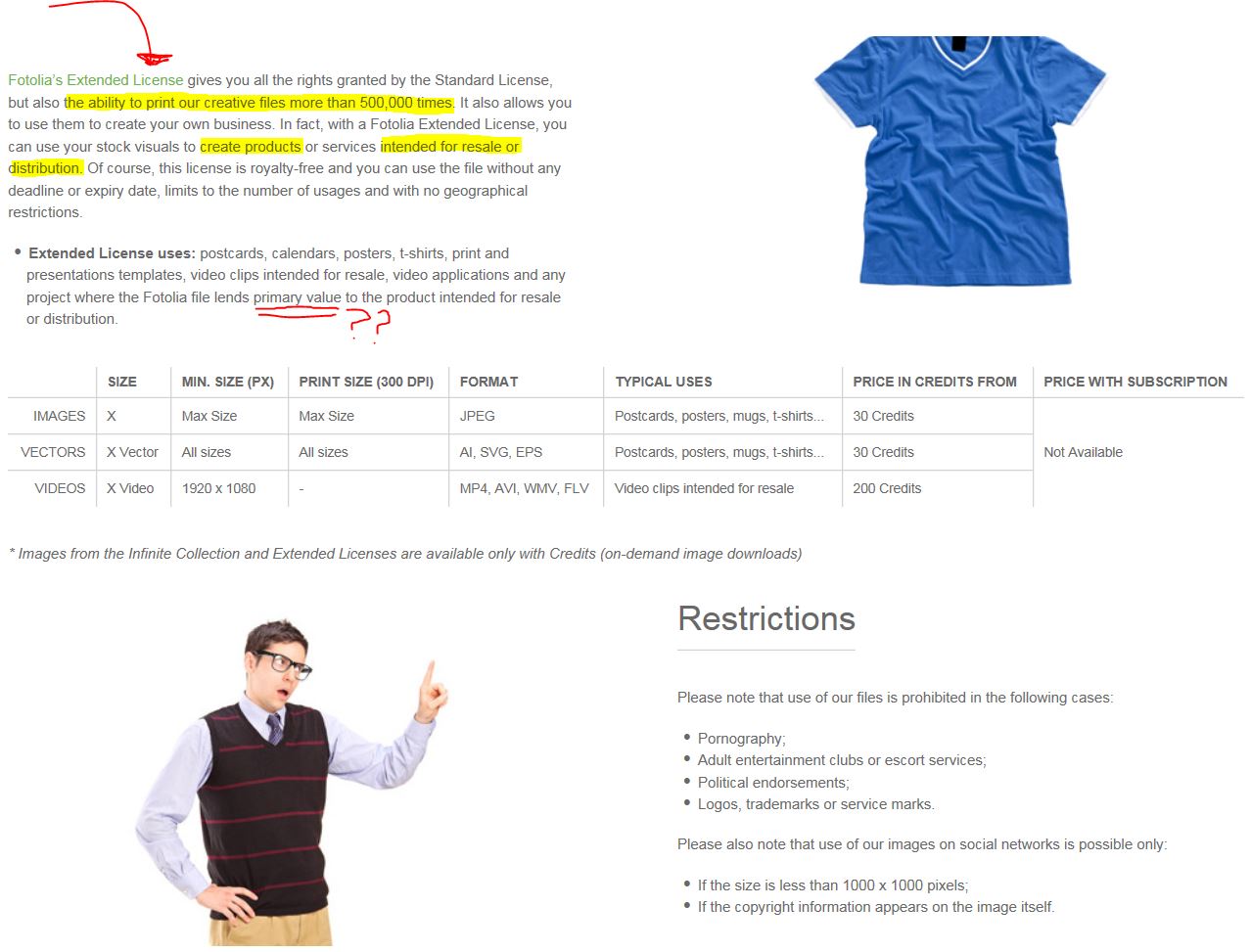 Fotolia's Extended License grants the buyer the right to reproductions, resale and distribution up to a whooping 500,000 copies!  There is no direct mention of framed or mounted artwork specifically in the extended license use examples.  However, it is said that an extended license can be used for "any project where the Fotolia file lends primary value to the product intended for resale or distribution."  Considering that no one would purchase a blank canvas on stretcher bars, it is fair for me to assume that the photographic file would, in fact, lend primary value to a fine art canvas or print.  Finding the full contractual verbiage, Fotolia confirms that the Extended License allows a print-on-demand buyer to purchase all meaningful intent included within a photographer's copyright:  reproduction, distribution, and display–and again, we as contributors give permission for this very thing to happen!
Let's take a look below at Dreamstime's Extended Licensing terms: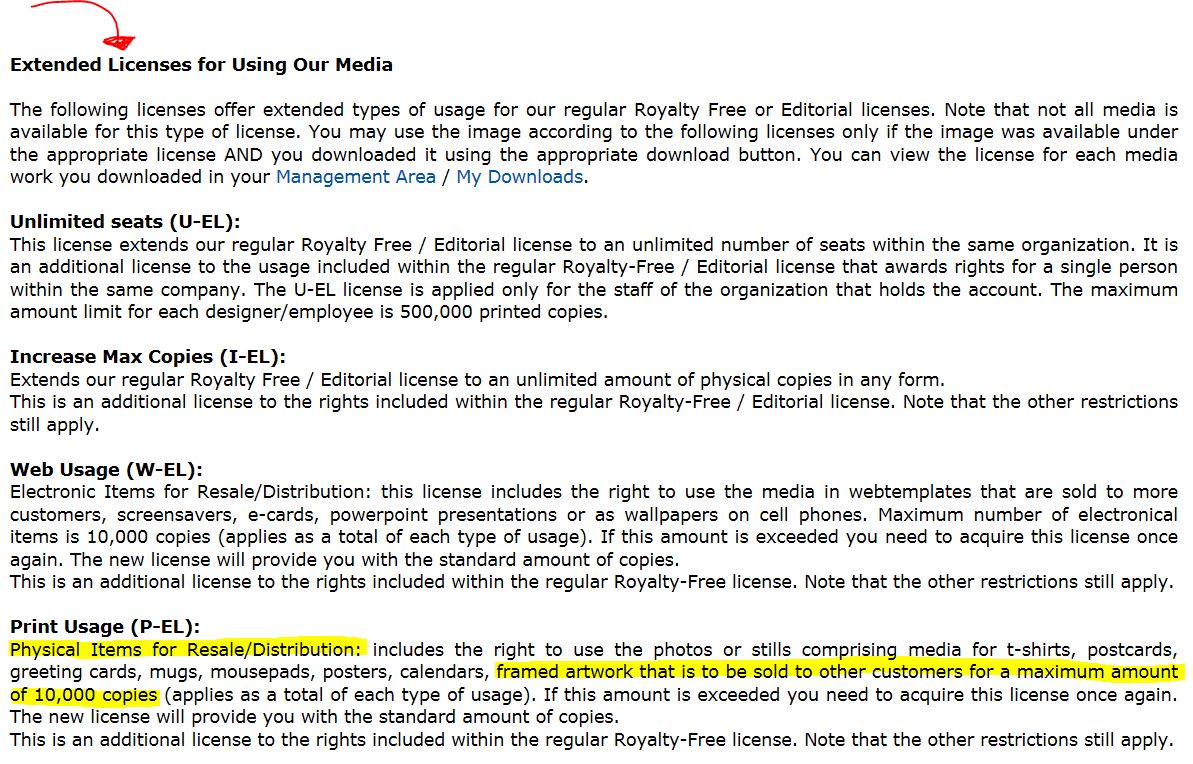 Dreamstime has a number of different extended licenses available to buyers.  The one we'll be looking at is the P-EL, or Print Extended License, which grants the right to reproduce, resell and distribute up to 10,000 copies of the licensed photograph.  So again, a bundling of all the essential copyright protections (in my opinion).  However, what Dreamstime does for contributors is allow–at image/content upload–the choice NOT TO OFFER these extended licenses to potential buyers.  This is a refreshing change that puts some control back into the contributor's hands.  A photographer does not have to willingly sell the intent of his/her copyright when using Dreamstime to license images.
Finally, let's look at Shutterstock's extended license below:

Shutterstock has, perhaps, the strongest contributor protections of the four agencies we looked at.  While an extended license does grant the buyer the rights to reproduce, resell and distribute the licensed photograph as wall art, the finished product must "incorporate material creative or functional elements apart from the image(s)."  In layman's terms, you cannot simply resell the photograph as is for commercial profit.  That would be in violation of the license.  Thus, a print-on-demand company would have to use a different microstock agency to source its content for resale as fine art canvases and/or prints.  I would be comfortable deducing from the above verbiage that Shutterstock, of the four agencies looked at, values and respects its contributors and their content the most through their protections from blatant copyright abuses by print-on-demand buyers.
The Extended License, with respect to print-on-demand buyers, has tremendous potential to abuse a contributors copyright in my personal opinion–as shown above.  Each microstock agency has different policies on how a license holder can use material purchased under an extended license.  If you currently participate within, or are planning on beginning to participate within, the microstock markets, be weary of the Extended License and the rights that it grants to your work, especially when it comes to print-on-demand buyers.
Oh, and a word in closure:  absolutely no microstock agency would ever allow a buyer of a digital file to reproduce, resell, or distribute that digital file in any way, shape or form underneath any license.  That would directly compete with the business of the microstock agency and effectively diminish the value of their products.  Don't believe me?  Check out the passage below from the licensing contract at BigStock, a Shutterstock company and/or the passage from Fotolia's extended license contract:


There is, in my opinion–with at least some of the microstock agencies we looked at–a very glaring lack of reciprocal protection for contributor works.  This is a real problem.  Don't let it become a problem for you.  It did for me, and I had to learn the hard way.  I no longer have the right to determine who reproduces, distributes and displays my work, and worst of all, I–through my own ignorance and involvement with certain microstock agencies–gave permission to the whole thing.  It's my own fault.  It's on me.