16 Memories for the Year 2016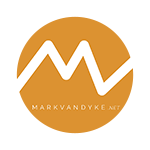 Mark VanDyke, Photographer
This year more than any before I began to understand that it's not about the image for me personally.  I stopped obsessing about getting the image or wondering about how I'm going to compete with fine art landscape photographers who are putting increasing distance between their in-camera captures and their beautiful highly-produced digital creations.  I just let it go.  All the stuff I don't quite understand or don't really care to inject into my own work.  Gone.  Not my thing.  Perhaps, someday, but not today.
I held one goal above all others in 2016:  get out, stay out.
I focused on what mattered most to me:  getting outside and staying outside, testing myself and my gear against the elements, learning about and understanding place, and constantly questioning how I could better communicate my respect and passion for place through the visual language of photography.  I genuinely tried to appreciate the experience–the day-to-day lifestyle and work of being an outdoor freelance photographer–and to focus on those aspects that were most important to me.
A big thank you to each and every person and organization who engaged my work this year from simple validation actions–such as liking a photograph on social media–to offering commissioned assignment work and/or licensing the use of digital files.  I thrive on the creativity of the community of artists around me who are pushing the boundaries of their own dreams and desires, and I survive on the generosity of those organizations and individuals who support the arts.  Thank you.
On that note, instead of 16 images for 2016 I thought I would share 16 memories / experiences from 2016.  The two may sound similar, but the differences are self-evident once you begin the exercise.  The first focuses on the outcome and praises the result (feel like you're reading a self-help pamphlet yet?).  The latter focuses on the process of chasing light and landscape, and brings to the forefront the moments that were meaningful and how they might shape ongoing adventures.  So, before I type myself into lofty expectations I can't meet, below are sixteen memories / experiences from my 2016.

Sunset Folly Beach County Park and sunrise Folly Beach Fishing Pier.
Spring in the Lowcountry of South Carolina
The Lowcountry of South Carolina is a place of great beauty during the annual spring bloom.  Each year I travel to the Lowcountry with great anticipation to witness the sights and smells of the strongly regional landscape coming back to life in quite a show of color and character.  However, the weather can often be uncooperative as the seasons wrestle with the changeover.  Too often I've found my own response to less than optimal weather to be one of disengagement behind the lens.  I've never been proud of that response:  it's lazy at best.  I want to be able to find a shot anywhere at any time.  Sound idealistic?  It is.  But, I believe it to be a real possibility.
On a cloudless and cold evening, I found myself working a familiar tree stuck in the tidal zone of Folly Beach County Park.  I was using all of my old strategies to no avail:  push and pull of the ocean lapping at the tree, wide angle leading lines, etc.  I don't know why or how, but I managed to step back and rethink what the weather was offering me.  There was a particularly vibrant gradient between the blues of night and the orange of the setting sun.  The tide was unremarkable, as was its interaction with the shore and the tree.  So I cut them out, completely.  I put on a telephoto lens.  In order to take advantage of the sky gradient and the dark silhouette of the tree I had to back myself into the ocean a bit and shoot towards shore.  Later in the trip, I would utilize the same sharp color gradient and gear setup to capture a cloudless sunrise sky beneath the Folly Beach Fishing Pier.  I was becoming more flexible.  I found shots when and where I might have previously seen no opportunity.  Progress.
Lesson:  There's a shot everywhere at all times, it's just a matter of whether or not I'm prepared to see it and to capture it.

Blooming Azalea, Spanish Moss, & Mature Live Oak Trees at Magnolia Plantation.
Spring in the Lowcountry of South Carolina
I often take trips throughout the year with my mother who shares an avid interest in photography.  It's a tremendous upside to my choice to pursue photography:  a shared passion leading to more time spent together in pursuit of light and landscape.  Unfortunately–at least in this regard–my mother is still tied to the schedule of her own full-time job.  When travelling together, I cannot be as responsive to actual on-the-ground conditions:  we make a plan together–often a year in advance–and however close we get to actually guessing the winning dates is however close we're going to get to seeing our desired outcomes.
As an early spring advanced in the Lowcountry of South Carolina it was clear that our planned-for dates of arrival were going to be too late.  Photographers were mobilizing, traveling and returning home with images that depicted a bloom well into peak.  And we had yet to leave.  It's a helpless feeling, to know that you're missing the annual event that you planned for.  It's also an utter waste of time.  We made it down to the Charleston area and found plenty of spring conditions left.  Yes, a few of the iconic shots were past-peak with bloom times and were no longer potential images.  However, the unavailability of the easy to replicate shots made it necessary to find new images:  new compositions, different takes, fresh perspectives.  I ended up having one of the most productive seasons I've managed in the Lowcountry since I started my annual tradition.  And technically, yeah, I arrived too late.
Lesson:  The obvious shots are rarely the most fulfilling.  When the plan goes sideways, things are just getting started.

Sunset Arthur Ravenel Jr. Cooper River Bridge.
Spring in the Lowcountry of South Carolina
While in the Lowcountry, my mother and I intentionally scheduled a couple of days staying within eyesight of the Arthur Ravenel Jr. Cooper River Bridge.  The Ravenel Bridge has quickly become an iconic landmark of the region and the area at large.  Each year, there is real concern that the property and perspective shown here will transfer to the control of private interests.  So, there's a bit of time pressure each time I photograph this particular location.
A relatively boring weather day transitioned quickly and surprisingly into one hell of a sunset.  Sure, we planned for these particular dates and we made choices throughout the trip to be at the bridge, but there was a good bit of luck involved.  Normally, it's post-sunset dusk hours that allow the ambient light to diminish to the point of matching the values of artificial light on the bridge's pendulum structures.  On this evening, however, it was clear that the sunset itself was going to be a stunner and there was no need to wait for the after party.
It turned out that Bernard Chen and David Nguyen had their Timescapes meet up group already on scene.  It was my first time meeting both in person, and ironically enough, I would meet them again (as well as Jennifer Runyon) in August as part of a photography meetup destined for Glacier National Park.  Back to Charleston, though.  For years I've worked with a gap in my kit:  I carry a wide angle lens and a medium-telephoto lens, but don't have anything covering the 40mm to 70mm range.  It just so happens that the bridge location calls for something in about the 55mm range to optimize the easiest view.  Knowing I was without the right lens, I made my way down into the swamp area along the tidal Cooper River to a reflection that is worked frequently by photographers.  It was a good shot and I was happy with the setup.  When things really got cooking in the sky though, I left the lower shot and ran back up to the more common viewpoint.  It was a mistake.  I had to shoot super wide or super close.  Neither was optimal.  I regretted not being setup down in the swampy area for the moment when the sunset was still burning and the lit bridge (not just the silhouette) reflected.  I wasn't quick enough to realize in the moment of shooting that I was on the best possible image for myself given my own gear and style.
Lesson:  Trust my own intuition.  Find my shot, not the shot.  Know that the process will lead me towards something more important.

Roaring Fork Motor Nature Trail & Tremont Cove Waterfall.
Spring in the Great Smoky Mountains National Park
In 2016 I partnered up with Mountains to Sea Photography Workshops (Tommy White and Alistair Nicol) to guest instruct at a number of field-based adventures, the first of which was Spring in the Great Smoky Mountains.  We had a really great group of folks attend the workshop and we were all treated to three wonderful days of weather throughout the park.  On our first full day, the mountains delivered a classic combination of fog and light rain allowing us to shoot lush streams and blooming dogwoods as long as we pleased.  On the final morning of our workshop, we got beautiful foggy conditions along Sparks Lane and even saw a full fog bow over the loop road within Cades Cove.  I'll be guest instructing at the M2C Spring in the Smokies Workshop this coming year (2017) as well if anyone is interested (let's hope that the fires didn't do too much damage to the folks in that area).
One of the things that workshops–or teaching in general–always brings to the surface are my own reasons for being a landscape photographer:  why I do this and what I'm working towards and where I fall within the current industry landscape etc.  When you're not in front of others those questions can be swept away for a more convenient day.  When you're on the spot trying to describe how you go about the process of preparing, shooting and presenting your own work, you cannot hide from the questions any longer.  We're all about something:  teaching a workshop is when you have to be ready to clearly annunciate just that if asked.
As I prepared for the Spring in the Smokies workshop, the most important thing that kept popping up for me was how to move past just going out and finding pretty things to photograph:  a pretty subject in pretty light in a pretty National Park etc.  It doesn't matter how many pretty things you line up and smash together in one frame, you won't find much meaning personally.  Others may jump out of their skin with excitement when you show them a rainbow over a waterfall with a leprechaun and a pot of gold, but without any real understanding of what you're shooting and why you specifically chose to shoot it, the image will still be without meaning.  Meaning, and the search thereof, was where I was residing currently with my own work.
Lesson:  Pretty isn't enough.  I also want meaningful.  Meaning, for me, is found in deep understanding and the development of a personal relationship over time.  Outdoor photography, for me, is a long game.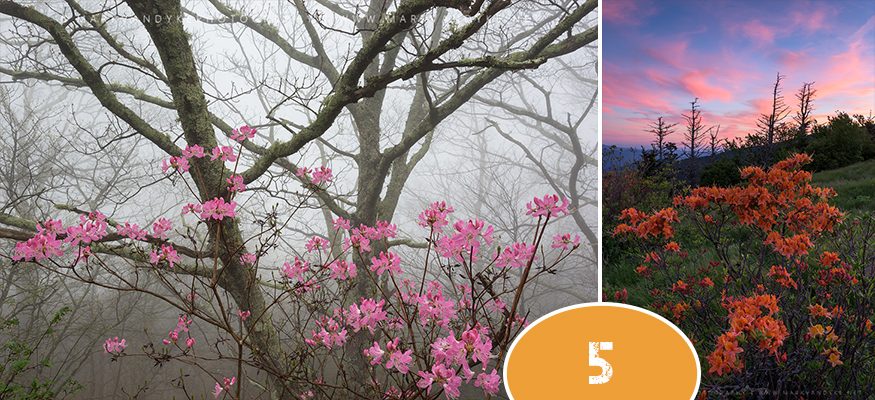 Pinkshell Azalea Blue Ridge Parkway & Flame Azalea Roan Highlands.
Spring in Western North Carolina
After several years of working with Our State Magazine matching stock imagery with upcoming stories, I received my first request for commissioned assignment work during the spring.  I was to chase the seasonal bloom of Pink Shell Azalea along the Southern Blue Ridge Parkway, as well as the fiery Flame Azalea atop the Roan Highlands.  Finishing up in the Great Smoky Mountains by the first of May, I quite literally hooked the Blue Ridge Parkway at its southern terminus and began weaving my way through the Southern Appalachians with an eye towards anything bright and pink.  It didn't take long before I found my first bloom.  Much like ephemeral wildflowers along the forest floor, the Pink Shell Azalea seasonally flower well before the surrounding canopy matures and blocks the sunlight making their colorful displays easy to spot along the jagged rock cliffs and roadsides.  About a month later, I resumed the search for Flame Azalea atop Roan Mountain.
Assignment work required an adjustment in philosophy.  Fine art landscape photography is all about finding and capturing the one best image:  the best composition in the best light during the peak of season with an added element of something–a rainbow or a leprechaun or a white unicorn or something.  You can wait years for everything to come together in the frame perfectly (or, you can just manufacture it these days using a computer, but you guys know how I feel about that).  Fine art landscape photography is all about the quality of the capture.  Assignment work demanded a variety of captures, each illustrating some meaningful aspect of the subject, in this case, the wild azalea:  where they typically bloom, when they typically bloom, the various stages of bloom, the variation in color of blooms.  Each shot demanded different conditions, gear and approach, and together, all of the photos, if done well by me as the photographer, would tell in sequence the larger story of the seasonal bloom of azalea in the mountains of Western North Carolina.  It's ambitious work, and coming from a fine-art background for the past couple of years, it was an imperfect adjustment.  I found it extremely challenging work, but I also found it very fulfilling and of great value to me as a photographer.  Pretty has never been my thing:  a pretty photo alone does nothing for me.  I'm drawn to images that show deeper meaning and I've been seeking meaning in my own photography for some time.  Assignment work gave me some insights into how to make that happen.
The assignment should appear in the April 2017 issue of Our State Magazine!
Lesson:  If a seesaw had aesthetic beauty on one end and story on the other, fine art photography would favor aesthetic beauty while editorial assignment work would favor story.  Delivering images with strong story elements that are also aesthetically beautiful could be my value-added contribution–my sweet spot.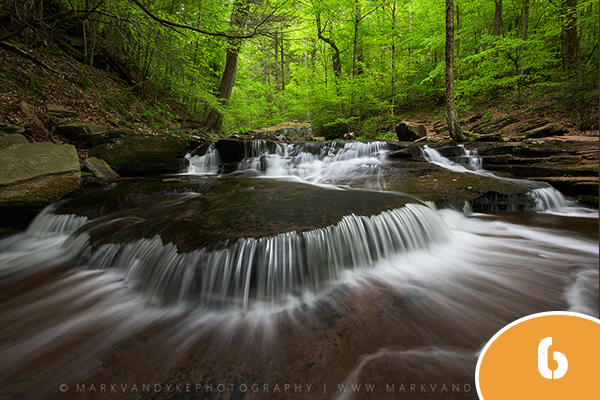 Waterfall Ricketts Glen State Park.
Spring Allegheny Mountains Pennsylvania
My mother and I take an annual Mother's Day trip to place flowers on my grandmother's gravestone in Pennsylvania.  It's a short trip–usually a weekend–and the purpose is not photography.  However, the timing (mid-May) and the location (near Ricketts Glen State Park) mean that I usually get an opportunity behind the lens if I so desire.  Ricketts Glen State Park is a waterfaller's dream setup:  about two dozen waterfalls in succession, one after another, each of largely different character, along a six mile loop trail.  When the new green leaves have just popped and the water levels are good, it is nothing short of gorgeous.  It is the type of place where you can spend an entire day–several days really–and never find yourself without a new scene behind the lens.
Ricketts Glen State Park is a microcosm of a larger decision I've had to grapple with in terms of my photography.  There's a natural desire to see new places.  I would love to see every possible natural location in the United States.  I'm excited by the photos I see others creating.  I've toyed with the thought of international travel.  The first time I experience a new place is always amazing; it doesn't tire.  However, it goes without saying that my time, energy and resources are limited.  I can either go around licking the world, getting a taste of many places or I can settle on understanding a select few really well.  I've made the choice to pursue depth.  I want to know specific places within the southern Appalachians and along the Carolina coastlines really well, as well as I possibly can.  That means I have to spend time there, repeatedly, developing a relationship.  It also means that I can't be other places at the same time (I knew economics was an evil concept when I sat through that class in college!).
On this particular trip to Pennsylvania, I knew that I was most interested in seeing Triangle Falls.  I parked at the lower lot (near Adam's Falls), hiked up to where waters meet and preceded towards Triangle Falls.  I spent nearly an hour at the small cascade, shooting several dozen exposures before packing up and heading out.
Lesson:  Time is a finite resource.  I can't see and do it all.  Therefore, I have to make intentional choices about where to go and what to see if I expect to succeed with my own goals.

Red Eft Newt on Green Moss & the Lump Overlook on the Blue Ridge Parkway.
Spring in Western North Carolina
Between the seasonal bloom of the Pink Shell Azalea on the southern Blue Ridge Parkway and the Flame Azalea in the Roan Highlands, I had the opportunity to chase some personal shooting around Western North Carolina, as well as to lead an individual workshop in the Blowing Rock area.  The individual workshop was a beautiful mix of conditions, with a front moving through the area dumping heavy rain and allowing us to chase dark clouds as they worked through the mountains.  Our chase culminated at The Lump overlook where bight sunshine punched through the backside of the front contrasting the dangerously dark clouds moving off the mountains.  Following the front, a cold blustery wind moved into the area and we found ourselves shooting small.  As we made our way down trail, my workshop participant spotted a juvenile red-eft.  I would have completely walked right past if he had not spotted the little guy!  I've always wanted to photograph one of these guys–I owe you, Jim!
The majority of my shooting is alone.  There's a certain creative pocket I can only access when I'm working the landscape solo.  I've come to embrace that not everyone will accept or understand my need to work in this way.  On the other hand, there is no doubt that traveling familiar landscapes with the eyes of another is extremely valuable.  Together, two individuals can do what either alone probably wouldn't have, whether that is with respects to locational choices and/or unexpected finds such as the red-eft.  While I still crave and require a considerable amount of space and time alone while producing images, I've also developed a healthy respect for occasionally shooting with others.  There's much to be learned and much to be gained from the unique perspective of those around me.
Lesson:  Working the landscape alone is very important to my own creative process.  However, real value exists in shooting with others.  I need to seek a balance that works for me.

Light & fog along the Blue Ridge Parkway in North Carolina.
Spring in Western North Carolina
Most of my time is spent in travel.  Whether on the highway or the Blue Ridge Parkway or a trail, I'm always moving towards something, somewhere.  I setup base camps near these places.  I read about them, I study them, I make notes in a journal about them.  It's easy to get caught up in the misguided thought that these places themselves hold the ultimate importance.  They don't.  They are where the moments occur, the short minutes of light and atmosphere captured as a resultant of what is really important:  the preparation, the work, the anticipation, the life experiences, the time spent trying to figure out who I am.  All of the things that have nothing to do with the camera.  You've probably heard the quote by Jay Maisel that goes something like, "if you want to make better photos be a more interesting person."  In other words, beautiful places are all around us from the local park to the national park.  The difference is in who's looking.  Some artists can make beautiful images without leaving their backyard.  It's about you more so than the places or the technology.
One of the most common questions I'm asked by others is:  "Once I'm in the National Park or scenic place, how do I know where to go and what to shoot?  How do I find the compositions?"  The only way to answer that question is to ask a series of other questions, because I quite literally can't tell you.  What turns you on?  What do you first think about when you envision this location?  What excites you about being outdoors, about being in this specific location?  You must know yourself.  It's work that none of us like to do.  It's uncomfortable to constantly try to figure yourself out.  But, it's precisely what must be done in my opinion if you want to create personally unique and meaningful work.  You can go to the landmarks and the popular places and apply photographic formulas and guidelines and get wonderfully sharp photographs of recognized subjects.  You'll tire of that eventually.  If you want to expand your vision and find personally meaningful photographs of the places that you travel, you're going to have to put in work away from the camera to be a more interesting person and to be a person who has some understanding of who they are and what they want.
Lesson:  The journey is the destination.  Work to understand who you are right now and never stop learning and challenging yourself.  All of the work done away from the camera will inform what you put in front of the camera.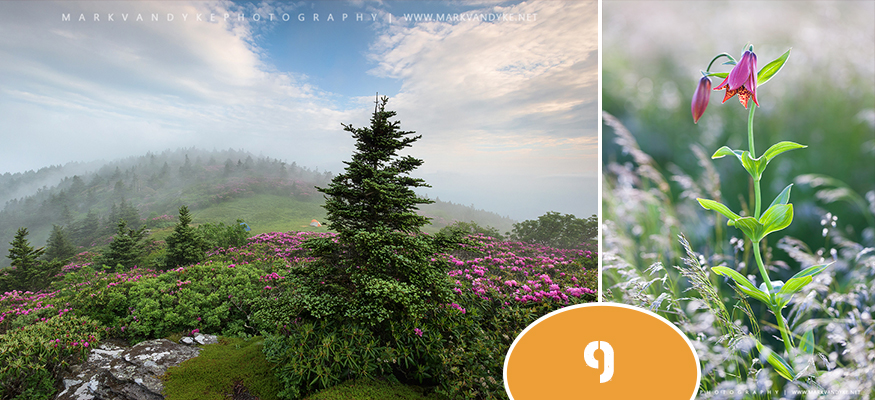 Catawba Rhododendron at Grassy Ridge Bald & blooming Gray's Lily on Engine Gap.
Spring in the Roan Highlands
Each year without fail for about a decade I've returned to the Roan Highlands in June to walk the Appalachian Trail up, over and down the open grassy balds decorated with magenta Catawba Rhododendron, fiery orange and yellow Flame Azalea, and secretive spotted Gray's Lilies.  I learn about the mountain and about myself each year.  It's not even a question on my schedule.
Shooting someplace repeatedly is challenging.  Many ask if I ever tire of a place like Roan that I return to frequently.  In short, no.  Each time I visit, the place may seem similar, but I'm a different person.  I'm in a different place in my own life and career.  I've learned new things about the place and about the camera and about myself and what I want to do with the camera.  Each year, I'm excited and the experience is fulfilling.
2016 was a good bloom year on Grassy Ridge.  The stands of Rhododendron were thick and full.  The weather was not perfect–never is.  I didn't have a prolific year behind the lens.  But, I got a few.  It was a good trip.
Lesson:  You're never the same person when you revisit a location.  Repeated visitation raises the bar on personal expectations yet enriches the outcomes.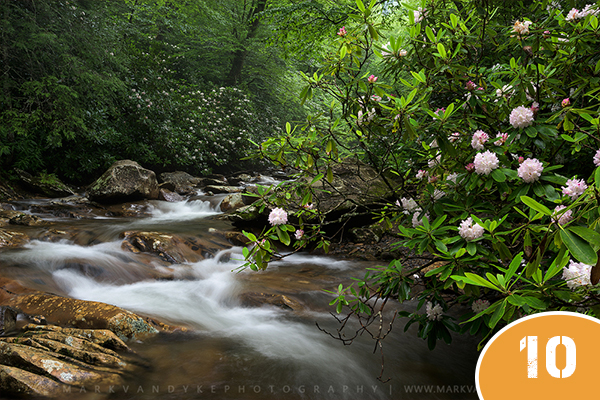 Blooming Rosebay Rhododendron along Walker Camp Prong.
Summer in the Great Smoky Mountains National Park
I've always wanted to photograph the annual Rosebay Rhododendron bloom; this year I made it happen.  In July I motored back down to the Great Smoky Mountains National Park completely blind and largely unprepared but hopeful.  I didn't know where to look or how to best photograph the Rosebay's but I knew that they should be there, somewhere.  It didn't take long to find them.  Rosebay Rhododendron lined the stream on the way into Elkmont Campground where I was to lay my head for a few nights.  I couldn't find a good composition at Elkmont, however.  I tried Roaring Fork Motor Nature Trail, my number one desired location in the planning stages:  nothing.  Traffic worse than a city at rush hour, but no Rosebay's where I needed them.  Then, I found them.  A sea of white along the Walker Camp Prong near Newfound Gap Road.  It took a few days of wading the stream to find a composition, but I didn't see a single visitor during that time and I was alone with the bloom to witness and capture the beauty.  Once I fired a couple dozen frames of what I thought was a winner, I packed camp and hit the highway.  It was wonderful to finally see and photograph the Rosebays.
Lesson:  When something is new to you, jump in.  Engage fully despite incomplete information.  The process of putting the pieces together and experiencing something for the first time will be remarkable.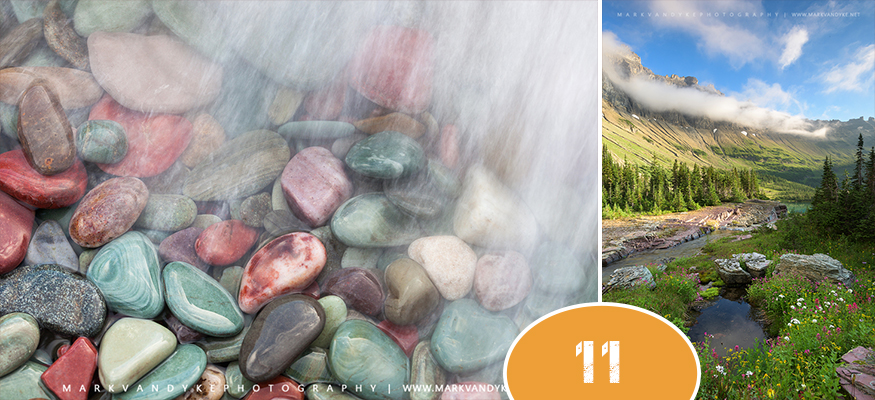 Stones at St. Mary's Lake & Blooming Alpine Meadow at Iceberg Lake.
Summer in Glacier National Park
In August I checked off one of those bucket list items:  Glacier National Park in Montana.  Bernard Chen and David Nguyen of Timescapes were offering an insanely affordable opportunity to travel with a group of fellow photographers to Glacier National Park.  I met Bernard and David earlier in the year during the spring bloom in the Lowcountry of South Carolina.  Small world, huh?  We drove from Washington D.C. to the Badlands of South Dakota in twenty-four hours, and then proceeded to continue driving to the Grand Tetons, Yellowstone and finally Glacier.  It was a wonderful trip with a great group of photographers who were all willing to work together to see the beautiful park.  A big thanks to Timescapes for the opportunity!
A couple of highlights for me were the gorgeous colored stones throughout the park (especially visible along the park's lakeshores) and the alpine meadows around Iceberg Lake.  We got up as a group and started hiking at around two o'clock in the morning to reach Iceberg Lake before sunrise.  We were all treated to a beautiful location at first light with no other visitors!  It was quite incredible.
Lesson:  A group of like-minded photographers who are willing to work and live together can go just about anywhere on the cheap.  There is validity in the photography meet-up concept.

Sunset Jockey's Ridge State Park & storm tides at Jennette's Fishing Pier.
Summer in the Outer Banks (OBX)
Still feeling the effects of recently driving across the country in twenty-four hours, I got back into the car with my mother and we motored down to the Outer Banks for the holiday weekend (Labor Day).  Plans were made well in advance.  We were lucky (or unlucky depending on your mindset) to be traveling right into the heart of an incoming storm–hurricane / tropical storm Hermine.  On the positive side of things, we were staying in Manteo which was slightly more protected geographically than our typical haunts in Frisco and Buxton.  On the negative side of things, we were in a small passenger car and likely would be subjected to considerable flooding.  It was sure to be an adventure!
The storm passed through the area overnight during our first night.  It was not particularly violent.  In fact, when I woke on Saturday morning and stepped outside it was eerily calm.  My mother and I actually walked around historic downtown Manteo and even drove over to the Bodie Island Lighthouse where the sun was shining brightly, remarking to each other on the lack of storm damage.  Turns out, though, that we were simply in the eye of the storm.  The backside slammed into the Outer Banks:  strong winds and high tides caused considerable flooding.  We watched as downtown Manteo flooded, water covering the streets and sidewalks.  Travel was impossible.  Our small passenger car could not contend with the high standing waters.  Many of the bridges in the area were shut down after a tractor trailer was literally blown over by strong winds.  We sat and we waited.  When the storm began to dissipate we tried to get to the southern islands, but again, standing water made it impossible.  Thus, we photographed what we could around Nags Head, including Jennette's Fishing Pier and Jockey's Ridge.  Opportunity for striking photography was everywhere.  I can't describe how many images I missed–some of my favorite takes were ruined by poor focus or water spots etc.  I missed more than I caught.  But it was amazing–the power of water and wind amplified by storms in a place at the mercy of nature's whims.
Lesson:  Storms bring rapid and dramatic change to the natural landscape, especially in places as dynamic as the Outer Banks.  If safe, the closer to the action the better.

Fourth Instar Monarch Caterpillar on Milkweed & Migrating Monarch Butterfly on Goldenrod.
Late summer at Shenandoah National Park & early autumn in Western North Carolina
When the park rangers at Shenandoah National Park in Virginia tweeted that Monarch Butterflies were pupating in the park, I raced out to see if I could catch some of the late stage caterpillars.  I drove straight into the heart of the park–to Big Meadows near milepost fifty.  Arriving just as the sun came up, I began methodically combing the milkweed plants at the edges of the field hoping to once again find some monarch caterpillars.  Years earlier my mother and I found some Monarch caterpillars at a local garden near where I grew up.  Neither of us were prepared with gear or skill to capture them with the camera.  Each year afterward they have been absent, and the news about their population plummet seems to be only intensifying.  I've heard that they are now under consideration for becoming an endangered species.
It took an hour solid before I found my first caterpillar.  I never found more than one on any given milkweed plant, but I did end up seeing a half dozen or so throughout the morning as I made my way around the meadow.  One of the neatest caterpillars that I photographed was a late stage Monarch crawling on a largely dead leaf–the entire Milkweed appeared to be healthy, yet the caterpillar was on this particular dried and shriveled leaf.  It was interesting.
Working on assignment in Western North Carolina about three weeks later, I found a steady stream of migrating Monarch butterflies stopping to fuel up at Moses Cone Memorial Park in North Carolina.  The combination of bright orange butterfly on bright yellow late season wildflowers was striking.  I couldn't help but wonder if some of the very Monarchs that were before me were the same ones that I found weeks ago within Shenandoah National Park in Virginia.  The likelihood is small, but what if…
Lesson:  All of the drama and the magic of the natural world is just as potent in the small as in the grand.

Autumn Berry Bushes Amongst Open Grassy Highland Balds & Autumn Color Reflected in the Cullasaja River Gorge.
Autumn in the Western North Carolina Mountains
Our State Magazine provided a second opportunity for me to shoot some assignment work, a good sign (I'm hoping) that the azalea assignment earlier in the year was a success.  This time, the assignment was considerably larger in breadth.  I had a dozen or so locations to photograph in the short window of time known as peak autumn color.  Western North Carolina was in the grips of a solid drought, the overall weather pattern was unseasonably warm, and the autumn color was stubbornly late, not to mention a gas shortage was occurring from a major pipeline failure in Alabama.  It was stressful to say the least.  I had to get creative with techniques and subjects, using tighter frames, pointing towards reflected colors, and utilizing the macro.  It was a great challenge but I'm proud of the results.  I can't wait to see if the magazine picks up any of the photographs and how they decide to organize the work for the story!
A couple days stand out:  one atop the Roan Highlands and one deep in the Cullasaja River Gorge.  On a record-heat day in mid-October when the temperatures were to reach into the eighties, I made my way up into the Roan Highlands.  It was surreal.  I was sweating more than when I visited back in June for the Catawba Rhododendron!  Then, I was standing on the rocky banks of the Cullasaja Gorge, aiming a telephoto lens into the textured flow of water, capturing a really neat abstract reflected scenic of the autumn forest.  I stayed in Western North Carolina the entire month of October, unbroken, getting up each morning and going out each evening in search of that illusive intersection of light, landscape and seasonal glory.
Lesson:  Working with conditions that are largely out of my control caused frustration at times. Pressure to deliver upon my word to another created adversity not typically present when shooting for myself.  For me, however, that pressure was productive behind the lens–it erased all excuses.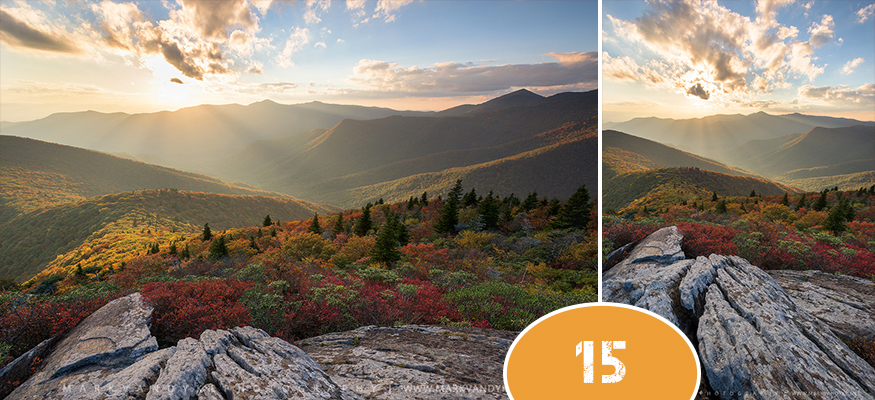 Sunset Swannanoa Rim Valley Great Craggy Mountains.
Autumn Western North Carolina
While I was rushing about trying to fulfill assignment work in the mountains of Western North Carolina, my folks visited the area for a week of vacation.  I couldn't stop chasing peak color at my assignment locations while they visited, but I could bring them along when possible to share in the adventure.  On a particularly productive day, my father and I decided to wrap up with one last hike to a high vantage for sunset.  Having suffered some hip problems earlier in the year that had him down for the count, my father managed, on this day, to keep up with me from sunrise to sunset–from Beech Mountain to Grandfather Mountain to Mount Mitchell.  I think it was a big day for him, to know–to have physical proof–that he could do it again, that he wasn't done.  Oh, and yeah, it was also a pretty nice place to watch the sunset!
Lesson:  Don't ever get too wrapped up in the whole thing.  Some things are bigger than getting the shot.  Always remember that.

Sunrise Fisherman's Nethouse Manteo Waterfront & Sunset Jockeys Ridge State Park Sand Dunes.
There's no better way to end a busy year than to spend some time in the Outer Banks!  After a beautiful week with family and friends recharging the batteries, I co-instructed a Fall in the OBX workshop with Mountains to Sea Photography Workshops.  Our workshop coincided with an historic supermoon, giving us an added element to play with in the frame as we traveled around to various locations throughout the Outer Banks.  It was another great group of folks that I learned quite a bit from.
I was lucky to spend a couple days visiting with my good friend Dave Allen and his wife, Jennifer before the workshop.  Besides finding an incredible number of whelk shells along the beach near their rental cottage, we also found some intensely beautiful light one morning at the Roanoke Marshes Lighthouse in Manteo.  While Dave worked the replica lighthouse, I ran over to the historic Fisherman's Net House and did the same.  It was a really spectacular set of conditions.  I also got pretty lucky one evening while traipsing around the sand dunes at Jockey's Ridge State Park.  The setting sun burned a bubble of light into a dark set of clouds and allowed me to create a simplified frame hopefully showing the story of wind and sand movement, with the added drama of some neat lighting!
Lesson:  Luck is what happens when you're persistent and prepared.  Embrace luck.  Celebrate it.  Luck is a huge part of this ride.
Thank you for a great 2016!
Happy Holidays to everyone and best of light in the New Year!