Year in Review: 10 for 2017
Every June I travel sure-footed along the Appalachian Trail, up and over the open, grassy meadows of the Roan Highlands seeking showy pink seasonal blooms of Catawba Rhododendron. My anticipation drives grand visions of large stands of heavy, flower-laden bushes, vibrant with color and lush with moisture—the kind of dream that animates those of us who love the Southern Appalachian Mountains.  While Mother Nature never seems to disappoint me with this annual show, it does occasionally divert energy and resources away from the outward development of flowers in lieu of working inwardly to create new green shoots of growth—the two cannot happen simultaneously.  Growth years, I figure, are nature's form of continuing education:  an opportunity to temporarily suspend traditional peacocking activity to focus instead on personal well-being and future goals.
2017 was a "growth" year for me. I didn't produce a ton of new work.  The ten shots that accompany this post are not what I would consider a strong showing.  While I'd like to say that I planned to step aside a bit this year—that I didn't travel, and hike, and wait, and camp, and travel, and hike, and spend lots of money in the process—that's just not the case.  My growth year happened in spite of my plans.  Where I found productivity in 2017 was not behind the lens, but reading, watching videos, practicing new techniques, and questioning everything, right down to my own reasons for doing this very thing in the first place.  Growth and questioning:  they seem to exist hand in hand  To experience one, it would seem, you must embrace the other.  Existing within a place of uncertainty, however, is somewhat troublesome, especially from a business standpoint when others are looking to you—in some cases, compensating you–for the exact opposite:  confidence and answers.
In terms of my photography, 2017 started right on que: I hit the circuit early and I found ample inspiration in the places I visited.  I dialed up some new compositions and made note of some other exciting compositions that I wanted to revisit in the future.  I executed some of the frames I saw and missed others (which drove gap analysis towards new continuing education).  Right up through the month of April I was very pleased with the way the year was shaping up.
As an aside, my photographic philosophy has always been rather minimal:  create the best damn work that I can and do it consistently; honor the places that inspire me by focusing on them and less on myself and my artistic ego; share widely but mindfully, and over time, perhaps earn the eyeballs of the right people of influence and earn the opportunity to exist as a humble photography business in the places that inspire me, bring me a sense of freedom, and drive my curiosity about the world.  It's not a very proactive strategy and it hasn't worked very well as such if I'm being honest.  However, when I'm creating in the field—when I'm really pushing a new composition that shows the place in a way that is likely to translate into excitement and engagement—it truly feels like I'm doing the most honest and appropriate work I possibly can as a landscape photographer.  In short, it feels right, for me.
Somewhere around May of 2017 things got difficult. At first, I thought it was just a difficult patch of weather, or mismanagement on my part of travel-on-a-budget issues–things such as diet, downtime, sleep etc.  But things never really broke.  I spent the better part of two months chasing the wind around the mountains. In late summer / early autumn I found myself sandwiched between two sloppy hurricanes along the coast and then in autumn I found myself largely chasing a canopy of green leaves, too early for what is becoming a later and later color change.  The fault wasn't with nature though—opportunities abounded I'm sure as they always have.  It was me.  I was stretched thin, affected by political bullshit (a mass of people driven by fear, insecurity and emotion makes for a really shitty compass), and otherwise physically tired from too many consecutive days in the tent without finding the creative pocket that always came rather freely to me otherwise.  I began to pull back, somewhat unconsciously, around late summer to re-seek my inspiration.  Books have always been my primary refresh; I started there.  I found great interest in a number of training videos and re-listened to some audio books that set me off into new directions of learning as well.  The efforts haven't shown up yet in the field, but I do feel that there are some new things on the horizon.
So, yeah, it was a year that despite my best efforts to show outward was more about growth inward. As I approach my fifth year chasing light and landscape full-time, it's fair to say that Outdoor Photography has wholly taken over my life, eroding the very banks of my previous ambitions and sweeping me into a beautiful, swift river of whitewater cascades full of risk and uncertainty but alive with the greatest potential possible:  meaning and adventure.  There's certainly been challenge, disappointment and failure.  I'm very uncomfortable, still, with my everyday circumstance, my place in life if you will.  I find myself, at present, simply trying to keep my head above water and my feet from getting tangled in unseen snags.  But that's right where I tend to like things anyhow, in the thick of it, close and personal.
I think 2018's going to be a very interesting year for sure. Thank you to everyone for the support and engagement you've shown this past year—I'm still just a dude with a big dream and a foggy hope for the future.  I owe a debt of gratitude to the many who have allowed and encouraged this opportunity to this point.  Know that you are appreciated.
Happy Holidays and my bests for the New Year.
Folly Beach Mudflat Sunset
This shot, or some variation thereof, has been on my mind for over four years now.  Visiting the Lowcountry of South Carolina for only one week each year, the ocean tide is correct only once during my stay for this particular shot to come together.  The odds are long.  As such, I can still imagine this frame becoming much stronger with more time spent waiting for the right conditions.
I'm proud of this photograph not because of any of the elements in particular, but because it's part of a mindful effort to show wildness in the East.  It seems to me that wildness is only equated with vast spaces and generally the Western U.S.  I've never felt a lack of opportunity along the Carolina coasts and/or in the Appalachian Mountains; in fact, seeking these dramatic and beautiful scenes has become the mission of my existence as a business.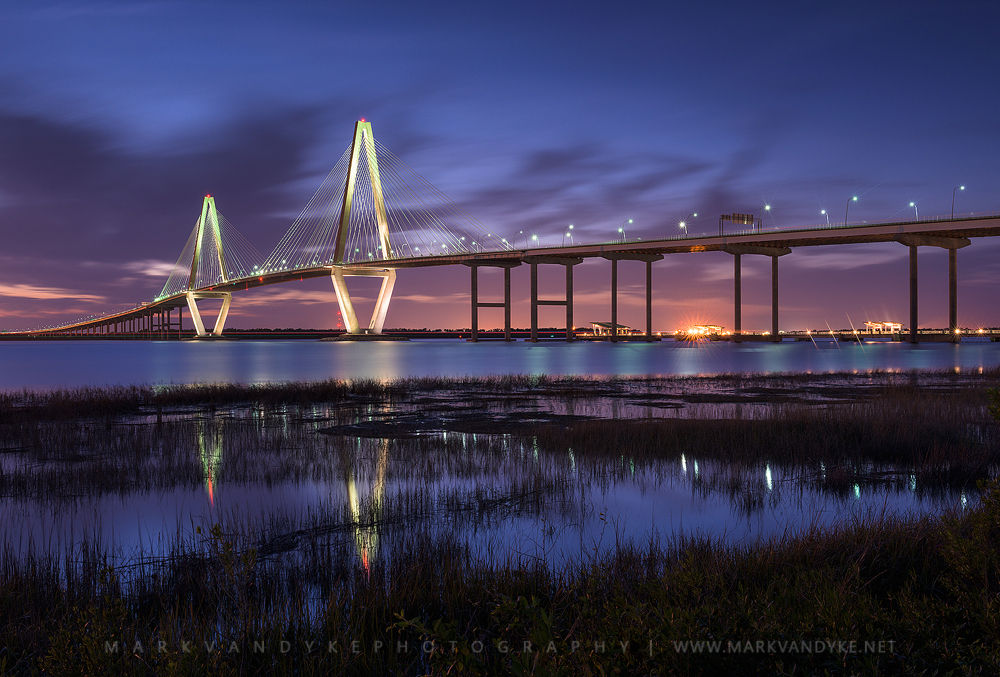 2.  Arthur Ravenel Jr. Cooper River Bridge, Charleston, SC
I had the opportunity to return to the Arthur Ravenel Jr. Cooper River Bridge in Charleston, South Carolina with friend and photographer, Dave Allen during the annual spring chase.  Dave introduced me to the Ravenel Bridge years ago while I was still in graduate school and he was chasing a young career in photography.  So, it was a bit of full-circle type stuff going on.  I also met David Whiteman for the first time (we went on to shoot several times throughout the year), and caught up with Tony Sweet (who has been successfully doing this thing for much longer than me = peer).  However, what I really liked about this shot was that I finally figured out how to introduce my own personality to the frame.  For years I've been dancing around this iconic photograph.  This time I figured out how to include the width of the long span, I connected the bridge to the surrounding environment through reflections on the river and marsh, and I managed to place an active element throughout the frame with the streaking boat light trail, all without relying on overly saturated skies and/or a multiple exposure Frankenstein.  I have a half-dozen other iterations of this photograph that do better in terms of financial and relational success, but this, finally, is one that I can get comfortable with..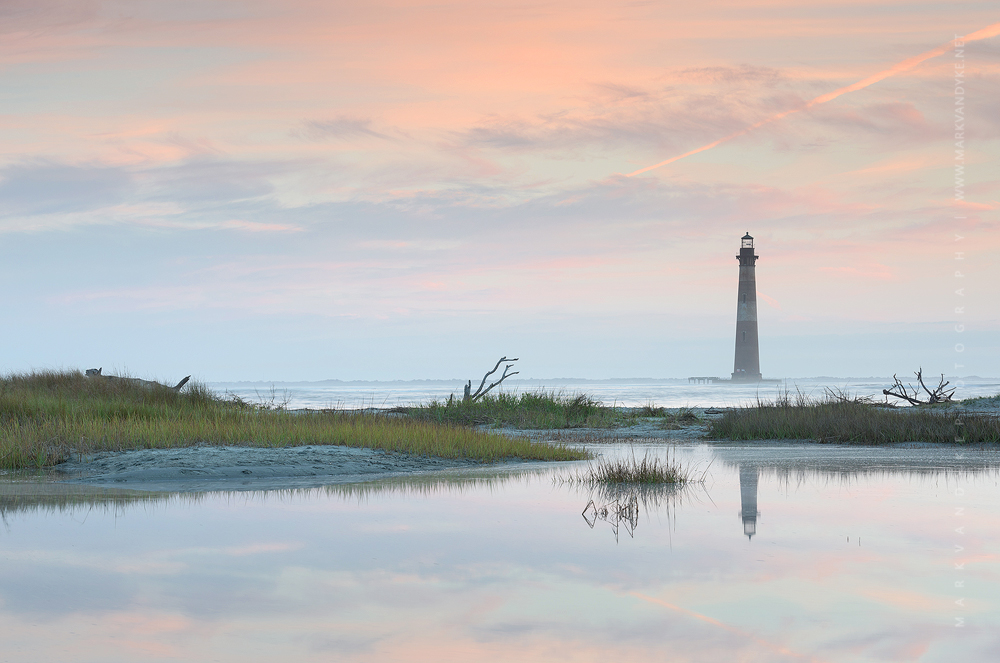 3.  Morris Island Lighthouse, Folly Beach, Charleston, South Carolina
Sometimes you impress a bit of yourself onto a scene; sometimes a scene flips the script and sets out to toss some knowledge at you.  I didn't really think this frame worked when I packed up and left on this morning.  I had a vision in my mind of what the shot needed to be (contrasty, bright, dramatic) and there was a gap between that vision and this frame that was uncomfortable.  When I returned home,  I wrote down a description of the Morris Island Lighthouse in my own words and thought on what type of conditions I would want to amplify and compliment that subject-specific description.  Contrary to my own generalized expectations of what the frame should've been, the frame here was closer to my optimal conditions than I could've imagined.  One of the absolute coolest parts of doing this full-time is letting the physical world teach you, through the camera, to see things more fully.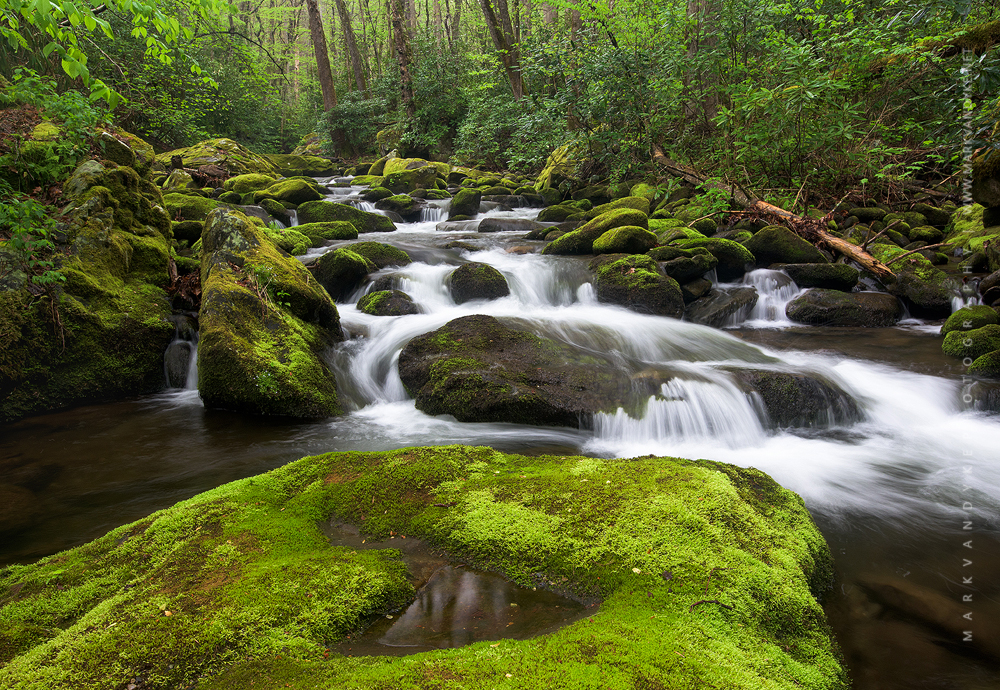 4.  Roaring Fork Green Moss, Great Smoky Mountains National Park, TN
This one sort of sums up my year in 2017:  moving in the right direction…needs improvement.  There's so much great stuff at this particular location along Roaring Fork in the Great Smoky Mountains.  In years past, I just stood atop the green rock in the foreground of this photo because I couldn't figure out how to use it.  But the lush, green moss was too undeniable this year.  I tried really hard to let it play a dominate role in the shaping of this "Spring in the Smokies" frame.  Unfortunately, no matter what I did with my feet and camera, I always found the stream terminating at mid-frame right where I would've preferred stretching it down to the bottom corner for more dynamic tension.  Back to the drawing board!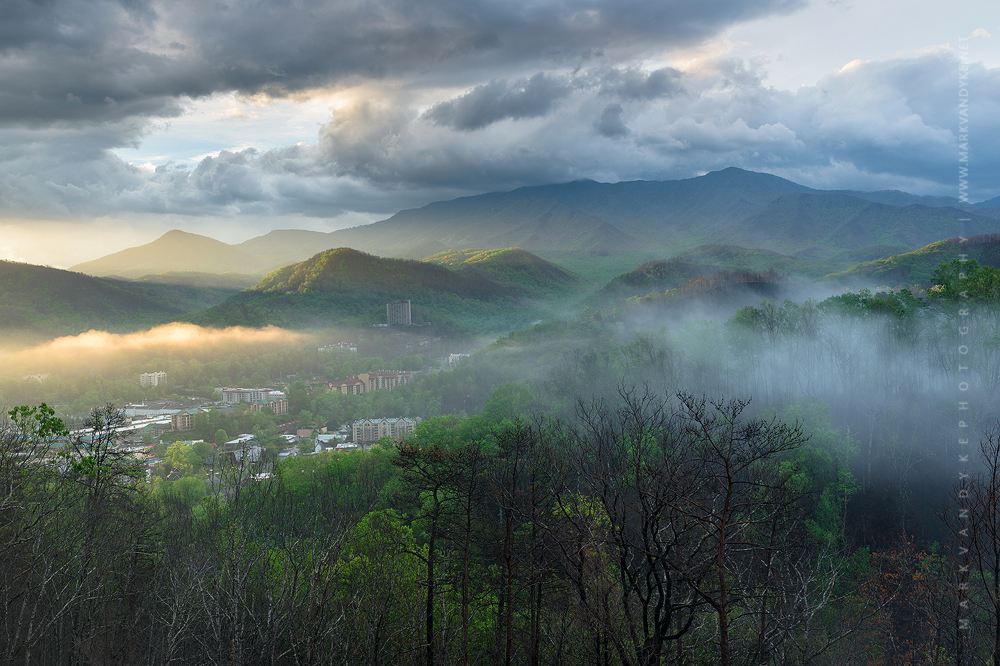 5.  Gatlinburg, Tennessee, Great Smoky Mountains National Park
In late 2016 the town of Gatlinburg and the Great Smoky Mountains National Park experienced severe fires.  Months later, standing at the overlook along the Gatlinburg Bypass, it was evident that much had yet to recover.  Black charring dotted the hillsides near and distant.  The smell of burn was still strong.  The immediate sunrise this morning was a bust:  socked-in with heavy clouds and very flat gray lighting.  I was actually packed and ready to leave when a line of valley fog began to move and expand as if controlled by some invisible force.  It was quite mesmerizing to watch.  Then, it simply overtook the scene, reducing visibility beyond anything workable.  The sun, meanwhile, continued it's climb and found a hole within the clouds, contributing gold light to the mix and cutting the thick fog.  It was really quite incredible to witness.  The fog was eerily similar to smoke and the low-angled light took on the rich coloring of fire; it was as if the landscape where playing out a representational drama for me.  This image was picked up by the Bingham Group in Knoxville who are putting together a video and book regarding the fires of 2016 called Smoky Mountain Strong.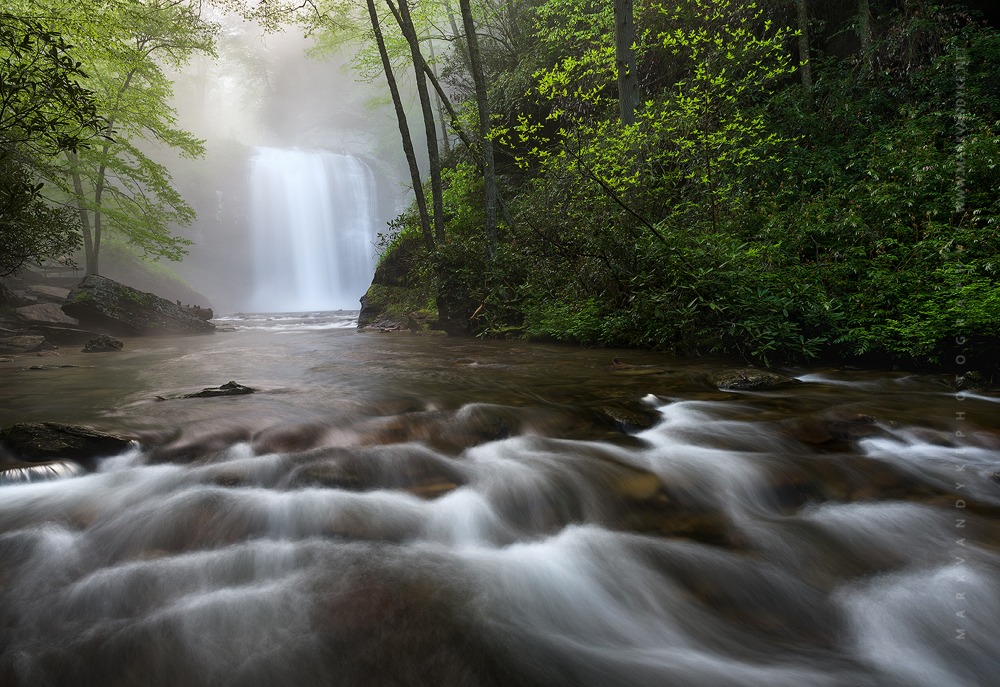 6.  Looking Glass Falls, Pisgah National Forest, NC
I had no intention of taking this photograph.  The night before was spent at elevation, camping through a snowstorm atop Pisgah.  Much to my disappointment the following morning, the Blue Ridge Parkway was closed.  My only option was to funnel back down the mountain and pass by Looking Glass Falls.  In fact, I drove right past the iconic waterfall by reflex until I realized something rare:  no one was there!  This was my surprise frame of the year; no intention or planning, just an opportunity captured.
7.  Spring's Shadow, Western North Carolina
I spent a week in May working with Jim McGovern around the Western North Carolina mountains.  We were getting a steady dose of consistent winds and clear skies for much of our time together and I was truly worried that this might be the first workshop/tour ever where Mother Nature shut us out completely.  Then, on our last evening together, we lucked onto this beautiful scene while heading up a trail near Mount Mitchell.  The low-angled sun cast deep shadow across a new, lush, spring green carpet of grass.  It screamed spring in the high mountains.
8.  The Roan Highlands Flame Azalea
Much of my success in landscape photography is due to the Roan Highlands.  The first time I found myself on the back crest of Grassy Ridge during the peak bloom I was sure that there wasn't a finer place in all of Southern Appalachia, and I still believe that to this day.  In mid-June when the flowers get to cooking–bright magentas, oranges, yellows, and reds–set against the lush, long green grasses of the highland meadows…I don't have the right words to describe the beauty.  Of course, with great beauty comes great crowds.
With the exception of the autumn color rush, June in the Roan Highlands is historically one of the busiest times on my schedule.  One of the unique challenges that I've found over the past couple of years is figuring out how to continue creating while I'm also guiding / teaching / and/or otherwise engaged with others during the peak bloom.  Not sure I've figured that one out yet!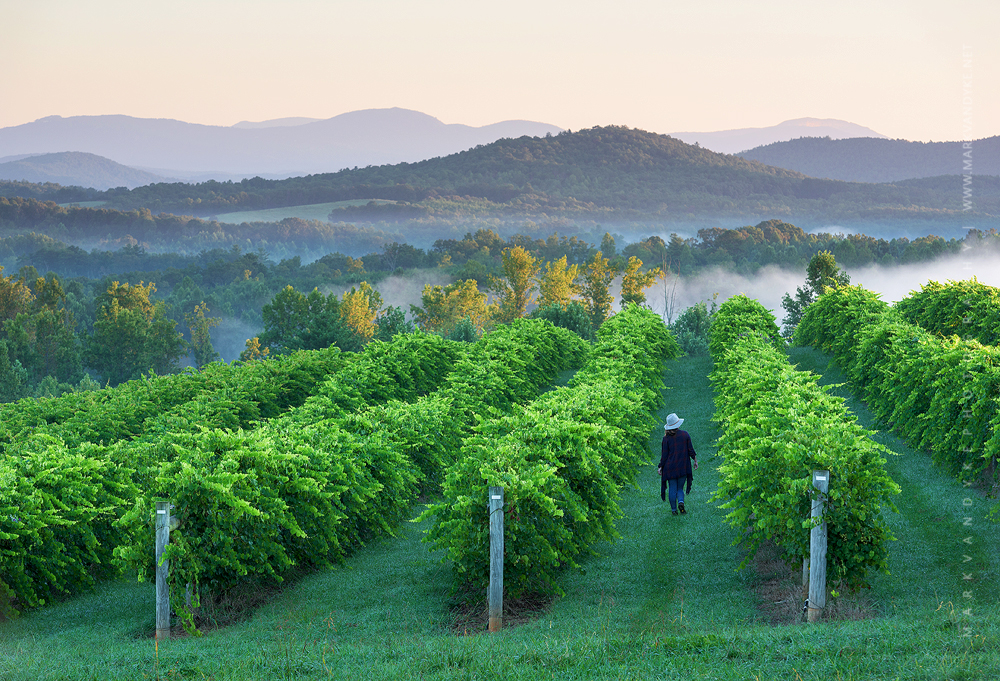 9.  Chattooga Belle Farm, Upstate South Carolina
Right before the autumn rush, I was floated a unique opportunity to do some work for the Discover SC tourism campaign in September.  They needed some grand-scene landscape work at Chattooga Belle Farm, a place I frequented with the camera while attending nearby Clemson University.  The complication:  they needed human interest in each of the shots.  Not my normal forte.  A big thanks to the talented, Kita Roberts (passthesushi) for making the trip with me and for dealing with my crap as I worked through my own frustrations and discomforts behind the lens in this new "lifestyle" genre of photography.
10.  Boone Fork Headwater, WNC
Few locations have been as endlessly productive and inspiring to me as Upper Boone Fork creek.  It's not that the headwater stream is overly gifted in any particular area; it's just the way that it makes me feel when I'm behind the lens.  Plentiful cascades, lots of big boulders, and banks of evergreen Rhododendron shadowed by bright yellow trees above.  Much of my autumn mountain work was ill-timed in 2017, but on this afternoon I found myself in the exact right place at the right time to do what I love–and that's a neat feeling.
Thank you again to everyone for the opportunity to share my vision and my dream with you this past year.  My bests to you and your families as we enter the holiday season and into the New Year.  Perhaps this coming year we'll meet on a trail somewhere!